Two Redwood City Council candidates who received $1,000 in campaign contributions each from the California Apartment Association have donated those funds to charity in protest over a negative campaign mailing by the CAA.
Businesswoman Giselle Hale donated $1,000 to Emerge California, which works to elect Democratic women to office and trains them to run for office. Stanford community representative Jason Galisatus donated $1,000 to the San Mateo County Pride Center, a facility in San Mateo that provides support and services to members of the LGBTQ community.
The mail piece that went too far for Hale and Galisatus was a postcard titled: "Diana Reddy Is Wrong for Redwood City," and cites her involvement and endorsement by Democratic Socialists of America, whose website describes it as "the largest socialist organization in the United States." Reddy, a community organizer, is also running for one of three seats up for election this year.
The mail piece goes on to cite three DSA positions – the elimination of police and prisons, the abolition of capitalism and the elimination of private businesses. More on the piece and the CAA further on in this column.
The piece states that Reddy will "push for extreme policies that would hurt homeowners, raise taxes and destroy jobs."
Hale said her protest is about the tone of the mail piece.
"I don't know if it's true or not true. I just object to the negative tone," Hale said.
Similarly, Galisatus said, "I don't agree with negative campaign tactics having been the subject of relentless attacks on social media, more so than other candidates."
The CAA has emerged as a major factor in the City Council race, having spent $15,382 thus far on research and mail pieces targeting Reddy, which have been denounced by her supporters and by Reddy as "smears" on her campaign.
The CAA's local organization also has received an additional $80,000 from the CAA's Sacramento-based statewide political action committee, although officials from the local association say those funds are to support and oppose candidates in races throughout the Peninsula, including Redwood City, Daly City, Sunnyvale and San Jose.
A PROBLEMATIC PIECE: The latest mail piece from CAA relies entirely on Reddy's association with the Democratic Socialists of America, states that she is endorsed by the DSA and cites information from the DSA website and news reports as support for the assertions that she wants to eliminate police and prisons, abolish capitalism and eliminate private businesses.
These are positions Reddy has not taken during the campaign. In an interview, she said the mail piece is a "hit piece."
"I have no idea what they're talking about," Reddy said. "I don't have any desire to get rid of capitalism," she said, chuckling.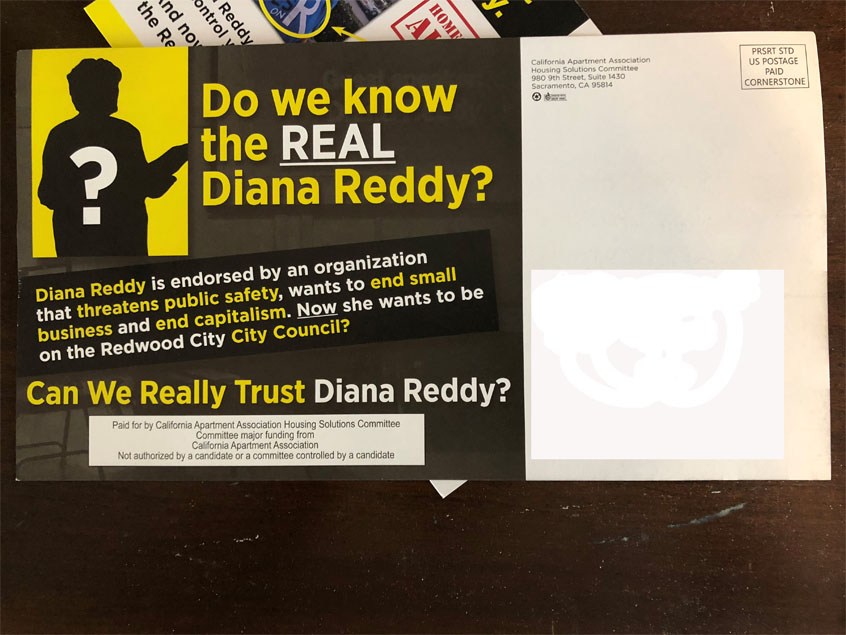 In fact, the piece exaggerates the relationship Reddy may have with the Democratic Socialists of America. She has been endorsed by two local chapters – Peninsula DSA and Silicon Valley DSA – but she has not been endorsed by the national organization, whose positions are the ones cited in the CAA mailer.
On the Peninsula chapter's web page, it states: "Democratic Socialists believe that both the economy and society should be run democratically to meet human needs, not to make profits for a few. Throughout the area of San Mateo County, California, our chapter fights for the many and not the few."
Reddy said she agrees with the progressive views of the organization and "their point of view on supporting working families."
The reference in the mail piece to the elimination of police and prisons stems from a 2017 DSA convention resolution that calls for the elimination, ultimately, of the need for prisons or police. It's clearly an aspirational position and not a call for tearing down prisons as an immediate policy.
It's an aspiration Reddy shares.
"We shouldn't have more prisons than colleges in our country," she said, adding that the great majority of prison inmates are minorities, and frequently they have substance abuse problems.
Nonetheless, representatives of the California Apartment Association defended the mailer as accurate and well within the acceptable parameters of campaign rhetoric.
"I think we avoided any type of name-calling," said Rhovy Lyn Antonio, vice president for Public Affairs for the CAA's Bay Area organization. "She's being supported by this specific organization and we're pointing out verbatim what the DSA stands for and asking the question: What does Diana Reddy stand for?"
Reddy publicly and assertively supports rent control, a position at direct odds with the California Apartment Association, which represents landlords and property owners. The CAA consistently asserts that restrictions on evictions and rent control are harmful to homeowners and will damage the local economy.
The information in the mail piece "is taken from her social media presence, her website, articles written about her and statements she's made in public," said Joshua Howard, CAA senior vice president, Northern California.
"She can complain about a comment that was made or a picture that was used but it's just a distraction from the fact that she has questionable affiliations with groups that seek to undermine protections for homeowners and the addition of rental housing in our community," Howard said.
Contact Mark Simon at mark.simon24@yahoo.com.
*The opinions expressed in this column are the author's own and do not necessarily reflect the views of Climate Online.