A 1912 Spanish Colonial Revival home at 127 Finger Ave. in Redwood City received an Historic Landmark Designation in a unanimous City Council vote on Monday.
In order for a property to be designated an historic landmark in Redwood City, it must meet one of four criteria. This simple, rectangular home with a flat roof met this criteria:
"It embodies distinctive characteristics of a style, type, period, or method of construction, or is a valuable example of the use of indigenous materials or craftsmanship."
While the home's porch has some classical elements, what makes the structure truly unique is its primary exterior material is mainly brick.
"This may be the only residential structure in all of Redwood City that uses brick as the primary exterior material," said William Chui, Redwood City associate planner.
In most houses of this type, city officials say, the brick is "not structural, but a cladding over a wooden frame."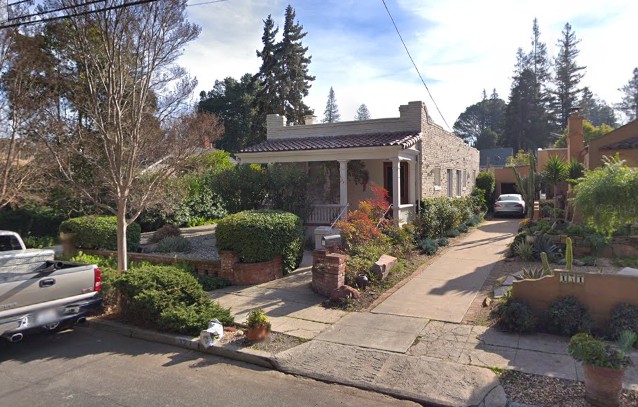 The bricks are also patterned in an interesting way called skintling, where they're set in irregular patterns and configurations.
According to Zillow.com, the property, which includes a main home with 2 bedrooms and 1 bathroom and a rear cottage with one bedroom and one bathroom, sold for $1.975 million in June.
It is located in the Finger Avenue neighborhood, originally Finger Farm, and its first deed was given to Frank M. Lorenz, a woodcarver who ran the Lorenz and Trumbell Art Shop at 65 Broadway, and his wife Emelie. The family owned the property for six years, from 1910 to 1916, but never lived there. The home was built during their ownership, according to the city.
The next owner, the retired George D. Gates who moved there from San Francisco, lived there for 18 years, at times with others including a gardener. After he died, the house was vacant until it was purchased by Harry L. Heiberg in 1936, a floor contractor who also owned the bowling alley. Other owners came into possession of the property starting from 1961.
In addition to the Historic Landmark Designation, City Council on Monday approved a Mills Act Contract in connection with the property. The Mills Act Contract provides a property tax break to the owner ranging from 40-60 percent. To receive that tax break, the owner must agree to fund a 10-year maintenance and improvement plan for the property. The council approved that 10-year plan as well on Monday.
At the same meeting, council also approved a Mills Act Contract with owners of a San Francisco-style single-family home at 221 Standish St., which was built in 1893. That home, one of the city's oldest, is already a Redwood City landmark and thus qualified for Mills Act Contract without further review.
Photo: Courtesy of the City of Redwood City