News about the deadly Camp Fire's destruction have been utterly devastating. Twenty-nine people have died, three firefighters have been injured and over 6,700 homes and businesses have been destroyed so far in the massive, fast-moving Butte County wildfire, CalFire officials reported today. The deceased were recovered in or near Paradise, a town of about 26,000 that is almost completely destroyed. As of this morning, the fire had grown to 113,000 acres and was 25-percent contained.
Amid the mounting tragedy and the grim search for additional victims, Redwood City firefighters on Sunday shared hopeful images of a rescue. Firefighters joined a San Mateo Strike Team 2276A last week to assist at the Camp Fire. During their work against the fire, they came across seven dogs and a litter of cats without food at an evacuated home.
"We teamed up with this type 3 crew from Cal Pines, collected the kittens and fed them all…happy pets," the Fire Department Tweeted.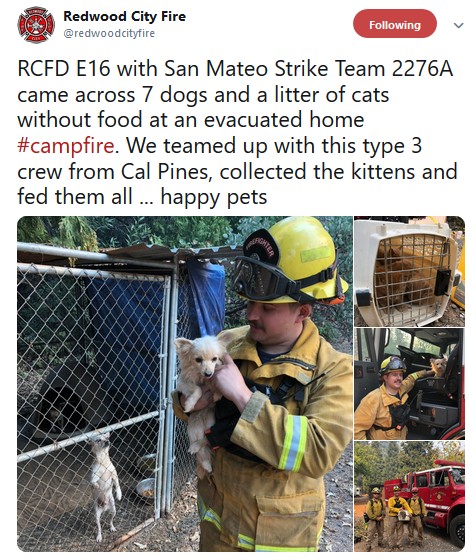 The department also shared a brief video clip of the U.S. and California flags still raised above the city of Paradise on Veterans Day on Sunday.
Unfortunately, these are but small wins in a wildfire that has caused deep losses.
"Our hearts and prayers are with the families that have lost so much," San Mateo County Firefighters Local 2400 posted on social media, adding, "We are proud of all the men and women of San Mateo County that have responded to the devastation and hope and pray from their safe and speedy recovery."
To find out how you can help, visit this useful report from the Sacramento Bee.
Photo courtesy of the Redwood City Fire Department