If pumpkin is king this time of year, then pumpkin pie spice is the dark overlord. I say this as someone who actually likes the sweet, warm marriage of cinnamon, cloves and nutmeg. It's soothing, cozy, and delicious. But let's be real: it's everywhere. Thanks to Starbucks, what was once a McCormick spice blend bought once a year now spices up an entire season. If it can be baked, drunk or sniffed, it comes in pumpkin spice.
But what if you don't love pumpkin spice, or what if you just need a break, a little variety? Pumpkins, after all, don't have to be limited to sweet pies and nostalgia-inducing lattes. They can be bright with zests of ginger and lemon, have a little kick with cayenne. And did you know that pumpkins can also be paired with cheese? Think feta, Gruyere, and Parmesan. But maybe you just need to go full detox on pumpkin and pumpkin spice. Don't despair, there is hope for you, too.
If you can relate, I have two recipes for you. The first is a new favorite of mine, a vegan pumpkin soup. Don't write this one off because it's vegan: It's creamy (yes, even without dairy), savory, and perfectly filling. Sure, it incorporates pumpkin and some cinnamon and nutmeg, but since it forgoes the heavy hand of cloves and allspice, you can rest assured this is not a pumpkin spice soup. You can play around with this recipe too, adding the aforementioned pumpkin-friendly ingredients — ginger, cayenne — you know the drill. Sprinkle it with some cheese, or better yet, serve it with grilled cheese sandwiches. What's important here is it will fill your house with a delicious aroma that doesn't evoke a sense of bonfire by Yankee candle.
The second is for the true anti-pumpkin-ites: butterscotch pudding. A classic, but overlooked flavor, this recipe is without even a sprinkle of cinnamon, cloves or nutmeg, making it as far from an overplayed fall dessert as you can get without bringing a kumquat soufflé to the party. (Note: I actually don't know if that exists, but I can promise you if it does, save it for later). This pudding has the sweetness of caramel but since it's made with brown sugar instead of white, there is an extra, molasses-y layer of complexity. And while it might be tempting to rip open a box and mix with milk, this recipe is so easy, it'd be a shame to take that shortcut. The little extra effort to make it from scratch will be rewarded with a dessert that is richer, creamier and more decadent than anything that started as a powder. This is a great choice for all the desserts, from Halloween to New Year's.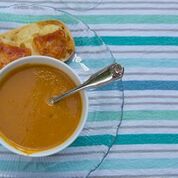 Simple Pumpkin Soup
Time: 15 minutes prep, 1 hour cooking Serves: 4
Ingredients:
• One 15-ounce can of pumpkin puree
• 2 diced medium shallots (yield ¼ cup)
• 3 minced garlic cloves (yield 1 1/2 Tbsp)
• 2 cups vegetable broth (DIY or store-bought)
• 1 cup light coconut milk (or substitute other non-dairy milk with varied results)
• 2 Tbsp maple syrup or agave nectar (or honey if not vegan)
• 1/4 tsp each sea salt, black pepper, cinnamon, nutmeg
Directions:
1. Dice the shallots and the garlic (use a garlic press if you have one).
2. Add 1 Tbsp olive oil to a large saucepan over medium heat add 1 Tbsp olive oil and then add the shallot and garlic. Cook for 2-3 minutes,
or until slightly browned and translucent. Turn down heat if cooking too quickly.
3. Add remaining ingredients, including the pumpkin, and bring to a simmer.
4. Transfer soup mixture to a blender or use an immersion blender to puree the soup. If using a blender, place a towel over the top of the
lid before mixing to avoid any accidents. Pour mixture back into pot.
5. Continue cooking over medium-low heat for 5-10 minutes and taste and adjust seasonings as needed.
Adapted from minimalistbaker.com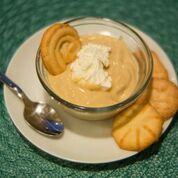 Butterscotch Pudding
Time: 20 min prep time; 3+ hours chilling time Serves: 4
Ingredients
• ½ cup packed dark brown sugar
• teaspoon fine sea salt
• ½ cup heavy cream
• 2 Tablespoons unsalted butter
• 3 Tablespoons cornstarch
• 1 ½ cups whole milk
• 2 large egg yolks
• ½ teaspoon vanilla extract
Directions:
1. Place a fine-mesh sieve over a medium heatproof bowl and set aside. You'll be pouring your hot pudding through the
sieve to make for an extra-smooth pudding.
2. In a medium saucepan, combine dark-brown sugar, cornstarch, and salt. In a medium bowl, whisk together milk, cream,
and egg yolks; add to saucepan and whisk to combine.
2. Whisking constantly, cook over medium-high until mixture thickens and is bubbling, 8 to 12 minutes. Reduce heat to medium-low
and cook, whisking, 1 minute. Don't overdo it here, but do not skip that last minute as it will help cook off any cornstarch flavor.
3. Remove pan from heat and pour mixture through sieve into bowl. Stir in butter and vanilla until combined.
4. Press plastic wrap directly against surface of pudding to prevent skin from forming and refrigerate 3 hours (or up to 3 days).
To serve, whisk until smooth and divide among four small bowls.
Adapted from marthastewart.com