With the aim of responding to community concerns over the size of newer home projects in Redwood City, City Council unanimously passed an urgency ordinance on Monday requiring home projects exceeding 45 percent of the lot size, or 3,000 square feet, whichever is greater, to undergo review by the city's Planning Commission.
Previously, Redwood City had no floor area ratio (FAR) limits for single-family homes, and any new two-story home or second-story addition required a special planning permit process done at the staff level, without a public hearing.
Amid Redwood City's economic and development boom, community concerns have arisen about smaller homes being purchased by developers for far more than their listing price, torn down and rebuilt as much larger homes, some with designs considered incompatible with neighborhood character.
Those concerns originated in the Mt. Carmel neighborhood, which received 21 applications for new homes and second story additions from the start of 2017 to the end of 2018, the most of any city neighborhood. The chart below shows 98 architectural permit applications for new home or second story construction during that time period. Also, according to the city staff report, "an unusually high number of applications have been initiated by developers, as opposed to homeowners, in recent months."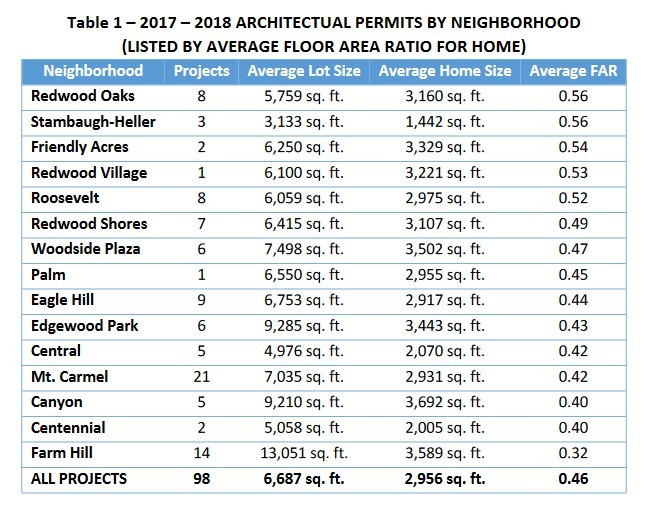 Following two council study sessions last year and two Planning Commission meetings this summer, the Planning Commission on June 18 recommended that council set a hard cap on home projects of 40 percent of the lost size, or 2,500 square feet, whichever is greater. The hard-cap meant property owners would be barred from exceeding the FAR limit in home projects.
Some community members called the hard-cap proposal draconian. Opponents cited the affordable housing crisis and the need for rebuilds to accommodate additional tenants such as family members. An online petition that drew debate on social media requested that the FAR limitation be raised to 50 percent of lot size.
"Redwood City residents want freedom of choice on their own land," and to "accommodate a growing family of more than 3-4 people, aging parents to move in," the petition states.
At Monday's packed council hearing, residents were divided on the issue. Meanwhile on the dais, the council focused on compromise, settling on a soft-cap of 45 percent of the lot size, or 3,000 square feet, whichever is greater, and exempting basements and detached structures such as garages and accessory dwelling units in the FAR calculations.
Mayor Ian Bain hopes a soft-cap approach will force developers to work with the public to downsize or ensure the property's design meets the neighborhood's character.  Redwood City has been "far too easy a target," he said.
"We have been targeted by one developer in particular because we don't have any floor area ratios," Bain said, adding, "We are not solving the housing problem by doubling the footprint of the house."
Councilmember Janet Borgens said developers have a right to make money, but she doesn't buy that flipping a $1.2 million home into a $3.4 million home contributes to the city's housing needs.
"They buy the property, they build the bigger houses, they go away," Borgens said. "And we're seeing it over and over and over. I'm tired of it. I'm tired of sitting up here and letting it happen."
The council ordered city staff to have the newly-passed urgency ordinance reviewed in a year to ensure it is working as intended.
Meanwhile, city officials are starting a citywide study aimed at establishing design guidelines for new two-story homes and second-story additions and remodels.
Council also recently approved limits to the height and sizes of second-story accessory dwelling units while approving size incentives for the construction of single-story ADUs.