Radio has been a part of American entertainment since the 1920s, when families gathered in the living room around a giant Philco. By the 1950s, the disc jockey and rock & roll had claimed the airwaves. From the Big Bopper to Dick Clark and Wolfman Jack, the DJ has been an integral part of radio. However, a career in this business is ever changing and challenging.
So, who are these ever-cheerful voices who keep commuters awake, informed and entertained with traffic reports, news, commentary, comedy and music? Climate got a chance to visit the studio of 107.7 the Bone and talk with the crew of the morning "Lamont & Tonelli Show." Their stories are a tribute to talent, perseverance and, in no small way, serendipity.
Cumulus Media owns 505 radio stations throughout the U.S., including San Francisco favorites  KNBR, KSFO, KGO and for rock & roll fans, 107.7 the Bone. Visitors to the studio might be surprised to find that all of these stations are neighbors—separated by soundproof walls, with  107.7 the Bone's home at the end of a long hall. A huge computer console that would do the Starship Enterprise proud sits like an island in the middle of the room. Large microphones accordion down from both sides. Two are used by Lamont and Tonelli when on the air, while co-host Chasta resides in a separate sound booth behind a window.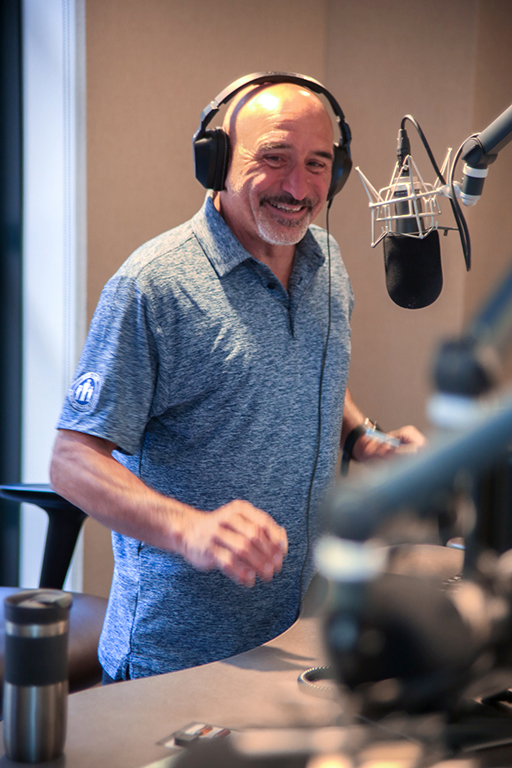 Each morning, bright and early, they combine music with traffic reports, off-color humor, prank calls and commentary. And the largest audience in the Bay Area has been eating it up for 30 years.
Lamont Hollywood and Paul Tonelli (one of two Redwood City residents who are on the air) have some pretty interesting stories on how they ended up talking for a living. The following is the Cliff Notes version:
Born and raised in San Bruno, Tonelli had plans to go pharmacy school.  While in Winnipeg, Canada, Lamont was preparing to enter the Royal Canadian Police Academy. Radio changed both those destinations.
About halfway though school in Idaho, Tonelli got his start in radio because some guy at a poker game announced he was giving up his graveyard shifts at the local Country & Western station and wanted to know if anyone wanted the gig.
"It just kind of fell into my lap playing cards, drinking a few beers," Tonelli said. "I was always interested in radio, so I went in and applied."
Around the same time, while waiting to enter the police academy, Lamont was offered a good job as a DJ in his home town of Winnipeg. He'd already logged considerable DJ time at a station in Manitoba. "I decided radio was better than getting shot at so I went for it. Could have stayed there for the rest of my life, but if I did that I was never going to make any money and it was boring as hell," he said.
Tonelli came home to finish his education at San Francisco City College, studying  broadcasting. After an internship and a failed attempt as a UPS driver (he clipped a car on his test drive), he got a call from Gill Haar at KYUU who gave him a lead on a position as a traffic reporter. Before long Tonelli was back in radio and on his way.
Meanwhile, in Winnipeg, Lamont was sending out tapes, seeking a change of scenery and a new challenge. KSJO in San Jose got one of those tapes and liked it. They flew the chatty Canuck in to see if he would be a good fit for a new morning show they were developing. It was 1989 when Lamont was put together with a young traffic reporter as an on-air partner. The two hit it off.
"I thought, yeah, I can get along with this guy. He's a good dude," recalls Lamont. And so the "Lamont and Tonelli Show" was born and quickly rose to become the number one show in the area.
In 2002 KSJO hired a new station manager; a shrewd negotiator with an eye to improving the bottom line. He waited until the last minute, late December, before offering Lamont and Tonelli a contract which nearly halved their salaries, saying, "Take it or leave it."
They left it.
By January 2003 they were at the helm of 107.7 the Bone.
The career path of Chasta Freeman Michaelis could fall under the heading of divine intervention. The almighty clearly intended this woman's voice to entertain the masses. It started 17 years ago when Chasta, while still in college in Oklahoma, called the largest rock station in Oklahoma City hoping to score free tickets to an Aerosmith concert. Her pitch was so good that the DJ offered her an internship.
"He thought I was funny, I made him laugh," she recalls, "and right then and there over the phone he offered me an internship."
Chasta spent nine months interning until one fateful day when the mid-afternoon DJ didn't show up for work due to a minor car accident. "Come with me," her boss announced, and on the way to the studio added, "Say something." Chasta started to read from some papers in her hand when he cut in: "That will work."
"The next thing I know I am sitting in front of the mic and he is showing me how to start and stop the music. Then he says 'Go for it,' turns around and walks out." Suddenly Chasta found herself sitting in front of a microphone at the largest rock & roll station in Oklahoma.
"Understand that everyone I have ever known listens to this station and it's the middle of the weekday," she said. "I puke in the trashcan, come out of a Pink Floyd song and that was that." She was hired right away to take over the late-night slot, then a Sunday morning gig, followed by her own weekend show. Then came an opening to co-host the weekday morning show—a meteoric rise by radio standards.
But Chasta's real dream was to become an actress. So, one day she packed up and moved to Los Angeles, leaving radio behind. She worked as an assistant for actor Sean Astin for over a year when fate stepped in again. One of the program directors from the Oklahoma station became the head of CNN Radio Los Angeles. He offered her a job as a traffic and weather reporter for multiple stations, convincing her that radio was her true calling. Before she knew it Chasta once again was sitting before a microphone talking to thousands of listeners.
Then she and her husband relocated to the Bay Area in 2012, where Chasta quickly found a home on the Lamont & Tonelli show as the traffic reporter.
"Now and again I would chime in, and seven years later, here I am a full-blown co-host to the morning show with my own daily radio show on top of it."
Natural talent for sure, but call it what it is: Divine intervention.
Then there is Baby Huey, aka Danny Delmore, who produces the Lamont & Tonelli morning show and is a fill-in DJ. At 6'4" and weighing in at 300 pounds, Baby Huey lives up to his comic book namesake—a handle he received from his aunt as a boy. A big boy.
Baby Huey is a local from Alameda and grew up with a radio glued to his ear.
"Radio became the foundation for who I am as a person," he said. "It had a huge impact on my life—it was my gateway to new music."
A mass communications major at Cal, he built up his on-air and production experience at the school radio station CALX, working every shift available to build up his rèsumé. He applied for an internship at 107.7 the Bone while still at Cal. The station manager saw the passion the big guy wore on his XXL sleeve. Baby Huey was in — and has been working at the station full time since graduating.
"We have a small staff. Today to make it in radio you have to wear multiple hats," he said, "On-air is only one component. Sound editing, web, social media, podcasts all to help contribute to the overall product that is 107.7 the Bone."
Baby Huey arrives at the studio at 5:15 a.m., does his regular duties for Lamont & Tonelli, pre-records the Metallica feature for nighttime broadcast, and carries several weekend shifts each month. An unrelenting schedule with an eye on the day when he has his own show.
The path of the newest member of the Bone ensemble, Redwood City native Joe "Joehawk" Ceccotti, mirrors Baby Huey's. Except he had no interest in radio until halfway through his college years at San Jose State University. "I was a mechanical engineering major," he says, "which was a terrible idea."
One day one of his fraternity brothers showed him a flyer from KSJS, the university radio station, which was looking for DJs.  Alternative rock was one of the categories, right up Ceccotti's musical alley. He got the job and changed his major to broadcast communications.
"I fell in love with it right away," he recalls. "Being behind a microphone allows me to let my personality out and have fun with it." And so "Joehawk" was born, a moniker bestowed due to his mohawk haircut.
After graduating Joehawk began to intern at several stations, finally landing at the Bone where he acted as engineer for the 49er games and occasionally filled in for the traffic report.
After three years of interning and only part-time work to show for it, Joehawk became disillusioned. "I was never at the studio," he said, "just a board operator and only knew the people within our station. I had been on air only once doing traffic and was really about to hang it up."
Joehawk confided his feelings to Chasta, who marched into the office of program director Dominic "Zakk" Zaccagnini, the boss, but also one of the afternoon DJs. She informed him that if he didn't hire Ceccotti, they were going to lose a real talent. Zakk called Joehawk into his office.
"He told me he was all about helping talent progress," said Ceccotti, "so 'How about we make you the new on-air fill in'?" Joehawk was back in the saddle, in front of the microphone when regular DJs were off. Still, radio work doesn't pay the bills, so his time is split working at Devils Canyon Brewery in San Carlos.
Asked what it takes to be successful in the demanding business of radio, Lamont and Tonelli have this to offer:
"Work harder than anyone else, be yourself, be original and surround yourself with great people," Lamont said, "and, yeah, luck plays into it."
"You can learn a lot of the mechanics of running a show, but you have to be well rounded," Tonelli adds. "Know what's going on in the world, your community, current events, while adding original content."
Bet on it that a couple of up-and-coming DJs named Joehawk and Baby Huey are taking notes.
This story was originally published in the October print edition of Climate Magazine.