The first thing a visitor notices when walking into the new Stanford Hospital is how open and spacious everything is, and it's not just an optical illusion.  
The new 824,000-square-foot, seven-story hospital, located at 500 Pasteur Drive in Palo Alto – just down the street from the older facility at 300 Pasteur – has been designed to offer patients the feeling that they are entering an uplifting, nature-connected healing place.  
Beginning with a light-infused, three-story atrium, the dramatic entry looks more like the lobby of a world-class hotel than a hospital. Expansive, comfortable seating areas, Internet stations, and floor-to-ceiling windows, along with a gift shop, cafeteria, patient-discharge lounge and outdoor seating make up the public-facing portions of the hospital's first floor, known internally as "On Stage."  
Visitors to the new hospital will never see patients in wheelchairs or gurneys "On Stage." "Off Stage" areas dedicated to patient care include treatment rooms in the new emergency room, operating suites on the second floor, wellness facilities on the third floor, and four stories of private patient rooms.  
And what patient rooms they are. 
Each one features large windows with spectacular views of the surrounding area, from the Santa Cruz Mountains to the San Francisco Bay. Comfortable sofas and work tables that convert to fold-out beds encourage family members to stay with their recuperating relatives. To give patients more control over their entertainment and their ability to communicate with hospital staff, a 55-inch TV screen that can be operated by cell phones or bedside computer tablets is mounted prominently in every room.  
David Entwistle, Stanford Health Care's president and chief executive officer, said that the creature comforts and high-tech capabilities in the new patient rooms are all part of a focused effort to improve the patient experience at the hospital. 
"We hope that our efforts to engage with patients through technology they are already using will help them more fully participate in their treatment," he said. "The computer tablets we supply, or their own cell phones, can be used to navigate their treatment process, connect with their caregivers, research therapy options, order food, etcetera. 
"By eliminating visiting hours and improving amenities for family members who want to stay with their loved ones," he continued, "we are trying to offer the most healing and supportive environment possible for patients to improve treatment outcomes." 
Asked if he encourages patients to use their in-house digital tools to collaborate with caregivers in the treatment they receive at Stanford, Entwistle responded with an enthusiastic "Absolutely!" 
"Patients today, especially in this area, have access to nearly all the information used by physicians to treat them. By working together, physicians can partner with patients to achieve more successful treatment."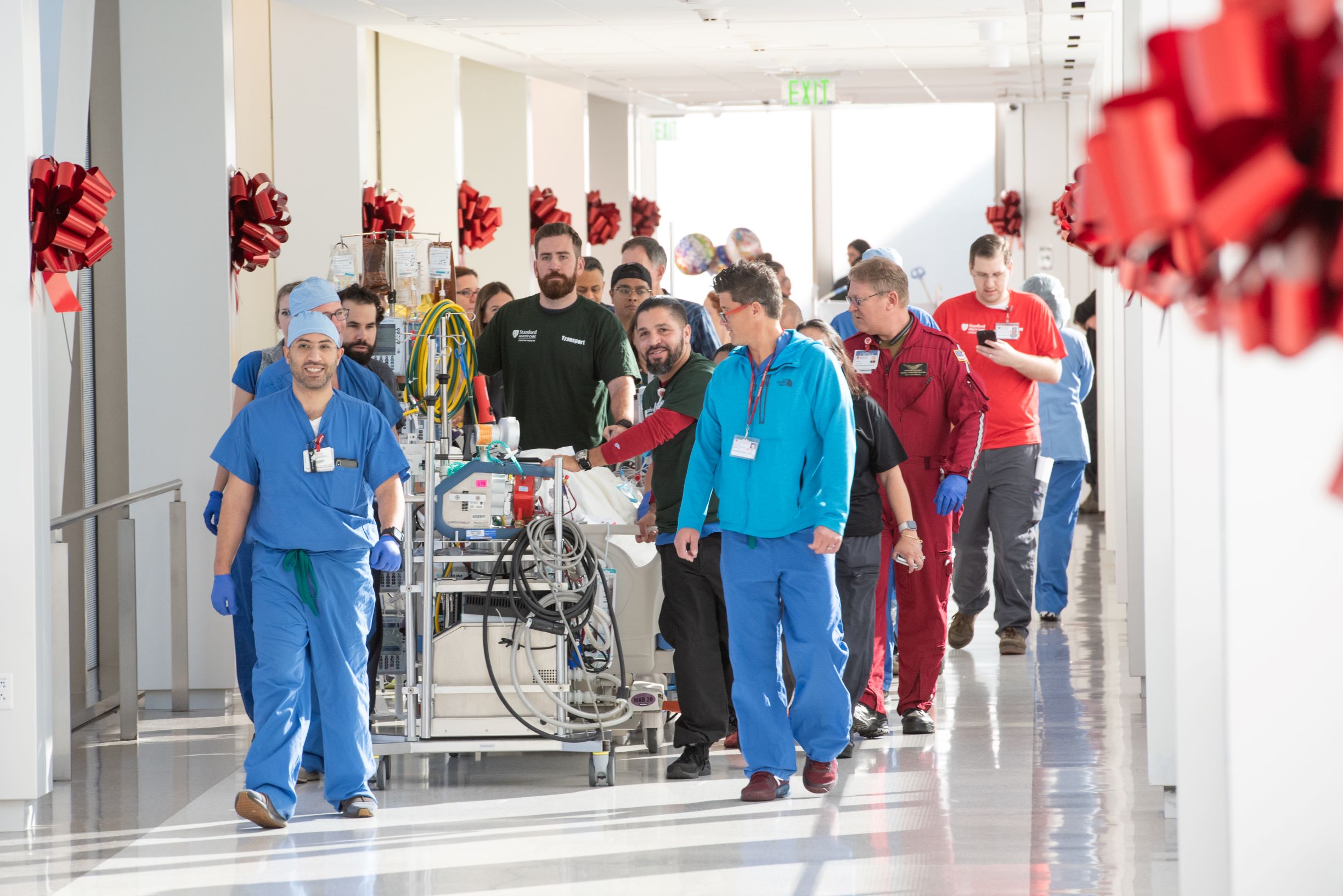 Advanced digital capabilities are evident not only in patient rooms, but throughout the hospital. Nurses' stations look more like the bridge of the Starship Enterprise than the paper-stacked counters of old. Monitors line the walls, desks, and common areas throughout the facility, suggesting that somewhere very large computers are working to keep information flowing. 
In an effort to "future-proof" the new hospital, Entwistle has tried to anticipate the changes that may take place in medicine in the coming years, as well as the fact that changes in technology may require as-yet unknown resources in the hospital itself. 
"On the medical side," he said, "we've built in features such as cutting-edge imaging facilities in some operating suites so surgeons can verify that tissue removals are complete during an initial surgery instead of waiting a day or two to obtain MRI data and possibly needing to perform a second surgery. 
"Architecturally, we've built in capacity for increased data storage and tried to design in the ability to adapt to whatever is coming next. When you think about it, ten years ago, when this project began, we didn't have most of the technology we are now using every day, so for this facility to remain viable, we have to embrace and try to plan for that degree of rapid technology evolution."  
Two needs that Stanford Health Care did anticipate and plan for were a vastly improved and expanded emergency room and the need to manage a mass-casualty situation such as an earthquake or region-wide power outage like the one recently experienced in the Bay Area. 
Over the years, the ER at the 300 Pasteur site has come increasingly under pressure from  overcrowding and inadequate physical resources.  
In the new hospital, the ER has been designed with more than double the square footage of the older facility, giving patients and families more room to wait comfortably for access to care. Instead of curtained alcoves where patients can often hear the distress of other patients in need of treatment, the new ER offers 66 enclosed, sound-dampened single-patient treatment rooms with space for family members to accompany loved ones through the treatment process.  
As the only regional Level 1 trauma center between San Francisco and San Jose, the current Stanford ER is one of the busiest in the country, according to a 2017 ProPublica report on hospital emergency rooms. With this in mind, the new Stanford ER has been designed to handle an ever-increasing demand for urgent care services in the future.  
 In mass injury situations, or during peak seasons of infectious diseases such as influenza, the covered ambulance bay – now a separate entrance from the walk-in area – can accommodate overflow patients. If the six-foot "floating wall" between the adjacent staff parking garage and the trauma center is removed, the entire garage, large enough to accommodate 900 cars, can be converted into a triage center that connects directly to the emergency room. 
And then there are those power outages.  
According to Jennifer Winder, Stanford Hospital's public relations manager for planning design and construction, the new hospital has sufficient back-up power-generating capacity to keep the entire facility up and running for a full 96 hours without refueling. 
"It's taken more than a decade of planning and a $2 billion dollar investment, but if the worst happens and everything goes down, health care will still be available at Stanford Hospital," said Winder. 
But what about that earthquake that will surely hit one day?  How will this 21st century hospital fare when "the big one" hits? 
Once again, Entwistle cites use of advanced technological design to "future-proof" the facility. To meet California's new seismic standards — a requirement for all hospitals by 2030 — architects mounted the entire structure on 208 massive base isolators that will allow the building to shift up to three feet in any direction.  
"The building is designed to withstand an 8.0 earthquake, rotating on its base to stay intact and avoid major damage," Entwistle said. "I hope we never have to, but it would be quite amazing to see that." 
In addition to all the futuristic, high-tech design built into the new hospital, a major emphasis on the healing influence of the natural world is also evident.  
Starting with the floor-to-ceiling windows and soaring, three-story domed atrium in the On Stage areas, natural light is brought into every corner of the hospital wherever possible to eliminate the closed-in feeling common to other facilities, including the 300 Pasteur site.  
At ground level outside the new ER, landscaped areas include an 85-tree orchard with fruit and flowering trees selected for medicinal properties in Eastern, Western, and native cultures.  
On the third-level wellness floor, four acres of outdoor gardens, walking trails, and rest areas invite recovering patients to reconnect with the outside world. Inside, a meditation room, family resource center, dining room, and assembly hall for lectures and staff meetings offer relief from the clinical setting for patients, families and employees.   
To compliment the connection to green spaces outside the hospital, mural-sized photographs of forests and trees have been placed throughout the facility. World-class, commissioned works of art, donated by friends and supporters of the hospital, highlight the soothing, healing theme of the institution. 
Ultimately, though, it is the quality of medical care available at the new Stanford Hospital that will determine its success. 
As a veteran of academic medical centers where he has spent the majority of his more-than-20-year career, Entwistle believes that teaching hospitals set the standard for healthcare in more ways than one. And although Stanford Health Care, the nonprofit that owns and operates Stanford Hospital, is an entirely separate entity from Stanford University, Entwistle points out how cooperation agreements between the two organizations benefit everyone. 
"We teach and train the physicians of the future, provide much of the medical research happening today, and enable providers to put new ideas into practice. Our clinicians can tap genetic data to create targeted care plans for patients based on what their bodies will respond to best," he said. "This access to deep data sets developed in academic institutions combined with cutting-edge technology have helped our healthcare providers solve some medical cold cases that have stumped other doctors. As a result, Stanford clinicians are now able to diagnose up 25 percent of patients coming in who were previously undiagnosed."  
Although the formal ribbon-cutting ceremony took place Oct. 23, the new Stanford Hospital at 500 Pasteur officially opened its doors to patient care on Sunday, November 17. 
This story was originally published in the print edition of Climate Magazine.