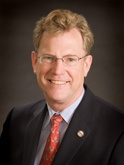 A mother's $460,000 campaign contribution to her son's candidacy for the 13th State Senate District raised eyebrows and questions.
Michael Browningg's 84-year-old mother, Linda Browningg of Burlingame, put the hefty donation into an independent expenditure committee (IE) called Californians Supporting Brownrigg for Senate 2020. She contributed $32,400 on Jan. 2, and then $425,000 on Jan. 17, with the aim of funding media advertising and polling in the campaign for her son, a Burlingame council member since 2009.
Unlike direct contributions to a candidate, those made to IEs have no limit. However, questions have been raised over whether the contribution violates state election law, which forbids an IE from coordinating with the candidate. Election law presumes that an immediate family member's IE contribution is improper, unless the facts prove otherwise.
"If there is coordination, the payments are reported as contributions, and, among other things, may be subject to contribution limits," which for individual donations to state senate campaigns is $4,700 per election, according to the California Fair Political Practices Commission (CFPPC).
The penalty for failing to comply with the Act's disclosure requirements is a fine of up to $5,000 per violation. In addition, violating the disclosure requirements involving IE advertisements may be liable for a fine of up to three times the cost of the advertisement, including placement costs, according to CFPPC.
Brownrigg has not yet responded to a request for comment by Climate. This story will be updated when a response is received. Brownrigg told media outlets earlier this week he had no idea his mother was going to make the contribution. He told San Jose Spotlight it isn't a fair assumption that his mother broke a campaign law. His mother told Spotlight she made the contribution "on the advice of someone else," but declined to identify that person.
As of Wednesday, the CFPPC had not received a complaint regarding the contribution, CFPPC spokesperson Jay Wierenga told Climate. Wierenga declined to comment on the specifics of Brownrigg's case.
Image: California Secretary of State