One week after a large, peaceful demonstration in Courthouse Square sparked what many viewed as a positive start to a dialogue on police reform, Redwood City held a Community Policing Virtual Town Hall on June 10 that some in the community believed was overly scripted and inadequately addressed police reform.
This week, the city told Climate the meeting was the first time the city has hosted a virtual town hall, but not its last.
"We are in the process of planning additional opportunities for residents to be heard, and to be in dialogue on issues related to policing," said Jennifer Yamaguma, Communications Manager at the City Manager's Office.
Over 500 people participated in the June 10 town hall. The city received over 150 questions in advance of the even and over 200 questions during the meeting itself, including through the Q&A feature and from live public comment, Yamaguma said. A number of questions were posed to town hall participants Mayor Diane Howard, Police Chief Dan Mulholland, Vice Mayor Shelly Masur, and City Manager Melissa Stevenson Diaz, whose answers drew criticism for focusing largely on how policing is done in Redwood City than how it could be envisioned in the future.
"Spoiler alert: this is all a PR stunt for the @RedwoodCityPD like we were all expecting and not an honest dialogue of concerned community members," stated one of about a dozen critical Twitter posts.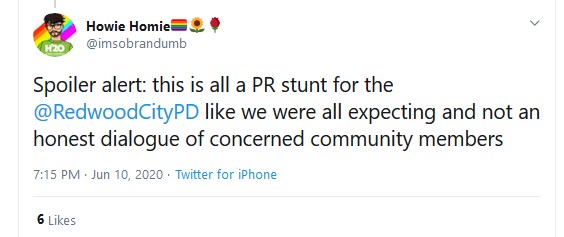 Councilmembers Giselle Hale was also critical of the virtual town hall, stating, "I had hoped for more."
"Too much time was given to pre-scripted answers and not enough time hearing and listening to your concerns and experiences," Hale said in a statement posted to Facebook. She acknowledged that city staff "are trying" and that it's "difficult to do deep community engagement virtually and during a health pandemic."
In a post on medium.com, fellow Councilmember Alicia Aguirre added, "It was clear to me …that we needed more time to listen to all the voices wanting to be heard. Listening is one of the most powerful ways we can respect, support, and promote healing."
Yamaguma said the city is working toward that goal.
"We are developing a Frequently Asked Questions to share on the City's website to answer questions we could not address during the Virtual Town Hall," Yamaguma said. Also, more Virtual Town Hall meetings on other topics are planned in the coming weeks. Those in the community with recommendations can email social@redwoodcity.org, Yamaguma said.
In a statement Thursday, Chief Dan Mulholland said the police department's website on community policing will be updated to answer questions by the community in an effort to increase transparency.
"We understand the community wants to know more about how we operate and we want to share information openly," according to the chief's statement, which can be read in full here.