As part of Redwood City's response to community calls to reimagine public safety in the city following the killing of George Floyd by Minneapolis police, five community dialogue sessions have been scheduled aiming to create "meaningful change in city policies, service delivery and policing."
The meetings are set to take place July 28, Aug. 8, Aug. 13, Aug. 17, and Aug. 27, all via Zoom (see times and links below). Sign up quickly: the July 28 session has already reached participant capacity, as each session is being limited to 80 participants to enable time for all to share their perspectives, according to the city.
The city is partnering with the Peninsula Conflict Resolution Center on the dialogue sessions. One session is specifically designed for youth participants.
Themes and recommendations that result from these sessions will be reviewed during a Virtual Town Hall with City Council this fall, and could lead to changes in the city's budget, the city said.
The community dialogue sessions are among steps taken by the city after it faced criticism over its initial response to community calls to change its policing model. Last month, the City Council endorsed the Obama Foundation Mayor's Pledge to review the the city's policing policies via a community engagement process, and aims to revise the city's budget in October with agreed upon changes to existing policies. The City Council established an Ad Hoc Committee on policing to work with the city to ensure progress on council-endorsed initiatives.
The city also increased frequency of racial and cultural diversity training for city police from every five years to every two years, opted to return a military tactical vehicle donated by the federal government, prohibited the use of carotid restraint by police officers, and pledged to increase transparency by publishing more information about policing online.
In 2019, there were 93,854 calls for police service and officer-initiated incidents in Redwood City, the data showed. Of them, 5,826 involved law enforcement contacts with members of the public. Of those contacts, force was used in 57 cases, or less than 1 percent of the time, the city said.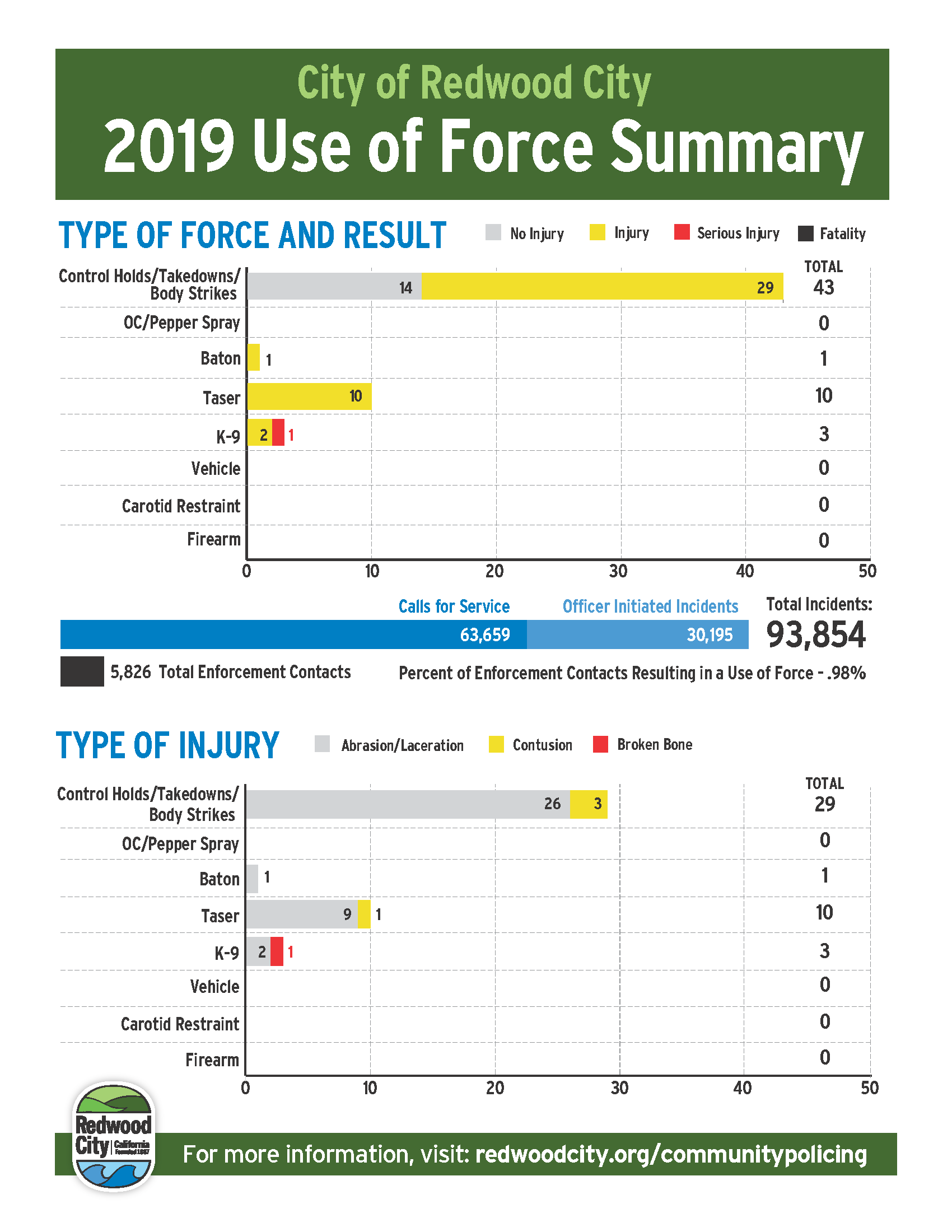 Community Dialogue Schedule:
Tuesday, July 28 (English with Spanish interpretation)
6 p.m. – 8 p.m.
Register here: https://zoom.us/…/regi…/tJUqd-GgpjMuHdeEivMngo85eIkWuZkYv5ek
Saturday, August 8 (Spanish with English interpretation)
10 a.m. – Noon
Register here: https://zoom.us/…/regi…/tJwof–vrDksHtD_aeuGgqpERuKOw3IONZWp
Thursday, August 13 (Youth focused session)
3 p.m. – 5 p.m.
Register here: https://zoom.us/…/regi…/tJUvcu2gqTovHddi4G3h-G2tyskJz_He8Z7H
Monday, August 17 (English with Spanish interpretation)
6 p.m. – 8 p.m.
Register here: https://zoom.us/…/regi…/tJMld–vrDovGd3h6QflLR83XNQFXiF9p1xO
Thursday, August 27 (Spanish with English interpretation)
6 p.m. – 8 p.m.
Register here: https://zoom.us/…/regi…/tJcodOutqTkvH928MUix2LgKJVQNj4lQp-6S