From its new home in the heart of North Fair Oaks, Casa Circulo Cultural (CCC) is now closer to the core community it serves.
On Wednesday, San Mateo County Sheriff Carlos G. Bolanos cut the ribbon on the new headquarters for CCC, formerly located on East Bayshore Road. The nonprofit organization that provides educational, cultural and developmental programs for underserved people in unincorporated areas of San Mateo County, including Redwood City, North Fair Oaks, Belle Haven, and East Palo Alto.
The organization, which offers an array of bilingual programs such as  technology, martial arts, cultural arts, youth and women's empowerment, will now move to expand its community services by sharing its programs with the CARON Community Partnership and the Sheriff's Activities League, according to the Sheriff's Office.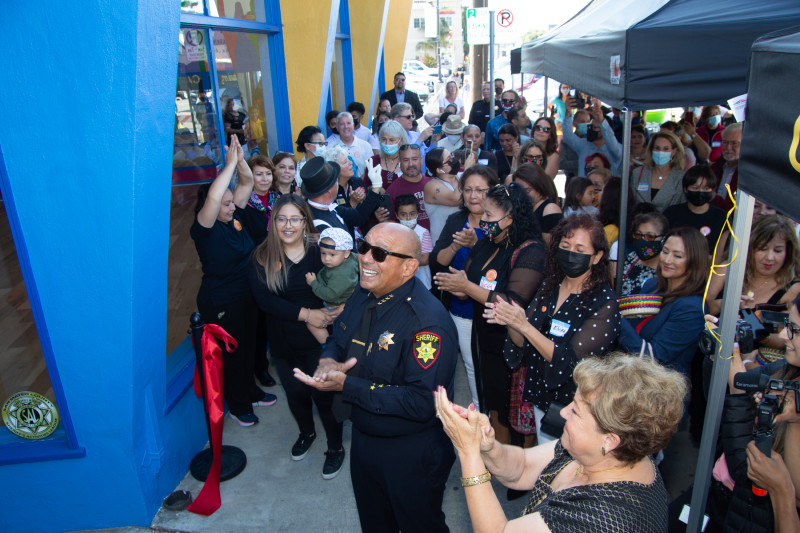 "The partnership with the San Mateo County Sheriff's Office and Casa Circulo Cultural gives opportunities and provides important programs to the youth who live in the North Fair Oaks community," said Sheriff Bolanos.
A large swell of supporters came out to CCC's Grand Opening July 14, which included brief remarks from Veronica Martinez-Escamez, executive director of CCC; Sheriff Bolanos; and Remedios Gomez Arnau, consul general of Mexico in San Francisco. During the event, performances by Metro Tae Kwon Do and cultural dancers demonstrated some of the programming available at CCC.
"Our charming new home will bring us closer to all of you, said Martinez-Escamez during her remarks, who later added in Spanish, "mi casa es su casa" (my house is your home).
For more info about CCC, click here, call (650) 362-3844 or email info@casacirculocultural.org.
All photos by Jim Kirkland