By Kathleen Pender
Like many people who grow up in a family business, Volker Staudt worked in his parents' German grocery and gift shop in Redwood City as a kid. But when they were ready to retire 13 years ago, neither he nor his sister were interested in taking it over. Volker's advice to his parents:  Sell it.
When they couldn't find a buyer, he reluctantly assumed the mantle. To his own surprise, Volker and his wife Maryann transformed what began in 1975 as a flower shop into a popular restaurant, Gourmet Haus Staudt & Biergarten.
In the tech-heavy Peninsula, where glitzy new companies may capture attention and then vanish like shooting stars, it's easy to overlook the importance to the economy of family firms handed down through multiple generations. Surviving isn't easy: One often-quoted statistic has only 30% enduring past the first one, 13% past the second, and only 3% past the third generation.
Although that figure was based on a limited sample, it's true that the "Transition never gets easier as families move through the generations," says Daniel Van Der Vliet, director of the Smith Family Business Initiative at Cornell University.  Most don't make it because they fail to adapt to changing business conditions, sell out to satisfy heirs who don't work in the business, or—in a growing number of cases —"the kids just aren't interested. Kids today are going to college, have access to the world, don't want to live in the town they grew up in," he adds.
Family businesses that do endure can create jobs, and in some cases great wealth, for generations to come. Depending on how narrowly or broadly defined, they account for 14% to 59% of U.S. private-sector employment and 14% to 54% of private Gross Domestic Product, according to a 2021 study led by University of North Carolina professor Torsten Pieper. The narrowest definition of a family firm includes companies such as Walmart, which is publicly held but controlled by descendants of founder Sam Walton and accounts for 2.5% of GDP.
This story was originally published in the July 2021 edition of Climate Magazine. To view the magazine online, click on this link.
Van Der Vliet says the average family firm lasts 24 years, longer than the average publicly held firm, perhaps because families hang on longer before shutting down. "The biggest fear of any family-owned business is that the company fails on your watch," he adds.
Gourmet Haus Staudt & Biergarten
The reluctant restaurateur
When Staudt's parents asked him to take over their store, he was enjoying his career supervising construction projects for Silicon Valley companies. But this was 2008, and no legitimate buyers surfaced. Rather than let her in-laws' life's work go down the drain, Volker's wife Maryann convinced him to quit his job and try running it with her.
Staudt's parents, Joe and Lucie, had moved to Redwood City from Germany when Volker was a baby. The couple opened their flower shop in 1975, later expanding next door to sell German food and gifts. They eventually added a few tables where people could order sausages and a beer, bought the entire building and stopped selling flowers.
Volker and Maryann sunk a fair amount of money into turning the place into a bustling beer garden. They began opening at night, expanded the menu and added local craft beers to their German brews. They tried to create a convivial Bavarian bierstube vibe where customers sit at communal tables. It quickly took off, attracting tech workers flooding into downtown Redwood City.
In 2010, it became the center of worldwide media attention when an Apple engineer left a prototype for the iPhone 4, disguised as an iPhone 3, on a barstool. Another customer found it and took it home. Word got out and Volker was besieged by news crews. He let them film but never disclosed the name of the Apple engineer, who was a regular. (His name got out through other sources.) The free publicity helped, a lot. "We were in the New York Times three times that year," Volker says.
As the restaurant grew, Volker and Maryann closed the gift shop and rented that space to a nail salon but still sell German groceries. Volker, 62, recalls that when he took over the business, his parents initially resisted the changes he wanted to make. "That was the hardest part, getting my parents to realize, 'You wanted us to do it, we have to do it our way,'" he says. His parents remember it differently, saying they welcomed the changes. In either case, today "We are the proudest parents in the world," says Lucie, who worked there for free until Covid-19 hit.
The pandemic was a blessing in disguise for the Staudts, who took a fresh look at the business they felt was controlling them. They brought in some new management and were able to expand outdoor dining into an adjacent parking lot. Now, for the first time, they feel in control of the business.
And a third Staudt generation? Son Grant, who started working there seven years ago, has become more involved. The Staudts are grooming their 30-year-old son, who co-owns a Santa Cruz bar, to take over in a few years. They appreciate changes he's made, such as using his liquor contacts to bring in spirits and updating the point-of-sale and scheduling systems.
Balancing family and business
Most family operations, like the Staudt's, are small and medium size. But a 2003 study published in the Journal of Finance estimated that 35% of the public companies in  the Standard & Poor's 500 index are "family firms," meaning members of the founding family or families own at least 5% of the stock and/or hold at least one board seat. The authors wrote that "Contrary to our conjecture," these family firms perform better than nonfamily firms, perhaps because they "have longer horizons than other shareholders."
Franklin Resources, a major investment firm based in San Mateo, is a family business by this measure. Descendants of founder Rupert Johnson, Sr., owned at least 42% of its stock as of December and three are board members including Chairman Gregory Johnson and his sister Jennifer Johnson, who succeeded Gregory as president and chief executive. "Family firms on average have far more women in leadership positions than non-family firms, and this goes through all the echelons of the organization, not just the top," Pieper says.
No matter their size, most family firms face similar joys and pains, especially balancing the needs of relatives and business. "There is such a complex mix of relationships and emotions and decisions that are inherent in families that generally are not inherent in a nonfamily business," Van Der Vliet says.
In San Mateo County, many have battled competition from chain stores, cheap imports or the internet, and struggle to find employees who can afford to live here. On the plus side, many have loyal customers who like to patronize family firms, and some get free or discounted rent because a previous generation bought the business property decades ago. Many still get help from parents who "retired" years ago and rely on the younger generation to keep up with technology and social media.
Asked what successful family firms have in common, Van Der Vliet said, "They love what they do and they love each other. I don't know how to quantify that."
Here's a look at how some small family-run businesses on the mid-Peninsula are beating the odds.
Granara's Flowers
Second-generation florists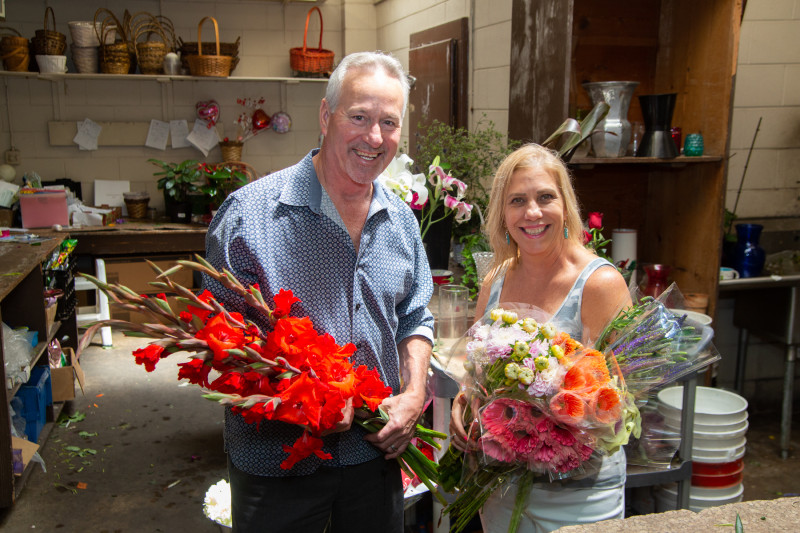 Siblings Robin and Tim Maffei grew up in a family of eight children. "One thing my dad always taught us, don't hold a grudge," Tim says. That's a lesson they still live and work by at Granara's Flowers in San Carlos.
Their deceased dad Primo "Jim" Maffei started working there in 1950 and bought the business —including the building—from Romeo Granara for $100,000 in 1979. Tim, 65, started working there the same year. Robin, 56, joined in 1981. The duo bought it from their parents in 1994. None of their other siblings work at Granara's, although their oldest brother Pat owns a floral business in San Anselmo.
Forty years ago, the store was "nonstop funerals," thanks to a funeral parlor that was next door, Robin says. As more people opted for cremation, that business declined. Then Safeway, Trader Joe's and Costco started selling flowers. "They buy in bulk. They get it dirt cheap. We can't even compete" on price, says Robin. Where they can is on quality, design and service, like providing a last-minute prom corsage.
During the last big recession, a line of credit and free rent kept the business afloat until the economy improved. When FTD and Teleflora began charging higher fees on orders they sent to independent florists, Robin and Tim reluctantly cut ties, fearing they'd lose business. But it turns out they made more money without them.
Then Covid hit. There were no more weddings, funerals or corporate events. A sales-awards banquet that would have brought in $20,000 canceled overnight. Astonishingly, the shop did better in 2020 than it did the year before. Robin had spiffed up their website, and internet orders more than doubled. "People couldn't go visit so they sent flowers all the time," says Tim. "Mother's Day was triple a normal year." This year has been good too, with social events returning.
Robin arranges flowers for weddings, Tim does funerals and they share other jobs. They sometimes have "silly arguments, sibling stuff," says Tim. But they also like to joke around. "Once we were trying to use every swear word in the world and a customer walked in," Robin says. "Luckily it was someone we knew."
Dehoff's Key Market
Second- and third-generation grocers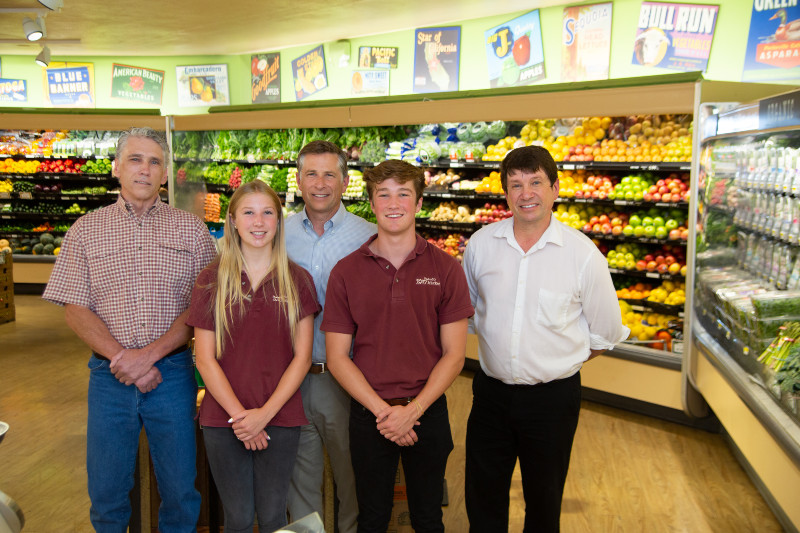 Dehoff's Key Market in Redwood City has survived by "going back to its roots," says President Chris Dehoff. He and his four siblings grew up in the grocery business and all except one still work there. Patrick is in produce, Mike is in the meat department and sister Jackie Funaro does accounting. Chris says he became president because when he took over grocery buying, he worked most closely with his dad Jack Dehoff, who died last year.
Jack started working at grocery stores in high school. He bought the Key Market in Redwood City in 1972 and by 1992 had purchased four more stores on the Peninsula. As competition moved in or neighborhoods changed, the family sold all of them except the original. "In the 80s and 90s we were pretty conventional in our marketing. As time has gone on, we have gotten a lot more natural and organic and specialty focused. That niche has proven to be what the customer wants," Chris says.
The store carries a wide variety of craft beer, finer wines and trendy products such as jackfruit. It added a full-service deli and meat counter and upgraded its beef selection. At Thanksgiving, instead of buying "a truckload of Foster Farms turkeys, nowadays we focus on specialty brands such as Willie Bird and Diestel and organic, free-range heirloom birds, which are more genetically similar to turkeys the pilgrims ate," Chris says.
Dehoff's is within 1.5 miles of a Whole Foods, Safeway and Lucky Supermarkets, but people "seem to appreciate our store more than they used to. They like to support a local, long-time, family-run market."
As a small, independent family-owned company, "We can react quickly to change. We're on the same page, feel the same way about investing in the future," Chris says. But, he adds, "Waters have to be treaded more carefully with differences of opinion. You are still caring for family members you have close personal relationships with."
He has three kids from high school- to college-age who work part-time at the store. "My parents have 11 grandkids. If all goes well it will be around for future generations," he says.
Gordon Aatlo Designs
Third-generation jewelers
When Gordon Aatlo died in 2012, his children had to redesign his business. Their San Carlos store, Gordon Aatlo Designs, was built around his one-of-a-kind jewelry. To keep the doors open, his children also began selling non-custom jewelry and custom work from other designers including Kelly Allen, Aatlo's stepson. Allen, 57, learned the trade from Aatlo, who learned it from his dad Hilmar Aatlo, who immigrated from Norway.
Some of Allen's designs are modern takes on Gordon Aatlo pieces, says Christine Thoresen, 67, who owns and runs the store with Allen, who is her brother.
When the store had to shut down for three months last year, "I thought I was going to have a heart attack. The rent, the overhead still needed to be paid," Thoresen says. "We started putting a lot of work into photographs, advertising for curbside service, marking things down to keep the lights on." But business came roaring back this year and is the best it has been since her parents passed away.
Thoresen says there has been "tremendous growth in the industry with the addition of Etsy" and other outlets for independent designers. But the profession is losing some skills, such as hand engraving and fabrication, as more people make jewelry using design software and 3D printers. Current trends in jewelry include the "neck mess," five or six necklaces worn at once; multiple mismatched earrings (some suppliers are selling single earrings for this purpose); colored gemstone engagement rings; and two or three colors of gold on the same ring.
Sometimes a customer will bring in a ring for cleaning, sizing or repair that Gordon designed 40 years ago. "It's a little bittersweet," Thoresen says. "Sometimes I will remember when it was made, or sometimes it's something I've never seen. It's a benefit when you create something that will last more than a lifetime and has a tremendous amount of meaning to the person who will receive it."
Roman Marble Shop
Third- and fourth-generation countertops
When Charles "Chuck" Arceo ran Roman Marble Shop with his wife MaryAnn, they tried to draw a line between business and family life. "When we came home, we didn't talk about work," Chuck recalls.
But when his two grandsons—cousins Jimmy Ornelas, 43, and Adrian Arceo, 32—came into the firm, the line blurred.
"We were always in everybody's business," Jimmy says. "If me and my wife would have an issue," his grandma would find out and the next day grandpa would bring it up at work. His grandpa often had good advice, so Jimmy didn't mind much.  His cousin Adrian concurs: "We'd try to keep stuff at the house but somehow we would always hear about it."
Chuck and MaryAnn, both 84, started the Redwood City company, which fabricates and installs stone countertops, in 1964. Their son Raymond worked for them but retired early. About four years ago they gave the business to their two grandsons. Roman Marble does mostly residential and some commercial work.
The business took a hit in the early 2000s when the Chinese started bringing in prefabricated countertops that cost about one-fourth what the shop charged to buy and fabricate custom slabs. Chuck initially resisted installing the imported ones, but eventually agreed to when customers demanded it, according to Jimmy.
Then in 2008, the housing market nearly collapsed and the shop went from eight employees to two or three. Since then, housing has rebounded and tariffs brought in under the Trump administration raised the price of the imported countertops closer to custom slabs. Today the shop is back to eight employees including yet another generation—Jimmy's sons Jeremiah, 18, and James, 21.
The cousins enjoy getting repeat business from their grandparents. "We did a kitchen seven years ago, my grandpa did it 25 years ago," Jimmy says. His cousin adds, "Our grandfather pushed us to produce a quality product, that way we take pride in what we do. It's not just a company, it's a family we put out there."
It's It Ice Cream
Second- and third-generation dairy treats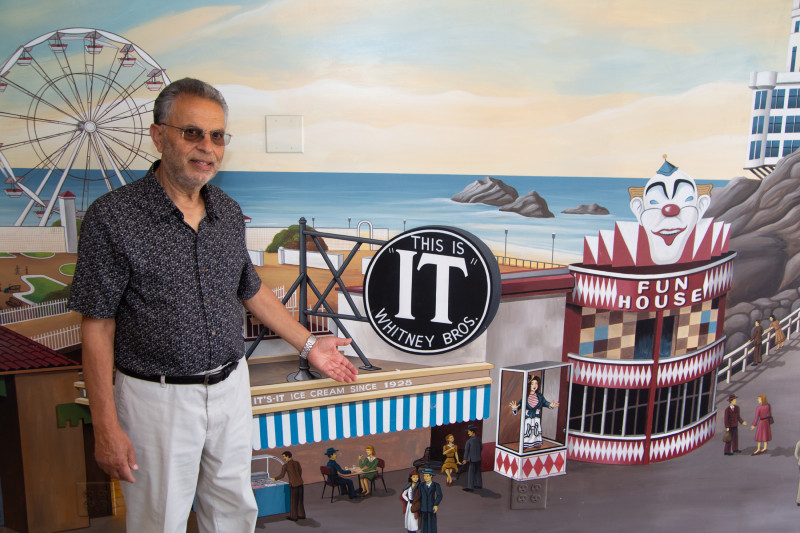 It's It Ice Cream hasn't changed much since 1974, when the late Yousef Shamieh; his sons Charles, Bill and Shawki; and his two brothers-in-law A.L. McDow and Isa Zaru, purchased the name and started making their iconic chocolate-dipped ice cream sandwiches from a plant in San Francisco.
In 1976, they moved the manufacturing facility to their current location in Burlingame. Charles Shamieh, 74, is president. Over the decades, more second- and third-generation family members became involved.  Everyone has a separate job title, but if someone wants to leave for a week or a month, someone else will take over. "It's run as a family more than a straight business. The employees we have feel they are part of the family," Charles says.
The company makes its own preservative-free ice cream, buys cookies from a company owned by Charles' cousin Nader Shamieh, and buys chocolate from an unrelated supplier. The recipe hasn't changed since 1974, except for the introduction of a few new flavors such as cappuccino and green tea.
It's It distributes in eight states, but most sales come from the Bay Area and Los Angeles. The company has been approached by potential buyers but "it is not for sale," Charles says. "From generation to generation, we keep it."
Avenue Auto Service
Father-son auto repair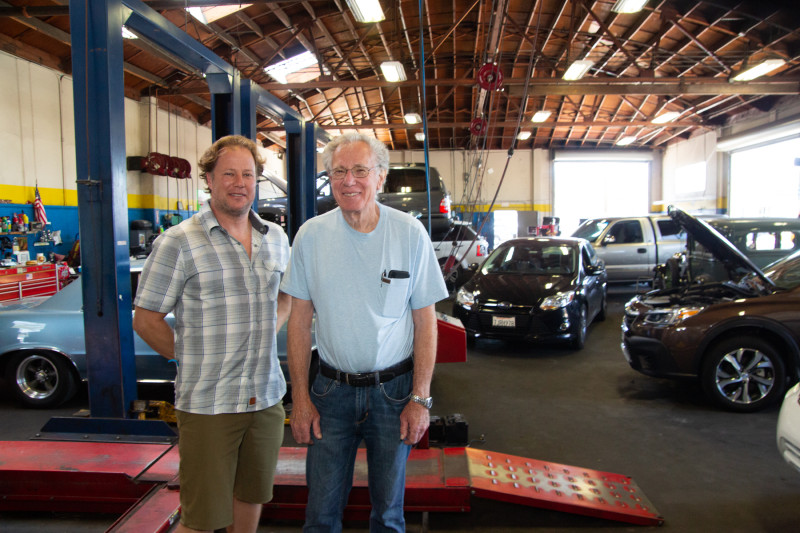 Fixing cars has changed a lot since Dennis D'Amico, 77, graduated from high school in 1963 and got a job with Avenue Auto Service in San Carlos. D'Amico became a partner in 1971 and bought it when the former owner retired in 1974.
The next year, D'Amico began doing mechanical as well as body work and towing. The business grew from eight employees to 42 at its peak in the early 80s. "Back then I never worried about what was being spent, business was that good," he says. But today it's down to 22 employees and its towing fleet has shrunk by roughly half to five trucks.
Around 2000, insurance companies started steering customers who got in a wreck to body shops in their "direct repair networks," saying they would guarantee that shop's work, says Aaron D'Amico, 48, who joined his dad's business after graduating from college in 1995. Insurance companies paid companies in these networks less than the D'Amicos were making on their own, and they declined to join any except one, Aaron says. That decision cost them a lot of business.
Avenue Auto also faces increased competition from large chains such as Caliber Collision, a private-equity-owned company that is buying up independent shops.
Avenue Auto still has loyal customers who like patronizing family-owned businesses, Aaron says. But they come in less frequently for service because "People here have newer cars, they don't break down as much," and with electric cars, "there is not a ton of maintenance." When something does need repairs, it can be very costly because of all the new safety features and fancy equipment such as LED headlights. The D'Amicos spend thousands of dollars a year on hardware and software to scan diagnostic codes from car manufacturers and other high-tech equipment.
"What made it really hard to operate was the tech boom. Employees got priced out. They moved to Hayward, then Concord, then Modesto," Aaron says. "Most people who are body men could be plumbers or electricians," which pay more once you get in a union. "Every year it gets worse and worse attracting talent."
Aaron has to push his dad sometimes to adapt to the changing environment. "The younger generation knows you have to change to survive," says Aaron. "The resistance to change is what hurt us in the late 90s, early 2000s." Fortunately they own their four buildings. "If we didn't, we would not be in business anymore," Aaron says.