By Dan Brown
Larry Owens, having spent his adult life as a community college football coach, grew accustomed to taking on all the adjunct roles that come with big dreams and a modest budget. He was the head coach, yes, but also an unofficial psychologist, academic counselor, secretary, travel agent, equipment man, father figure and whatever else the College of San Mateo happened to need right now, right this instant, can you help us, coach, please?
"I would tell the kids, 'The only thing I can't be is a banker because I ain't got no money,''' Owens recalled with a laugh.
But for a while, this one-man job fair became too much. The Redwood City native, and one of the most accomplished head coaches in CSM football history, stepped away for a few years starting in 2009 as his workload began eclipsing everything else that mattered in his life. After his dad died, Owens wanted to take care of his cancer-stricken mom, and Owens – rather than do the unthinkable and actually dial back his coaching hours – handed in his playbook. "I didn't want to cheat the kids I was coaching,'' he said.
Improbably, though, his break from head coaching led to the greatest coaching triumph of his career.
That's saying something considering the Sequoia High graduate went 128-90 over 21 seasons at CSM, including 10 postseason appearances.
But a bigger game is underway in his San Mateo home, and his coaching skills are back in full force. His target now is not some young athlete hoping to go from CSM to Super Bowl glory, as receiver Julian Edelman did. (Edelman, so grateful for Owens believing in him then, once took his coach out to dinner in Boston as a thank-you.)
The Taskmaster at Home
These days, Larry Owens is coaching the love of his life. And through his motivational needling, through his tough love and creative drills, he is helping his wife pull off a thrilling comeback from the surgery that almost killed her.
Tisha Owens suffered an aortic dissection – a broken heart – on Dec. 19, 2019, and as she was rushed off to emergency surgery about 2 a.m. that dreadful night, doctors bluntly warned the couple that most patients don't make it. She was 51.
"She was calm. I was a mess. I just broke down,'' Larry Owens recalled. "And so I remember telling myself, 'Don't cry. Don't cry.' And she just said, 'I'm gonna be all right. God got me.'"
The surgeons did their part, repairing a tear in Tisha's main artery, but there were other complications. She spent nearly a week in an induced coma at Mills-Peninsula Medical Center in Burlingame and her journey ultimately included multiple blood clots and three strokes that still affect her left side. Tisha, an intrepid traveler before the operation, also had a bilateral amputation below the knees as the result of circulation issues. Sitting on the couch next to Larry on a late-May afternoon, she proudly held up her hand to show three fingers are missing as well.
"My heart doesn't work. It doesn't function like it used to. It's 35 percent now,'' Tisha says, "but I'm making it."
It helps that she has one of the Peninsula's notable college coaches helping to guide her rehabilitation. Owens likes to say that the key to coaching isn't strategy, it's communication, and around their home this spring the message was loud and clear. The only thing missing was the whistle.
Widen your legs and establish a base!
Push yourself!
Lean your head over your toes!
Do what they taught you!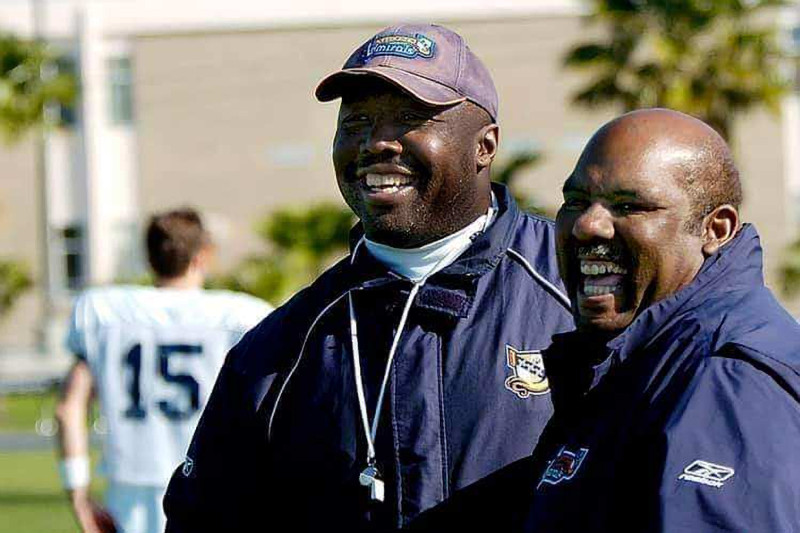 There is no scoreboard here, but there are unmistakable signs that things are starting to turn. Tisha has graduated from a walker to a cane to tentative steps on her own. She made it back to Atlanta to visit her family last Christmas. The couple recently spent two weeks in Las Vegas. She's planning a vacation to Kenya by 2022.
"It may be strenuous,'' Tisha says, "but it's making me stronger."
An Online Introduction
It started with a bit of flirting.
"You're beautiful,'' the never-married Owens wrote during his first foray into online dating in 2010.
Tisha knew nothing about sports at the time but responded with the cleverness of a defensive coordinator.
"On those websites, when you really want to know if somebody is serious, you say, 'call me.' And he called!" Tisha said. "And we just talked and talked and talked and …"
They kept talking the next day, too, when they met for dinner at Pasta Pomodoro in San Francisco. They kept talking when Larry insisted on driving her to the BART station rather than let her take the bus. They kept talking after Larry made her promise to call as soon as she got home safely.
They were married within a year.
Tisha on the couch next to Larry, hard to miss with her streak-of-lightning personality and her 5-foot-11 frame (she was 6-1 before her prosthetics). Tisha laughs often, tells funny stories with the speed of an auctioneer and steals glances at her husband as if they are back at Pasta Pomodoro again.
It's a lot healthier than Larry's first "marriage" – which is to say his 100 percent commitment to football. Before Tisha came along, Owens focused solely on the game, the game, the game. So much so that when he served springtime stints working in NFL Europe, for the Scottish Claymores (1996-97) and Amsterdam Admirals (2001-03), it never struck him to check out the sights or, you know, take some photos.
As longtime friend Gary Dilley, the former CSM director of athletics, said: "Tisha brings the horizons. She brings the sunsets. She's the beauty part of Larry's life. Tisha brings a Technicolor presence to their relationship."
Married to a Mentor
Because they met during Larry's hiatus as head coach, Tisha barely had an inkling of what she was signing up for as a football wife. The game was so foreign to her that she thought all kicks were field goals. (Larry used his expertise to explain that some of them are merely extra points.)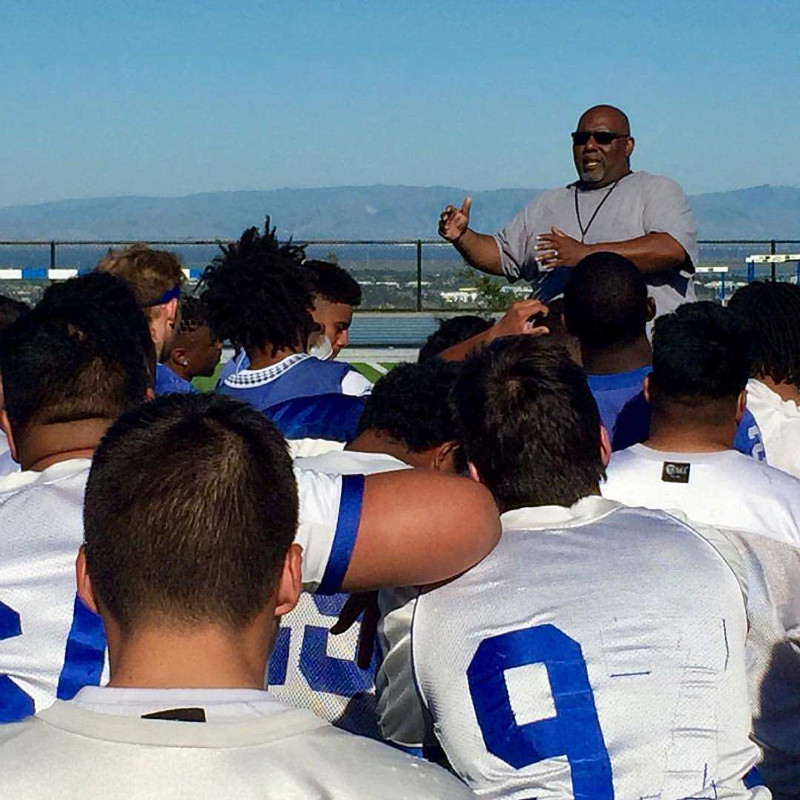 But Tisha started to get the picture about what Owens meant to Northern California athletics whenever they were out in public. Larry impacted so many lives for so long that it was not unusual for him to be approached by a former player on the street.
"All the time!" Tisha says, nearly jumping off the sofa. "We can't go anywhere. There's always somebody, even if we're out of state! And they'll say, 'Oh! Coach O! How you doing?' They flag him down in cars and just all over the place. I told him he should be mayor because he knows so many people."
Larry's career path is no surprise to those who encountered him growing up. As a boy, he spent his summers riding his bike to the Red Morton Recreation Center in Redwood City. Gilley was the recreation director at the time and remembers the kid pedaling all the way from Woodside Road just to see whatever the playing fields had to offer that day. Young Larry would chalk the lines for the adult softball league and showed so much knowledge that they eventually made him the official scorekeeper.
Owens grew up to play offensive line at Sequoia High but not well, according to one scathing scouting report – his own. "Average guy, you know,'' Owens says now. "I wasn't anything." Whatever athletic future he might have had was upended during a pickup basketball game at Sequoia when he was undercut by an opposing player and wound up with a serious knee injury.
That hastened his transition to coach, and the football world was better for it. With a clipboard, he was definitely not an average guy. He started on the staff at Woodside High, then became an assistant at CSM before taking an assistant job at Division II Humboldt State in 1989-90.
But that's when the head coaching job at CSM became open again, and Owens recognized his chance to come home. He threw his hat into a ring filled with applications from more experienced candidates. But Dilley, who was on the hiring committee, said Owens stood out even as they whittled the field to five or six finalists.
He thought so then. He really thinks so now.
"I came to believe he really was the best hire in the San Mateo County Community College District in probably 20 years,'' Gilley said. "He became a critical person on our campus. Not only was he a knowledgeable coach … but he was tough on the kids, he was a role model and he had high expectations.
"He expected the student-athletes to be successful, but he wasn't the typical hard-nosed coach. He was more like a favorite uncle for some kids. He was more like a dad for other kids who didn't have a dad. Off the practice field, he was a good friend and confidant and he could reach kids and help them grow up."
Advancing by Increments
By the time he retired in 2017, he was honored by the City of East Palo Alto with a Lifetime Achievement Award and a proclamation for his years of service to the community. He has a bachelor's degree in physical education from Cal State Fullerton and holds a master's degree in administration/physical education from St. Mary's College.
All of that served as a prelude to his latest challenge, and Owens continues to use every motivational trick at his disposal. Larry keeps Tisha cognizant of her balancing techniques as she regains her mobility and is exacting when it comes to her physical therapy game plan.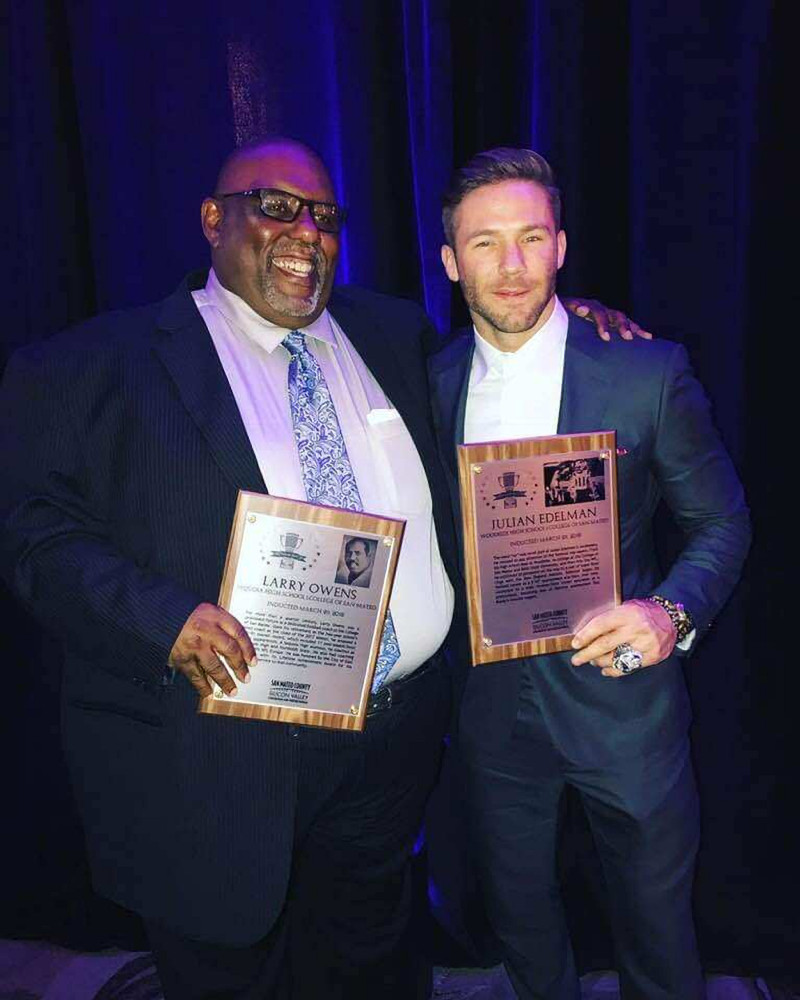 He also keeps creating new challenges. Whenever they head out, he'll pull the car out a little farther from the curb just to coax her into a few extra steps. In the grocery store, he'll make her reach for the items that seem too high on the shelf.
Coach O is mostly polite with his only player. But not when Tisha says she can't use her "bad" hand.
"And he'll give me looks: 'Yes, you can, too! You got to use that hand! Exercise that hand! Move that hand!" Tisha said, laughing. "And I'm like, I'm not a football player! He'll say, 'I know who you are. I know you're not a football player. But you need to do things like that!'''
The exhilarating progress has given her a better understanding of all those times she's been out in public with her husband and some former player interrupts to reminisce about the old days. She gets it now that she's been pushed and nudged and cajoled and has had her world changed because of the relentless force sitting on the other side of the couch.
"They always thank him,'' she said. "Always."