The Foothill Auxiliary to Peninsula Family Service will host its annual Holidays on a High Note luncheon benefit Mon., Sept. 20 from 9 a.m. to 2:30 p.m. at the Menlo Circus Club, 190 Park Ln. in Atherton.
The annual event, which unofficially ushers in the holiday season on the Peninsula, will feature lunch served on the patio, vendors, live and silent auctions, tablescape displays and a lecture/demo from floral designers, all "in an airy setting" per organizers.
From 10:30 to 11:15 a.m. that morning, floral designers Cheryl McGuire and Coni Oakson—friends and business partners who have been designing together for three decades—will give a lecture and demo for attendees, followed by a live auction of the floral arrangements they create during the benefit.
After the live auction, attendees will have plenty of time for perusing the vendor offerings and numerous tablescapes featuring floral designs—a highlight of the benefit. This year's tablescapes will be presented by: Anne Mellenthin Designs; Carmen Pekelsma, Elizabeth Gamble Garden; Daniel Owens, EnviroMagic; The Evars Collection; Everything & Pink Champagne, LLC – Elite Events; The Family Tree; Henke Code Flora and Plant Services; Kim Wakatsuki, Flowerstory; Kris Forbes, 39th Street Designs; Lana Chernyavsky; Luisa Borja Design; Menlo Botanica; Menlo Park Discovery Shop; Miss Scarlett's Flowers; Nancy Radcliffe Design; Pico Soriano Design; Sassy Diva; and Shelby's Garden.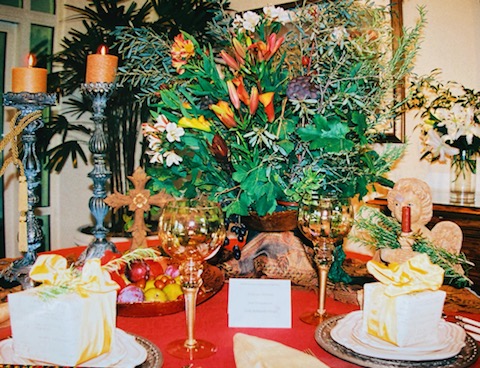 Those interested in shopping during the event can check out the boutique vendors here.
The Foothill Auxiliary to Peninsula Family Service supports the nonprofit's work empowering children, families and older adults throughout the Peninsula with the tools to improve their lives and thrive. This year's Fund-a-Need at Holidays on a High Note specifically aims to support the nonprofit's financial empowerment work with clients.
Tickets to attend Holidays on a High Note on Mon., Sept. 20 are $140 per person including lunch and should be purchased by Tues., Sept. 14. Click here for tickets. Questions? Contact the Foothill Auxiliary at foothillauxiliary@gmail.com. Learn more about the benefit here.