By Dan Brown
Before heading off to the Tokyo Olympics in the world's most populous city, Aisha Chow trained at a quaint oasis that remains unknown even to some locals.  Chow, 44, rowed her way around the Bair Island Aquatic Center in Redwood City, where a crowd consisting largely of pelicans, Canadian geese and seals watched her power her single scull across the open water.
For many years, Chow was among the San Mateo County residents oblivious to the charms of Bair Island, but once she discovered it, it changed her life. A friend's offhand reference to this slice of watery heaven resurrected her athletic side and, soon, the 5-foot-9, 160-pounder became the most unusual of athletes: the accidental Olympian.
— This article was written before Chow competed in the Tokyo Olympics. See her results here. —
"Someone at my work said, 'Oh, you used to row? Have you ever been rowing at the Bair Island Aquatic Center?'" said Chow, an associate director of cell biology at FibroGen, a biotech company in San Francisco. "And I'm like, 'What is that? And I'd never known it was there. It's like 10 minutes from my house.
"And it is awesome. I mean, there's rowing, there's masters rowing, there's juniors rowing, there's kayaking, stand-up paddle-boarding and outrigger canoes. But I never knew it was there. If someone hadn't told me I would never have known how to look for it."
Reclaiming the Oars
Chow had taken 10 years off from rowing after college but thanks to muscle memory and her dual citizenship with her birthplace, she trained hastily enough to represent Trinidad and Tobago at the 2016 Games in Rio. In doing so, she became the first-ever rower to represent the island country at the Olympics. And almost immediately after her final stroke of that 2016 race, Chow resolved to train maniacally for the chance to do it again, but better, at what would become the much-delayed 2020 Tokyo Games.
She resumed her workouts at the place known by its acronym, BIAC, an expanse that serves as home to several rowing clubs, including Stanford. The site and its tight-knit community proved to be so idyllic for rowing that Chow eventually had to pry herself away in early July. To prepare for the soaring temperatures expected in Tokyo, she did some last-minute prep in Sacramento hoping that the 110-degree heat would provide the finishing sear to her well-done training.

Seeking out such suffering was no surprise. To Chow, misery is among the most appealing aspects of her sport. Because so much of rowing has always come easily to her—she's freakishly strong—the San Mateo resident prefers it when circumstances require her body to reach beyond its limits.
"I think a lot of endurance sports is basically sort of the games you're playing with yourself to see how far you can take yourself,'' she said. "You're playing a game of chicken with yourself: How tough can you be? When are you going to quit? Are you going to quit?'"
What Competition is About
That said, speaking with Climate in July before her departure for the Tokyo Olympics, Chow was reconciled to the prospect of being soundly defeated by her rowing idols in the Women's Single Scull 2,000-meter event. Never mind that her friends, as well as the Trinidad and Tobago media, reflexively urged her to "Go for the gold!"
That message misses the point for athletes such as Chow.
"Not everyone is winning a gold medal,'' she said. "Some of us are just glad we made it here."  For every Michael Phelps and Simone Biles, there are hundreds of other Olympians whose more realistic hope is to represent their country with the best effort of their lives. Chow was aiming to "go for the goal."
"I'm still not a medal contender. But I have my own personal expectations that I didn't have before,'' Chow said, referring to 2016, when she finished 22nd out of 32 rowers. "And, so, I think that makes it a little more heavy in terms of things I want to accomplish. … You never want to embarrass yourself. I think that's still like a baseline. But then on top of that, I have my own goals that I want to hit.
"I think before, I was just nervous about being on such a stage and racing with those athletes. Now I've had four or five years of racing at that level. And it's less about the crazy fast women who are in my race and will be leaving me behind and more about, well, 'What have I spent the last five years doing? Am I going to put it together and have a good race today to satisfy my own self?"
In that light, losing an Olympic race could be more meaningful than winning a lesser one. Chow spent a few years so dominating the older competitors of the Masters circuit in the U.S. that the thrill gave way to a version of boredom.
"Like, I entered all the events and then I was just winning, which is awesome because I was beating people I never thought I could beat,'' she said, "but if you're just winning, that's just no fun. If this (Olympic) opportunity hadn't opened up that allowed me to start racing at an elite level, I guess I would probably would have had to quit rowing because there would have been no more challenge."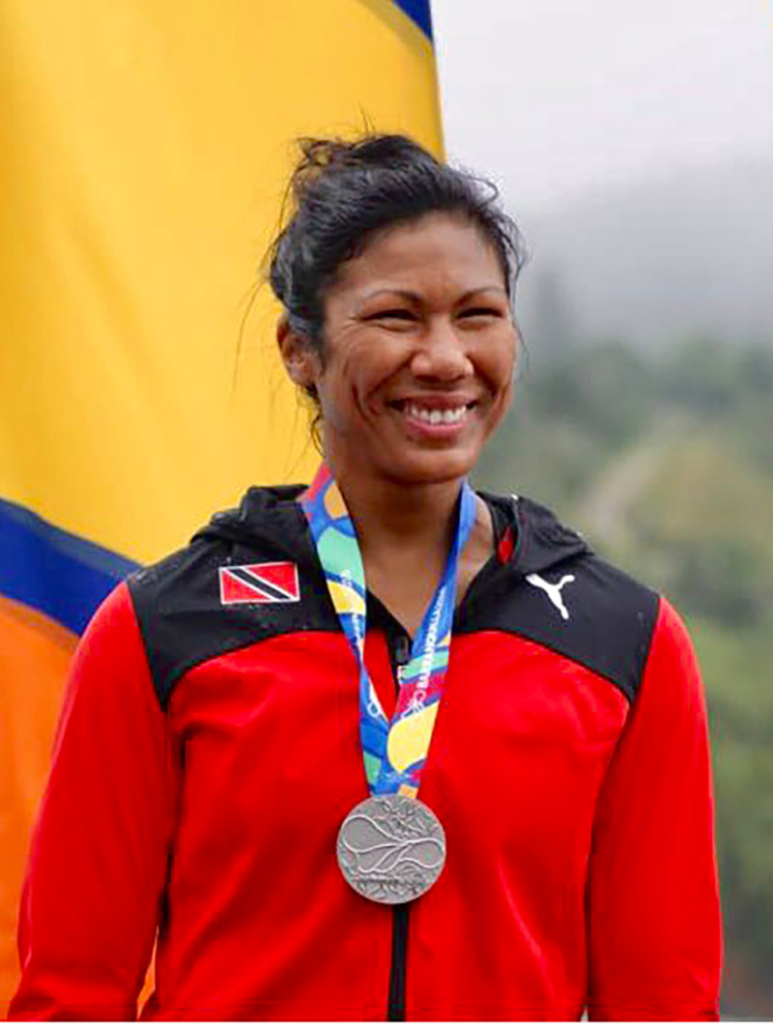 Born to Row
Chow was born in Trinidad and Tobago in 1977. As a kid, she was just fine at dancing, gymnastics and jiu jitsu. She was less fine at swimming. "I was actually really slow and terrible,'' the Olympian said.
But she was also powerful. Like insanely naturally, Wonder Woman-y powerful.
Her might became obvious soon after she moved to the United States for college and tried out for the rowing team at the University of Miami. Chow was there on an academic scholarship en route to her undergraduate degree in biochemistry & molecular biology, microbiology & immunology.
Her cousin recommended to Chow that she try out for Miami's rowing team, and she walked onto the novice squad with scant experience. A few months into training, the rowing coaches put athletes from all levels through a 2,000-meter test on a stationary machine called a Concept 2 RowErg.
Chow set the novice team record that day. She beat every other person on the varsity squad save for the team captain.
"I got off and (the coach) was looking at me and her jaw was literally dropped,'' Chow recalled. "And I was, like, 'Did I do something wrong?''' The coaches promptly elevated Chow to the varsity team, though in retrospect it was a premature promotion considering that she had no idea what she was doing. Though she would eventually learn how to combine her brute strength with the sport's subtleties, those lessons took time.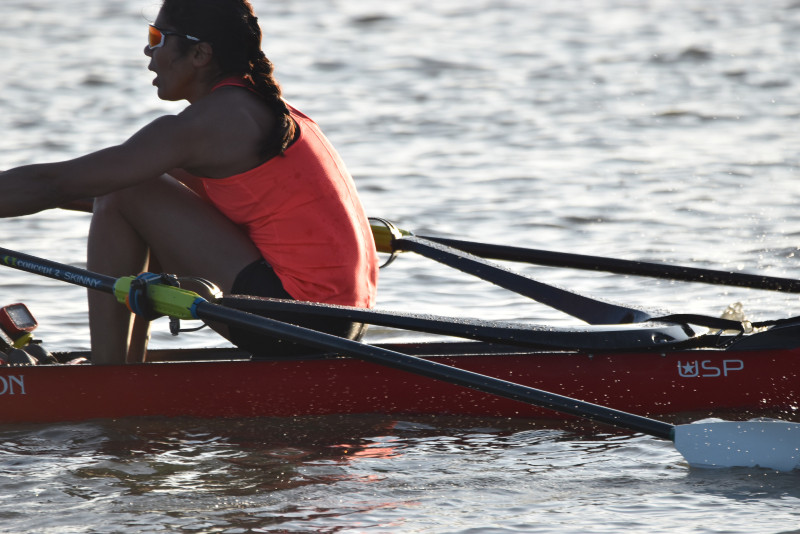 For a team to maximize its efficiency, rowers must pry the boat, get it up to speed and take the oars in and out of the water without disturbing the rhythm. When a team is working right, the boat glides.
Choppy Waters
For much of Chow's early days, she literally rocked the boat.
"The reaction of the team was not super awesome,'' she said. "I was super strong, but I didn't know how to row so I was disrupting the boat. … I made the boat faster, but I made it crappy, right? It was bobbing all over the place. But I did get better, enough so that I stopped annoying them as much."
After Miami, she set her rowing skills aside to concentrate on the other – if no less challenging – parts of her life. Chow earned her Ph.D. in pharmacology and cancer biology at Duke. She got married to Daniel Caplan, who – surprise! – is also just a typical scientist / endurance athlete. (He's a cyclist.)
But after discovering BIAC, and dusting off her rowing skills, she got word of a strange twist of international fate. Trinidad and Tobago had an athlete in line to go through the Olympic Trials, but suddenly that competitor dropped out.
Chow never would have considered trying out for the U.S. Team – that was no place for a part-time athlete. Chow's demanding day job wasn't something she would give up. But as her Masters dominance proved, she was no slouch with an oar, so she reached out to her contact with the T&T Olympic Committee and volunteered to replace the athlete who dropped out.
"And it was 'Sure!''' she said. "I mean, that's basically that's how it happened. I think that happened in like, November of 2015. And I think the trials were in March of 2016." After a couple of months to prepare, she qualified at the Americas Rowing Olympic Trials.
Behold the instant Olympian – just add water.
Disciplined Strength
Knowing what she knew the second time around, Chow was better prepared both mentally and physically for the Tokyo Games. Her training partner, Jon Carlson, readily attested to that.
"Rowing with her is mostly about me trying to keep up, as you might expect,'' said Carlson, the current board President of BIAC. "But strength in the boat is a mixed thing if you can't harness it reasonably well. I think she's had time during this past cycle to really train and refine the technique aspects. … She is very dedicated, so it's a rigorous thing. She's someone who is very self-disciplined."
Chow will forever carry her home country's flag in her heart, whether she's at the Bair Island Aquatic Center or on the international stage of Tokyo.
"I've lived now in the U.S. longer than I lived at home. I left when I was 17, 18,'' she said. "But it's been really, really great to strengthen the ties and have this stronger connection. Because Trinidad was amazing. I had such an amazing childhood. It was such a fantastic place to grow up and it made me who I am."