By Heidi Van Zant
Dotting downtowns across the Peninsula, little testaments to bygone times, stand some dozen small but mighty community museums and history rooms. With an earnest but dwindling cadre of volunteers as their backbone, these gems are found in many towns from Colma, Pacifica and South San Francisco to Burlingame, Belmont, Menlo Park and Half Moon Bay.
This story was originally published in the October edition of Climate Magazine. Click here to read the full digital publication.
Overshadowed, perhaps, by the San Mateo County History Museum in downtown Redwood City and other bigger cultural attractions, these mini museums are hiding in plain sight, each filling a unique niche. They operate mostly on shoestring budgets of donations and membership fees yet are so eager for company that admission is still free.
While many of these community museums are still temporarily closed because of Covid restrictions, a handful including those profiled here have reopened or can be visited by prior arrangement.
Coastside History Museum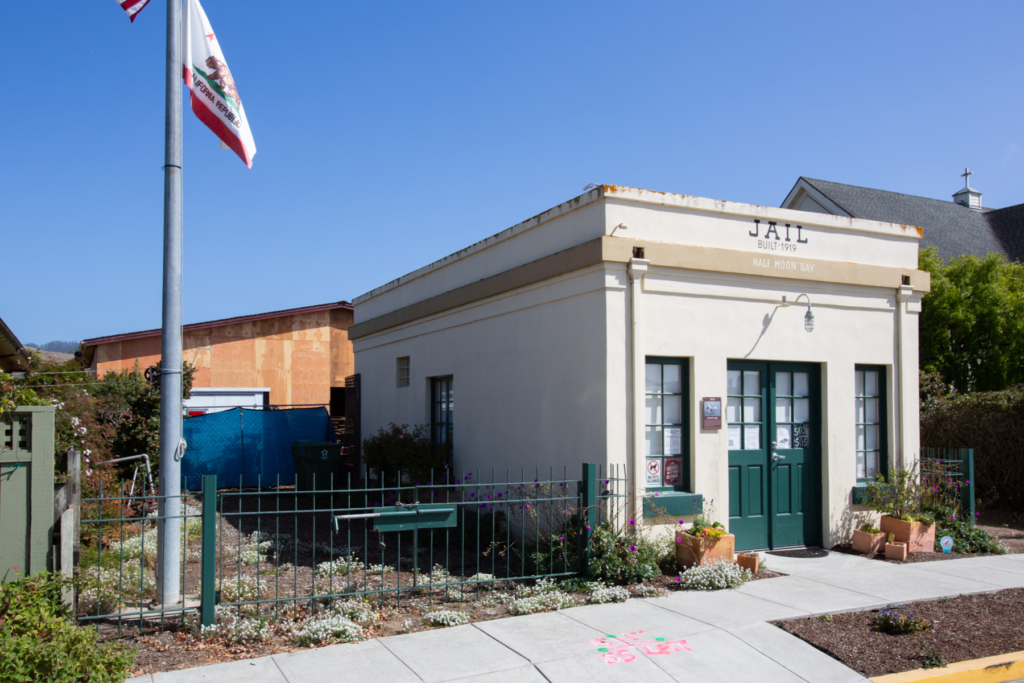 The 18 volunteers of the Coastside History Museum in the former Half Moon Bay jail recently reopened the jailhouse doors to the public after a long shutdown due to the pandemic. "We just have a love of history and the many lessons it teaches us for the future, especially for the schoolchildren," museum manager Mary Ruddy said.
The tiny building a block from bustling Main Street draws mostly students on field trips and tourists curious to know what's inside that edifice stamped "JAIL."
On a recent Saturday, the first visitors of the day had come to Half Moon Bay for the nearby shops and restaurants, not the museum. "We saw it from across the street and decided to come in. I like old buildings," said Anacelia Castro of Union City, whose quizzical look softened as she entered the homey museum.
The jail was built in 1919 and used to hold San Mateo County prisoners until the 1960s. The little building came to life as a micro-museum in 2018 when the city leased it to the Half Moon Bay History Association. Today it is the oldest public building in town. "People come from all over the world, all walks of life, but less so since Covid," volunteer Elly Colwell of Half Moon Bay said.
The jail cells are the main draw but there also are exhibits about Ohlone settlers and basket-weavers, maritime and railroad milestones, and the area's rich agricultural roots. A bigger "green" museum in a 100-year-old barn can be seen taking shape behind the current facility, and is scheduled for completion within the next year.
505 Johnston St., Half Moon Bay, www.halfmoonbayhistory.org, open Saturdays and Sundays, noon to 2 p.m. Free.
Millbrae Train Museum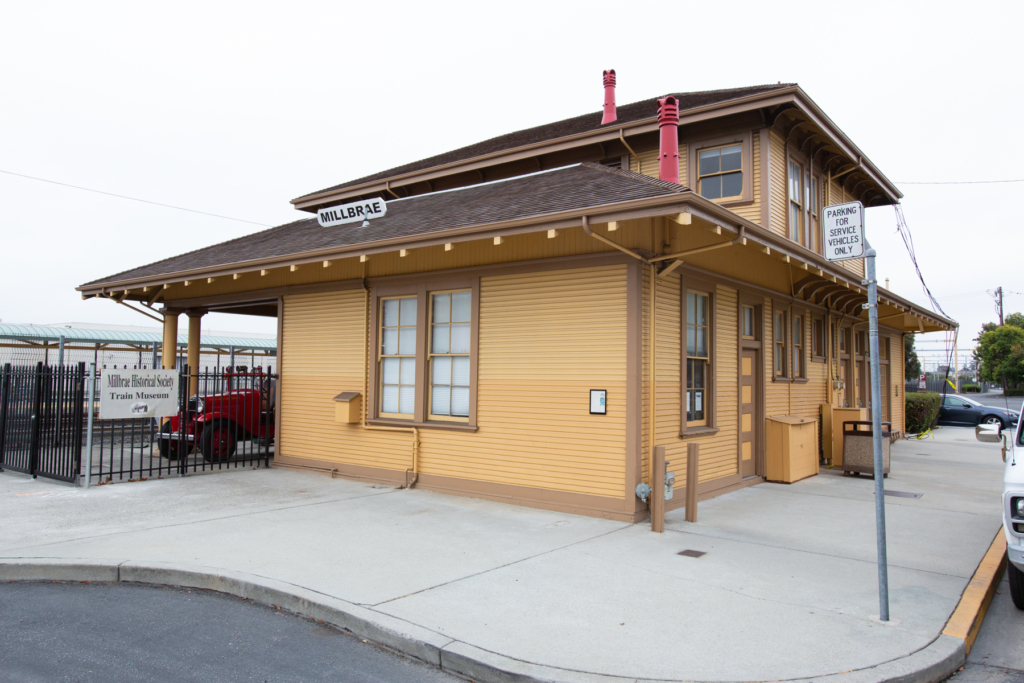 All aboard the newly remodeled Millbrae Train Museum, a step back in time for train-lovers of all ages. Housed in a 114-year-old Southern Pacific train depot, this sepia-toned time capsule still has its original waiting room of butterscotch-colored bead board, hard wooden seats and even a big railroad bell.
"We get train enthusiasts from all over the world, some of whom come from SFO on their layovers," said museum founder and lifelong Millbrae resident Vern Bruce. "And we get lots of parents and grandparents with kids."
Visitors are treated to a museum chock-a-block with local memorabilia including signal lanterns, models of trains that ran locally, telegraph equipment, scores of historic train photos and the original station clock. And, yes, there's even a musty and magical 1941 Pullman sleeping car outside the depot to climb aboard.
The depot was Millbrae's landmark train station from 1907 until 2003 when the Millbrae Transit Center opened up just down the tracks. The structure is one of seven Caltrain depots on the National Registry of Historic Places. The museum has been operating on limited hours during Covid but that's given its 125 volunteers extra time to prepare for the grand reopening in coming months.
The museum, run under the direction of the Millbrae Historical Society, has been in operation since 2004. While other community museums may have challenges attracting volunteers who tend to be seniors and retirees, that's not an issue with this group. On a recent weekend at the museum, volunteer Peter Sheerin was cheerfully working on connecting up an old railroad telegraph system. "We're still just little boys playing with trains," he said with a grin.
Millbrae Train Museum, 108 California Drive, Millbrae, www.millbraehs.org. Check the website for when visiting hours resume on Saturdays, 10 a.m. to 2 p.m. Free.
Daly City History Museum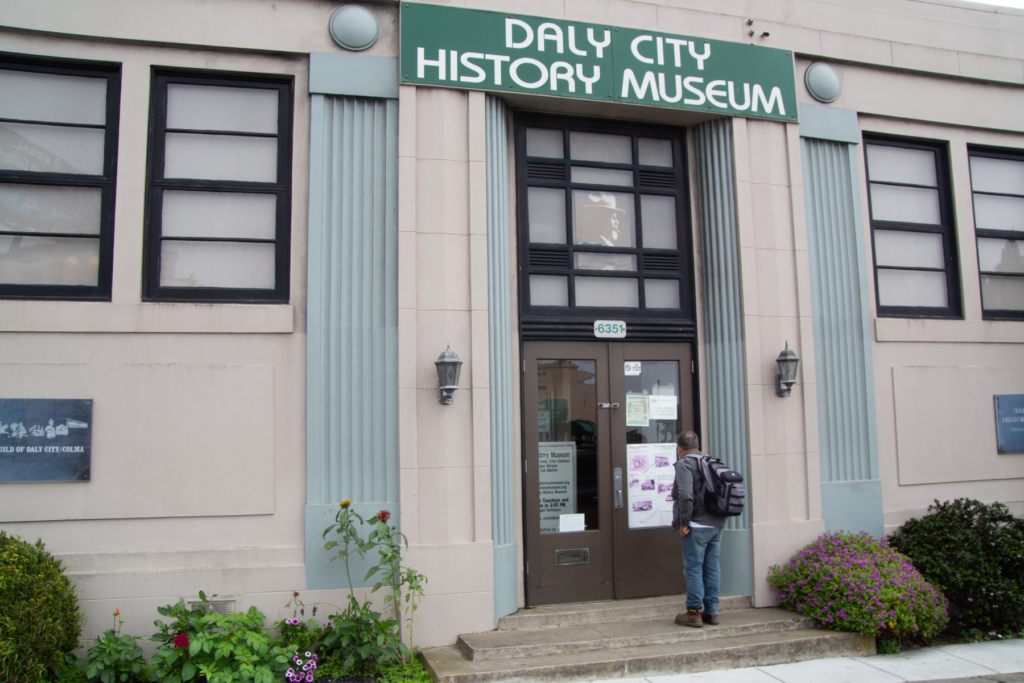 Being a docent of the Daly City History Museum can be a lonely endeavor but volunteer Mark Weinberger doesn't seem to mind. "I believe in this museum even though some days we have no visitors," he said with a glance around the quiet museum located, ironically, on one of the busiest stretches of Mission Street at John Daly Boulevard, known as the Top-of-the-Hill.
The stately museum, opened in 2009 in the city's former Art Deco library, has been especially hard-hit by the pandemic and has been closed since March 2020. Visitors can make individual arrangements with Weinberger to see the museum until it reopens to the public.
The museum shares the block with a smoke shop and a dry cleaners, and its stucco exterior gives little hint of the beautiful and expansive interior with warm wood floors, paneled walls, huge pendant lights and large windows.
Hundreds of vintage photos are on display, original documents from the 1880s, a 1907 hand-pulled fire wagon and a cowbell from the John Daly dairy owned by the city's namesake. Visitors can take a self-guided tour of the rooms or watch a video of the town's history. Before the pandemic, tours were offered for school groups and the infrequent wayward guest who found the museum by happenstance.
Those who do find the museum are rewarded with wonderful nuggets of history – a display on the iconic Cow Palace exhibit hall, photos from legendary restaurant Westlake Joe's, a sign from the sales office of Henry Doelger who turned sand dunes into housing lots, sports memorabilia and a cardboard cut-out of the town's most famous lad, football legend John Madden.
More macabre displays include the weapon used in 1966 to shoot Daly City Police Officer Richard Klass, 25, with his own gun. Visitors also will learn that Daly City hosted a duel in 1859 near Lake Merced that resulted in the ending of dueling in California. "I was surprised how much history Daly City has," said longtime Daly City resident Weinberger, who recounts the story of the duel with great relish and detail.
Daly City History Museum, 6351 Mission St., www.dalycityhistorymuseum.org. Open by special arrangement only until further notice. Free.
Museum of San Carlos History
Packed to the brim with town history from the glory days of the Circle Star Theatre to taking home the title as 1961 Babe Ruth Baseball World Champions, who knew that the Museum of San Carlos History has so much to tell?
Gayle Collins does, a lifelong resident and now president of the board which runs the museum in downtown San Carlos. "Yes, I'm a history nerd!" proclaimed the former elementary-school teacher who trains some 40 San Carlos Villagers volunteers who serve as museum supporters and docents.
The charming little museum, a replica of the first firehouse built in 1923, has a restored 1927 Seagrave fire engine as its shiny centerpiece. Lining the walls are exhibits on the days of the Lamchin Indian settlers, the town's Spanish heritage, native plants and trees, and life in the early 1900s with vignettes of furniture and clothing from the era.
Other displays tell of early merchants, the history of the police and fire departments, local schools, San Carlos's growth after incorporation in 1925, and the vital role the city played in the burgeoning electronics industry that grew into Silicon Valley. Among the most eye-catching artifacts is a blue NASA jumpsuit worn into space by astronaut and hometown hero Rex Walheim—but in the museum by a mannequin. Another special display is the large collection of Sorcha Boru ceramics made by the late artist who once had a studio in San Carlos.
Like most of the visitors who moseyed by one Saturday afternoon, Jeremiah Darais had come downtown not for a local history lesson but for fresh air and exploring.
"I happened to see the sign and I was curious. There's a lot of interesting stuff here," said the new San Carlos resident as he studied the Dogtown exhibit about the major role his new hometown played in training military dogs in World War II. The city was one of only five sites across the U.S. used by the Army to train military working dogs.
Museum of San Carlos History, 533 Laurel St., San Carlos, www.sancarloshistorymuseum.org. Open Saturdays 1 p.m. to 4 p.m. except in December. Free.