By Nicholas A. Veronico
In today's Covid pandemic age with virus-related job losses, food insecurity, and shrinking economic fortunes, many people want to help but are not sure how to go about it and how do it safely. Think service clubs. Groups such as the Lions, Kiwanis and Rotary clubs have taken on an increasing importance in the community as their members have stepped up and stepped in as a lifeline to people with varying needs.
San Carlos Lions Club members have managed to find plenty to do.
"We have about 30 ongoing projects a month just here in the San Carlos, Belmont, Redwood City area that we're working on," said club President Cori Carpenter. "They range from collecting used eyeglasses that are then refurbished and go to underprivileged adults and children in the United States and throughout the world, to helping with food insecurities in our town. We partner with the San Carlos Kiwanis Club and San Carlos Rotary Club to support the City of San Carlos' Caring Cupboard program. The Lions Club donates funds to purchase food, helps pack the bags, and delivers groceries and lunches to homebound seniors as well as low-income families in San Carlos."
This story was originally published in the October edition of Climate Magazine. Click here to read the full digital publication.
During the depths of the Covid lockdown, some Lions Club members didn't feel secure picking up groceries and delivering them. So the group switched to a contactless delivery model for safety first.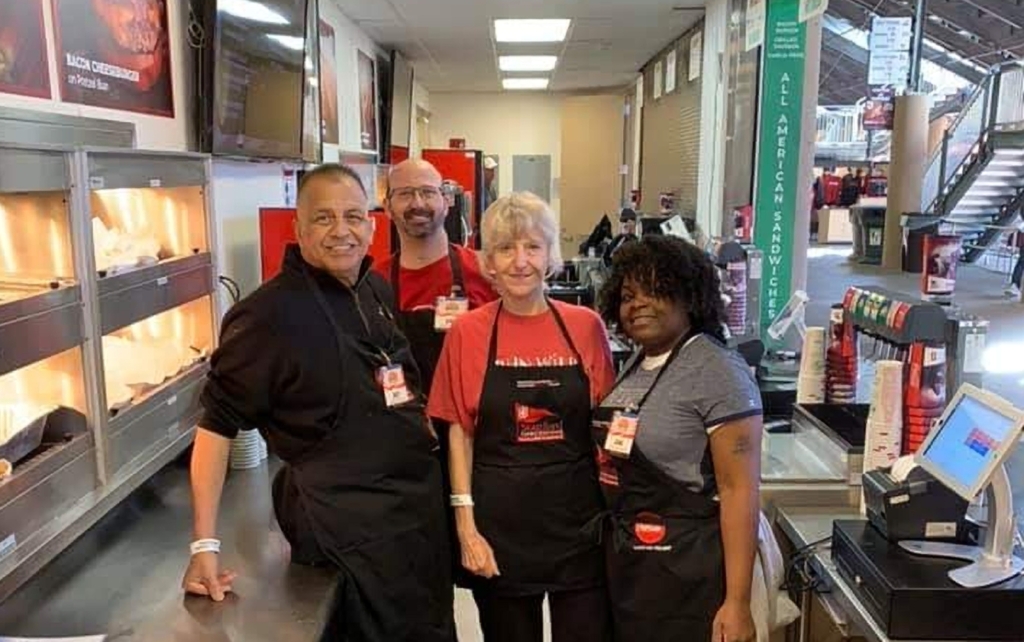 Delivering Groceries
Caring Cupboard was initiated by the city primarily to support senior citizens in the area, but the program is now serving neighbors who may be experiencing trouble for the first time as well. The small town, neighborly effort can make them feel more comfortable about receiving help, according to Carpenter's experience.
"When Caring Cupboard offered its services to low-income families with food insecurities," she added, "we went from 50 deliveries every other week to more than 100 per week." The increase in requests for food assistance shows there is a great need within San Carlos and the surrounding communities.
Service club volunteers come from all walks of life and are often neighbors of the people they help. Carpenter says her club's membership has actually grown during the Covid shutdowns because while they're out volunteering, the Lions talk about the projects they're doing and end up inadvertently recruiting new people to join their ranks. Club members range in age from 23 to 92.
"People have joined the Lions Club who wanted to do something during Covid, but weren't sure where they fit in and how to get involved," Carpenter said.
The club has had to be nimble in the face of Covid. With the first shutdown in March 2020, the Lions needed a project volunteers could do at home. "Our members started writing Easter holiday cards to seniors that were quarantined in care facilities to let them know that we're thinking of them and that they are not alone," said Carpenter. "We wrote Mother's Day, Father's Day, Thanksgiving, and holiday cards, and this is a continuing project we do."
Lions Club volunteers also drive people to appointments and they work with local veterans' groups. The San Carlos club works with the Blue Star Moms of San Mateo County and also partners with the Menlo Park Lions Club, which is a veterans-focused club. Lions Club members also help out at the Veterans Administration hospitals in the area, and assisting homeless veterans is one of the group's high priorities.
A Century-Old Club
The Kiwanis Club of Redwood City was founded in 1924, as part of Kiwanis International, which was founded six years earlier. Like many service organizations formed in the early 20th century, membership came primarily from the businessmen of a community. Kiwanis Clubs were formed across the nation and in addition to supporting the umbrella organization's aims of "one child and one community at a time," local clubs were given the latitude to decide how they would recruit members, raise funds, and which community projects to undertake.
Kiwanians held monthly lunch meetings, but even before the Covid pandemic, it was becoming harder to get busy people to attend. With many corporations providing lunch on campus, especially in the tech sector, employees today don't want to go offsite.
The Redwood City Kiwanis Club solves that problem by turning its signature—and well-loved community project—into a two-fer. Members provide volunteer service at the Saturday morning Redwood City Kiwanis Farmer's Market, but also hold impromptu club meetings at the same time.
Begun in 1979, the market has a loyal following. "We are the longest operating farmers' market on the San Francisco Peninsula," said Club President Tim McHenry. "And we're one of the few, if not the only farmers' market that's operated and managed by a service organization rather than a for-profit company."
The farmers' market is open from May to November, every Saturday from 8 a.m. to noon, on Arguello Street between the intersections of Brewster Street and Broadway.
For-profit farmers' market operators have to pay for staff that advertises the event, rents space to vendors, obtains city, county, and state permits or certifications, and then manages the enterprise on the day of the event. The Redwood City Kiwanis Club's members perform all of the same tasks; however, they do it on a volunteer basis enabling the club to bank the fees it charges. The thousands of dollars generated by the farmers' market are then put back into the community, its schools, and youth-serving organizations.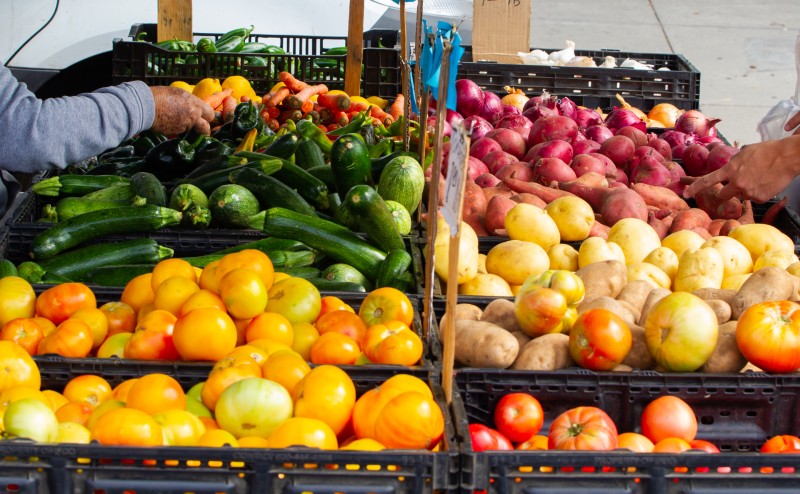 Meeting in the Morning
The every-Saturday farmers' market has taken the place of the club's weekly meetings. Members gather before and after the market takes place, but also hold a one-hour video conference every month where the club's business is conducted.
Recently, market shoppers have been asking for a bakery vendor and on Sept. 15, the Kiwanis Club announced that San Mateo's Made Out of Dough Bakery will be offering fresh-baked scones, cakes and other baked goods each week through the end of the season.
Garfield Community School in Redwood City's North Fair Oaks neighborhood is a beneficiary of the Kiwanis Club's community outreach. Years ago, the club's big projects were around the holidays, when members would treat kids to a Christmas shopping spree.
"We would take a couple dozen students from Garfield School to Mervyn's, now Kohl's, to buy school clothes and various necessities," McHenry said. "The store would let us in an hour before they opened. The kids, escorted by their parents, would shop and we'd run up a big tab and the club would pay for it."
The farmer's market is the club's sole source of income and had to close for a while because of the pandemic, thus, in 2020, income was drastically reduced. Even so, McHenry said, "we still donated $7,500 to different charities for school scholarships, to the St. Anthony's Dining Room here in Redwood City, and to the Boys Club. But we're all driven to do more."
Focus on Veterans
When U.S. Army veterans Tamera and Kevin Guess saw a need to help their fellow servicemen and women, the couple, along with fellow Menlo Park resident Marta Loewen, spearheaded the formation of the Peninsula Veterans Lions Club. This was the first veterans-focused Lions Club, though about 10 other clubs have formed to aid former members of the military. Anyone who wants to support veterans is welcome to join the Menlo Park-based club; about 20 percent of the members do not have a military background.
About a decade back, the Veterans Administration and Department of Housing and Urban Development arranged to provide subsidized housing specifically for veterans. Most of the veterans receiving these vouchers have been homeless or are transitioning from alcohol/substance abuse or PTSD programs into their own apartments. Setting up house is very expensive, and most transitioning veterans did not have the money for myriad necessities such as pots, pans, a bed and bedding. Seeing this need, the Peninsula Veterans Lions Club developed its signature project "Veterans Move-in Baskets"—a 70-gallon tote filled with everything a veteran would need to set up a home.
An Iraq War combat veteran, Tamera Guess is club president. Some of the newly housed veterans, she said, weren't equipped for proper nutrition and didn't have good cleaning supplies. "So we came up with the idea to provide them with everything they need to prepare and cook a nutritious meal for two, an air mattress—because a lot of times they don't have anything to sleep on—and that started the ball rolling. In the past nine-plus years, we've given out more than 600 move-in kits."
Beyond that, the club further helps the veterans get donated furniture, as well as provides clothing and grooming advice to prepare them to reenter the job market. "The Women's Makeover Project takes female veterans and gets them a haircut and their nails done so they can feel good about themselves and build their confidence as they enter the working world," Tamera Guess said. The club partners with Ines Acosta of Habbib's Salon in Menlo Park, "who gives us a pretty good deal for her services."
The Peninsula Veterans Lions Club is able to fund its work by having a concession stand at Stanford University.
"We went to Stanford Concessions and asked if they would give our club a concession stand," Tamera Guess said, "and they did." Members work at the stand during football and basketball games and earn a percentage of sales, which adds up to between $7,000 and $13,000 a year, according to Kevin Guess, who served as a military policeman when he was in the Army.
"In addition, we receive a lot of support from our district, other Lions, other groups, and we got creative and used Facebook to ask for donations," he said. "During the pandemic, six of our Lions asked for birthday donations for our club and they raised almost $5,000. So, we're thinking outside the box."
As depressing as the Covid pandemic may be, the extremely valuable, yet unsung work of service clubs is happening and growing. They are neighbors helping neighbors in times of need and times of transition.