All he has to go on is the color of the month—white, teal, red, green, you name it—but artist Steve Luke manages to turn those marching orders into a clever and original store window display. He works at the University Art Center store on El Camino Real in Redwood City, where co-workers and customers alike look forward to what the window wizard is going to come up with each month to support the store's "Color of the Month" advertising. Luke, who says his job is "cashier/art department," doesn't like being watched while he's working on the next month's creation and comes in about an hour before most people arrive.
And then at the first of every month comes the big reveal.
This story was originally published in the February edition of Climate Magazine. Click here to read the full digital publication.
"His fellow employees are amazed at how quickly he can go from the design idea to the finished product," says Tina Ford, the assistant store manager. "Customers are constantly in awe of the monthly window art."
Luke studied graphic art at San Jose State University—his parents urged him to get a degree in something that would earn an income—but by the time he graduated, he realized that wasn't what he wanted to do. He ended up going to work for Mervyns in display merchandising, and then 23 years ago, landed a job at University Art's San Francisco store. Since then, he's worked at the San Jose and Palo Alto stores and had done windows at almost all of the locations.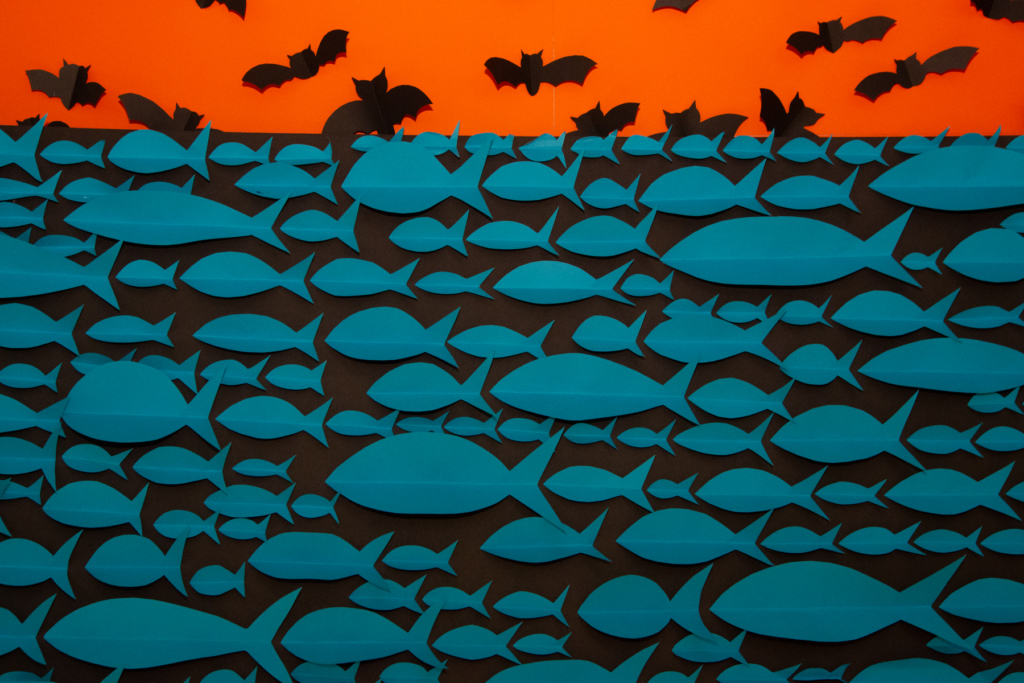 He's been doing window displays to reinforce the advertising department's "color" campaign for about three years. Customers can read a blog about the highlighted color's history and its variations (pink, for example, shades into rose, flamingo, taffy, bubblegum and champagne; or brown, can be mocha, carob, umber, cedar or chocolate.) Luke used to do a painting with acrylic markers but it took so long that he switched to creating his paper sculpture displays. Says Ford, his displays "have morphed into incredibly intricate colorful paper designs that wow customers."
Luke cuts out multiple basic shapes which can be used for leaves, petals and so on, and just keeps "repeating that shape over and over again." He works entirely freehand and doesn't sketch out his complex creations in advance. Each display takes about eight days, about an hour per session.
"To me it's very easy doing this because it's just like basic shapes," Luke says. "And just multiply it." He uses a fairly heavy colorfast paper which will keep its shape and not fade being in the window for a month. (Each design requires a surprisingly large amount of paper, Luke says.) He just hot-glues all that paper to thick foam core board and, voila! A work of window art, which has gotten him more attention than anything he's created before. "It's actually my favorite kind of art I've ever done."
The color for January was white, so Luke came up with a Wedgewood-inspired display with white flowers and a blue border. He gave December's color theme—metallics—a seasonal twist. He's not a great fan of brown but managed to come up with a clever cuckoo clock with autumn-hued leaves. "Some of this stuff comes to you like that," Luke says, with a shrug," fast with no trouble." A tiki-themed design highlighting the color yellow took more time than most of his creations because it's in three large pieces.
When the month ends, the displays go up for sale, with prices ranging from $250 to $500.  Luke says some customers have expressed interest but none of the displays has yet sold. Maybe they just need the right window.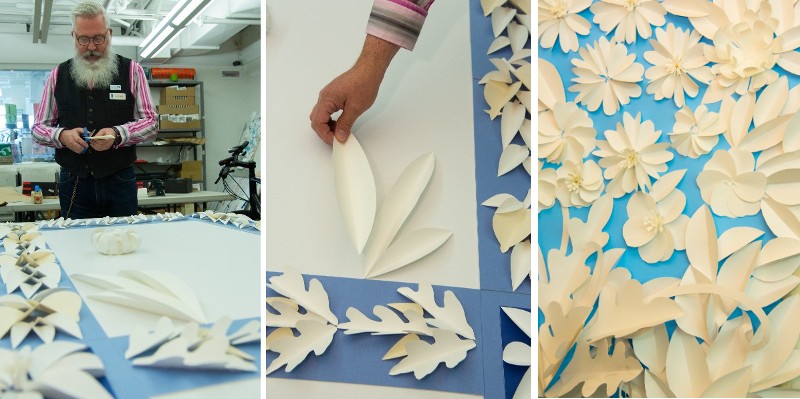 The leaders of Redwood City's historic Union Cemetery put out regular appeals to residents who may have all or part of a grave marker or memorial that used to be at the Civil War-era cemetery on Woodside Road. Now they'll be deciding whether to take in an 1888 headstone for someone who wasn't buried there, but whose sad life calls out for a "final resting place."
The headstone of Ernest Williams was discovered recently in a dumpster in San Carlos by Jerry Georgette, of the Peninsula Rose Society, who contacted Kathy Klebe, president of the Union Cemetery board. The white granite headstone is inscribed with the key particulars:  Died Dec. 2, 1888 at the age of 19 years and 5 months, and the wistful message, "I will give you rest." But who was he and why was his headstone in a dumpster? Board member Maggie Coleman did some research and found that Williams was born in Australia in 1869 but apparently became an orphan because he was listed in a San Francisco census in 1880 as being the ward of a widowed music teacher there. Coleman managed to locate his death certificate, which indicated that he had died from "inanition" (exhaustion from lack of nourishment) and exposure while in jail in Oakland. She speculates that he was possibly homeless.
He was buried in the Oddfellows Cemetery in San Francisco, a 27-acre undeveloped site in what is today the Inner Richmond District. It and three other surrounding cemeteries were established before the era of "perpetual care," and they deteriorated over the years. In 1933 and 1934, Williams' and 26,000 fellow Oddfellow remains were dug up and moved to Greenlawn Cemetery in Colma. Williams' headstone is in great shape and is not water-damaged, which is remarkable because, during the mass removal, unclaimed headstones were tossed into the Pacific at Lands' End and used in the construction of the Marina District's St. Francis Yacht Club break wall. Others were used in street projects. How the wayward headstone ended up in a San Carlos dumpster is a mystery. But Union Cemetery has its own Oddfellows Section—and, assuming the board members approve, the orphaned boy from Australia may finally have a home, and with it a reason to recount his life story to visitors touring the cemetery.