When they come home at night, these couples don't have to ask each other "What did you do today?" because they've been side-by-side at the family business. To the time-honored vows about sticking together for better for worse, in sickness and in health; these are couples who upped the ante: Building an enterprise that supports them, their families and their employees. Being together 24/7. Partners in two places, trying not to bring the job home with them at night.
In advance of Valentine's Day, Climate asked four local couples with family businesses to share their love/work stories.  All four pairs have some things in common: They backfill and support their partners—and take pride in their joint success. This year in particular, looking back on the challenges the pandemic imposed, these couple have good cause to celebrate two anniversaries: another year together and another still in business.
Anna and Dexter Chow
Cheeky Monkey Toys
640 Santa Cruz Ave., Menlo Park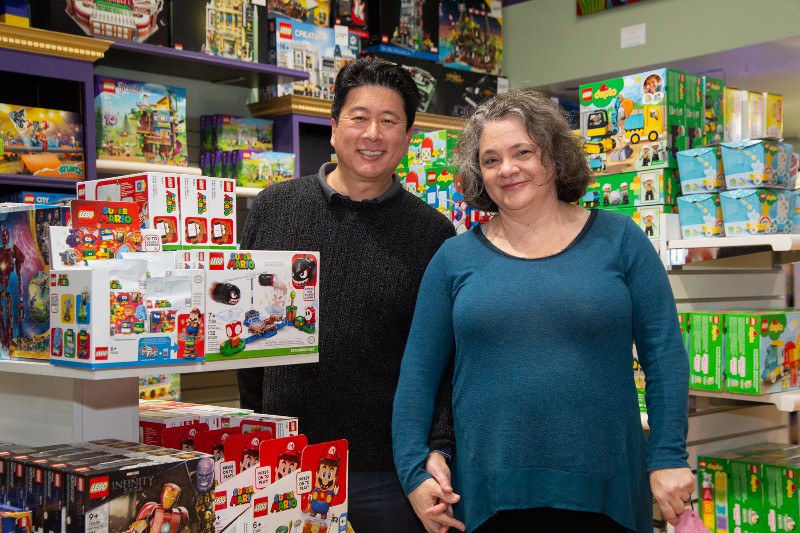 Anna and Dexter Chow's introduction might seem to have been hexed: They met in San Francisco at an "anti-Valentine's Day party" that a fraternity brother threw. He happened to be friends with Anna's roommate, who had dragged her along to the party so she wouldn't have to go alone. After a few dates with Dexter, Anna called off her plans to move to Boston. They got married in 2000—but could never have imagined that two decades later they'd be running an acclaimed toy store.
Coming out of college, Anna had been a professional equity stage manager who had particularly enjoyed bringing theater to kids. Dexter, who had been doing computer-related work with some start-ups, got laid off after the dot.com boom around 2001 went bust. Anna was expecting their first baby and they decided that owning a small business could be a way to be around more for their child. When Cheeky Monkey Toys came on the market in 2002, they took the plunge. "Seven months pregnant, I think we were a little naïve about what it meant to be parents," Anna says. "I think we didn't quite realize the amount of work both would take," Dexter adds.  (They have two sons, now 19 and 16.)
When they started in business, it was harder to keep home and work separate, but in 2007 the Chows expanded to their current location, which is about four times larger. That made the business more viable and they also had to add staff. "It's given us some freedom in some regards," Anna says.  "We don't have to call our boss and say we're going to be out. We have an amazing team that can handle day-to-day operations. If our kids need us for something we can be there. And that's probably the best part of running our own business. But then on the other hand, we're on vacation and we're answering emails as well. So it's a give and take."
Dexter adds, "I think it takes a little concerted effort not to talk about the store, to be default conversations a lot, just because it's on our minds a lot." That burden weighed especially heavy in 2020 because the couple's goal was to keep their full-time staff employed, which they were able to do. A Paycheck Protection Program loan was a lifeline, Anna says. "And then you have to build it back. Last year was our best year ever." Many customers said they wanted to buy local, and grandparents who hadn't seen grandchildren in two years wanted to spoil them.
Toys are, after all, fun. The Chows laugh a lot and clearly enjoy their work. He handles computer-related tasks, the website and some toy orders; she oversees the staff (about 12) and does a lot of the product-selection and buying. Dexter has been involved in the Chamber of Commerce and, when the boys were younger, Anna volunteered in their schools.  Owning the store, she says, has "defined who we are. It's defined our relationship in a lot of ways. I can't imagine it any other way. We're known in the community as Mr. and Mrs. Cheeky Monkey. Between our kids and our store, that's who we are."
Mike and Fera Hashemi
Arya Steakhouse
885 Middlefield Road, Redwood City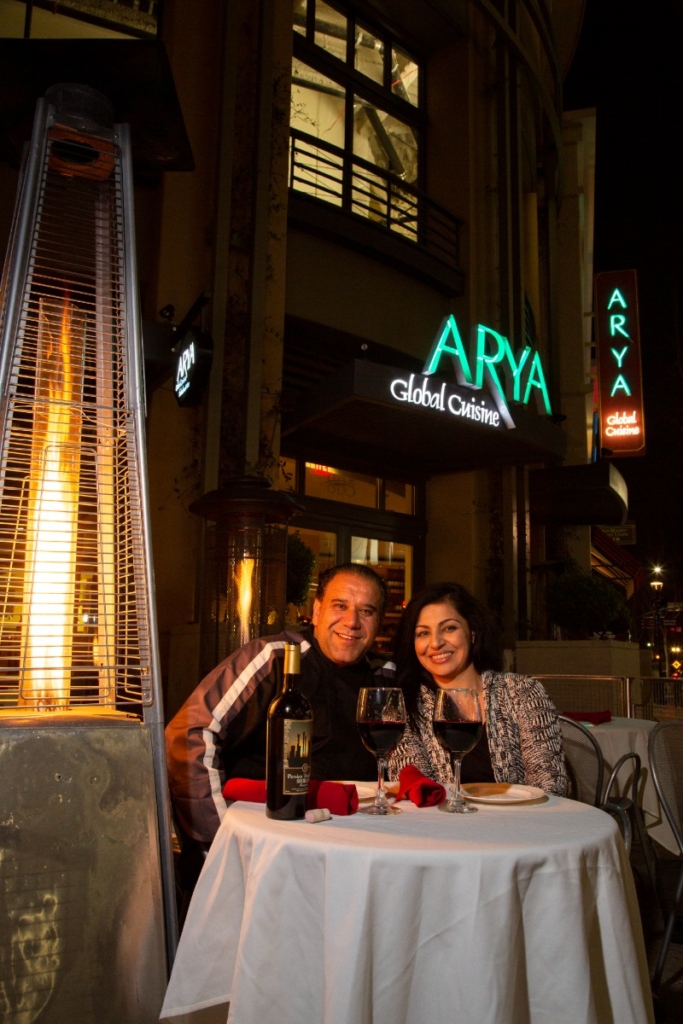 It's hard not to identify something star-crossed in what brought Mike and Fera Hashemi together. "We met in a restaurant and we're still in a restaurant," she says of the grand opening in Irvine where they were introduced. She was the assistant manager; Mike came in that night to help his cousin out. Three whirlwind months later, they were married.  Fera quit that job and became a surgical tech. She'd work 12 hours at the hospital and then help with the lunch shift at her new husband's restaurant. "Since then, we've been working together and loving each other," Mike adds. "… For all these years, 1996 until now, we work together and we're still married."
The Hashemis, who own Arya's Steakhouse, have much in common. They clearly love being in the hospitality business. Both are immigrants: She came to the United States at the age of 5, when her parents had to leave Afghanistan because of the Russian war. Mike left Iran because of the revolution there, and moved to Italy, where two sisters lived. His mother had taught him to cook Persian food but he picked up Italian cuisine while there. After he came to the States in 1992, he opened a pizzeria and later an Italian fine-dining restaurant in Irvine.  Both Hashemis say the number one trait that drew them together is a strong drive.  They are so much in synch that when one has an idea, the other is all-in because they're already thinking the same thoughts. "It's a passion, it's a push," Fera says. "It's really really hard for someone to kind of match that."
The Hashemis this month are celebrating the 10th anniversary of their Redwood City restaurant, and the pandemic is just one of the challenges they've weathered. They had relocated from Southern California and opened their first Arya, in Cupertino, in 2007. (They later sold it.) In 2012, they brought their unique combination of steaks and Persian cuisine to Redwood City's revitalized downtown. A few months after they opened, though, they noticed that a nearby parking lot was shutting down because of the construction of the Box headquarters. Nobody, they say, had warned them. In the years that followed, more office building construction impacted their business—and then along came the Covid pandemic. They resolved not to blame anybody but simply fight to stay open. "We don't go back and forth about whatever happened," Mike says. "We don't blame each other. Never." Arya, he adds, has a good name and offers something unique, which "brought people from far away. … We're just doing what we've always done: Stick together for what's best for our customers and ourselves."
The Hashemis are devoted parents to their three children, and agreed early-on not to sacrifice time for their kids, who slept in a bassinette in the back of the restaurant when they were babies. Fera and Mike have always had a weekly "date night." Sunday was family night; the kids got to pick the place or have Dad make dinner. During the three months when Arya had to close because of Covid and both parents were home, Mike would pick a different country or cuisine and slide the menu du jour under the doors of the kids' rooms every morning.
Their youngest daughter, Rayhana, 15, is a competitive figure skater and Fera rises early in the morning to drive her to ice rinks to train—and then is on duty at Arya from 4 p.m. to 9 p.m.  If that turbo-charged schedule weren't enough, she does real estate during the day.  But the marriage partnership is two-way: Mike puts out her open house signs, stays with her if the house is vacant and even talks to prospective buyers. "It helps to have a partner that not only backs you up but participates to help," Fera says.
Rosalba Farias and Alfonso Angulo
Plaza Jewelers
3303 Middlefield Road, Menlo Park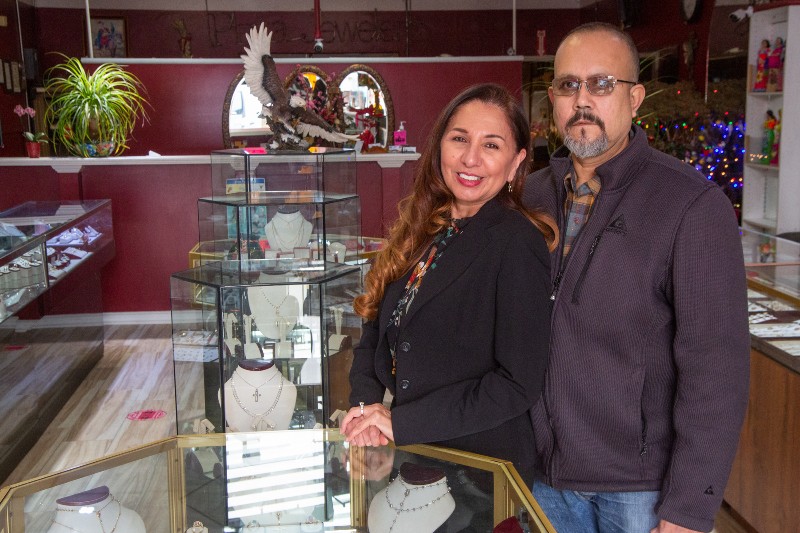 Situated in a strip of shops at the convergence of Semicircular and Middlefield roads in North Fair Oaks, Plaza Jewelers is a neighborhood store with a largely Latino clientele. When Rosalba Farias' former boss sold it to her in 1993, it was the only one of his five jewelry stores which was struggling. She'd learned the jewelry business working for him for five years at his San Jose store.  But taking the leap to solo entrepreneurship was scary. "I started with nothing," says the native of Mexico. Her old boss let her make payments for the next 10 years and recommended to suppliers that they extend credit. (She retains the same ones today.) Her landlord also wanted her to succeed and when she couldn't make the rent, he'd cut her some slack. "He was a beautiful person with me," she says. "Never charged me interest or late fees, nothing. Very easy and very nice person."
From that start, Farias has built a business and a loyal clientele of about 200 regular customers, most of whom are Spanish-speaking. They can come to Plaza Jewelers for items they might not find elsewhere: baby bracelets, religious medallions, gold crosses and quinceañera rings, celebrating a girl's 15th birthday in Latin culture.  A mother of four, Farias also sells bracelets that one of her adult daughters make.
She says she has been able to make the store successful because she's always there and she knows her customers. "When I started the business, I worked seven days a week," Farias says. "My kids helped me after school because I could not afford employees. I like to make sure my customers are happy what they buy. … I'm trying to give them the best customer service, good quality in my merchandise. Because I don't have advertising. I don't have radio or TV. Nothing. My best advertisement is person to person. And it works for me because I don't lose customers.  Every year I have more."
She rents a corner space in the front of the store to an insurance agent, which brings in revenue as well as customers who might also be interested in jewelry. And vice versa. During the pandemic, she had to close for three months but a grant from San Mateo County helped her pay the rent.
About 10 years ago, her husband Alfonso Angulo joined her in the business. He'd worked in construction but painful rheumatoid arthritis made it impossible for him to continue. At the store, he waits on customers, does repairs and replaces watch batteries—but also constantly monitors security and looks for suspicious activity.  "If he's not here, I'm not working because I don't feel safe," Farias says. Angulo says he misses construction but likes being able to help his wife and enjoys the interaction with customers he's come to know.
So who's the boss? Says Farias: "Any decisions, always we do them together." Her friends ask how it's possible to be together 24/7, to which she responds, "Because my husband respects me a lot and respect him. I tell my kids the same thing all the time: You need to respect your wife or your husband. … Respect is the most important thing, in the house, in work, everywhere."
Dr. Curtis and Melissa Leviant
Associated Podiatry Group
961 Laurel St., San Carlos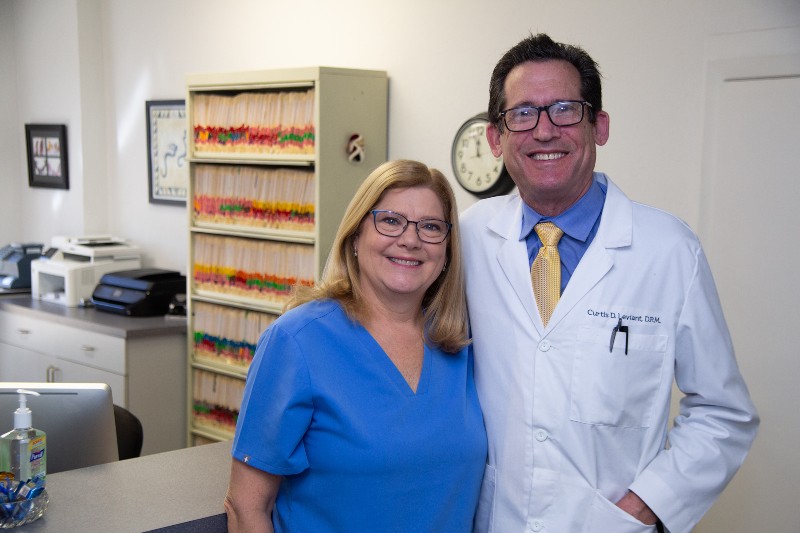 Melissa Leviant had vowed she'd never work in her husband Curtis's medical practice, but then an employee went on maternity leave and "it just kind of happened," she says. Some 27 years later, she still there, managing the busy two-physician podiatry office started in 1952 by her late father-in-law. When she and Curtis were students at Cal Berkeley, Dr. Norman Leviant had told his son, "If you want to go to podiatry school, there's a practice here waiting for you."
Dr. Curtis Leviant and his wife take pride in the style of care they provide.  "I think patients like this concept of medicine that is still a private office," Curtis observes. "More than likely when they call here, they're going to talk to a person instead of going to voice prompts. … I think if they had a choice, this would be the model they like but it's not necessarily the most sustainable model going for 10, 20 years or so."
Before she came to work for her husband, Melissa had been the home-based Northern California "sales office" for a Canadian hotel company. The couple's two young daughters were at home, making it harder to stay focussed, and Melissa was working longer hours to make up. The "job opening" at the family podiatry office gave her more structure but also an opportunity to use her experience in hiring, training and technology. "That's where I felt I could be an asset," she says. "I could do that and let him be the doctor. … I enjoy organizing things and making decisions and seeing how I can make it easier."
At the office, he's busy with patients and she's up-front answering phones and greeting patients. The Leviants try not to bring work home with them, but on a recent evening, it was unavoidable.  "Long day here," says Melissa. "Came home, ate dinner, went back to work till about 10:30."  For her, it was accounts payable; for the doctor, patient charts.  Married 39 years this year, they have a lot of shared interests, including a love of cooking and travel, and being in business for themselves gives them flexibility to get away. "I always try to find that hot restaurant in the cities that we're going to," Curtis says.
Though his office was an "essential" business and could stay open, following Covid protocols has been challenging.  Curtis tried to do video appointments, but "this specialty does not lend itself very well to telehealth. It's more hands-on." Long-time Redwood City residents, the Leviants like the feeling of community that still exists and being able to get to know their patients. "It's the people that make this more so than what I do each day," says Curtis, who is in his 36th year as a podiatrist. "It's people that make you want to come in and enjoy practicing here."
"We treat our patients like customers, not like patients," says Melissa.  "We want them to have a good experience. We want them when they leave here to be happy, to have their questions answered, look forward to coming back. So there's a lot of satisfaction you get out of doing this and I think that motivates me a lot."
This story was originally published in the February edition of Climate Magazine. Click here to read the full digital publication.