By a vote of 5-2 Monday, the City Council of Redwood City approved a new district map for electing councilmembers in the coming decade.
The map, known as C3, was described by city staff as featuring seven council districts that are "contiguous, compact, easily identifiable and understandable to residents where possible," and reflects the views of impacted residents.
C3 keeps seven neighborhoods intact and splits 10 neighborhoods. The map has Redwood Shores in a single district and also Farm Hill and Canyon in a single district. The map keeps portions of Eagle Hill, Central, and Roosevelt together surrounding Red Morton Park, and also keeps portions of Woodside Plaza with Palm in a single district, city staff said.
The map also reflects council's direction to maintain mobile home parks along East Bayshore Road in a single district, and expands the downtown area to Maple Street in District B, the city states.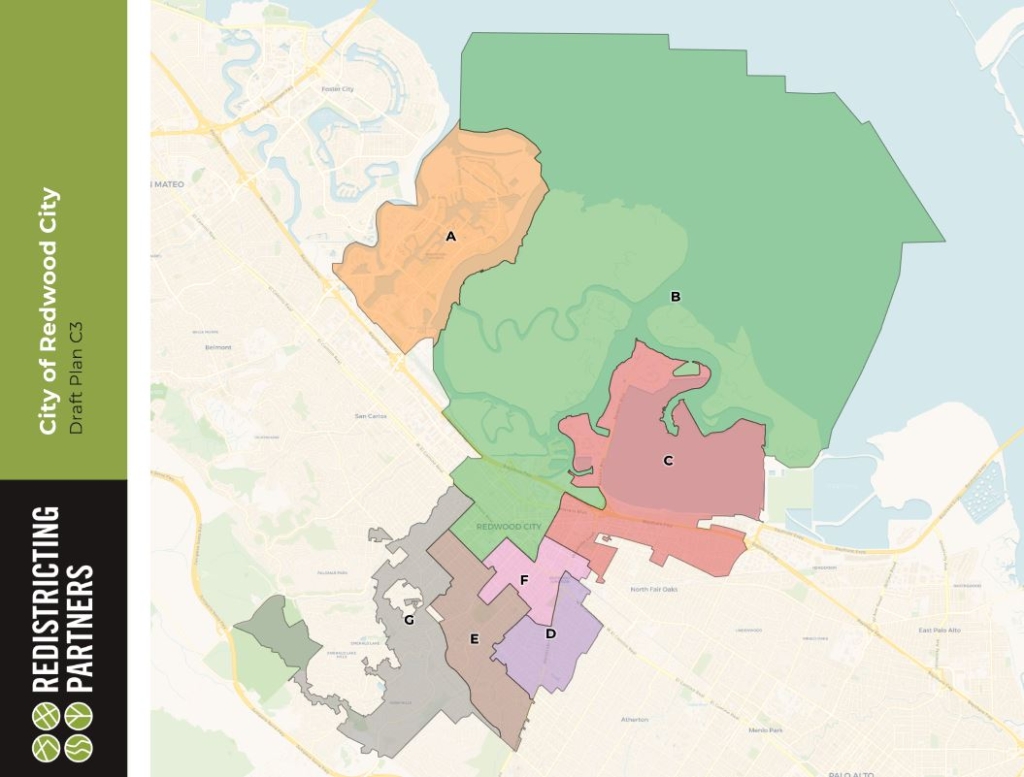 More critically, C3 legally complies with requirements to ensure minorities are represented in elections by maintaining two majority-minority districts (Districts C and F), where over 50 percent of voting age population are Latino, and an "Asian influence" district in District A, which has an Asian voting age population of 37.5 percent.
The new map will impact the current makeup of councilmembers. The map has Councilmembers Alicia Aguirre and Diane Reddy in the same District G. Since Aguirre has been the most recently elected councilmember, Reddy will not be eligible to run for re-election in November 2022. One of the seven district under the new map – District D – will be wide open, meaning no current councilmembers represent it.
Under the new map, District A is currently represented by Councilmember Jeff Gee; District B by Mayor Giselle Hale; District C by Councilmember Lissette Espinoza Garnica; District E by Councilmember Diane Howard and District F by Councilmember Michael Smith.
The city transitioned away from at-large elections for electing councilmembers in 2019, joining hundreds of jurisdictions statewide that have been forced by legal action to transition to district elections under the California Voting Rights Act. Proponents of district elections say at-large elections, which have residents voting for all members on council, dilute representation of voters in minority areas. The first district election in Redwood City took place in 2020 and involved four districts. Following completion of the 2020 U.S. Census, the city needed to create a new city map that reflects the updated data to ensure districts have roughly equal populations, reflects community input and promotes representation for majority-minority communities.