Women's View 2022—a group art exhibition that recognizes, celebrates and honors women, non-binary and gender nonconforming artists who live/work in San Mateo County—is kicking off today at The Caldwell & Community Galleries, 400 County Center in Redwood City. It will run through April 29.
The 17th annual exhibition features the works of more than 70 artists in a variety of mediums, including painting, photography, charcoal drawing, mixed media, digital painting and yarn.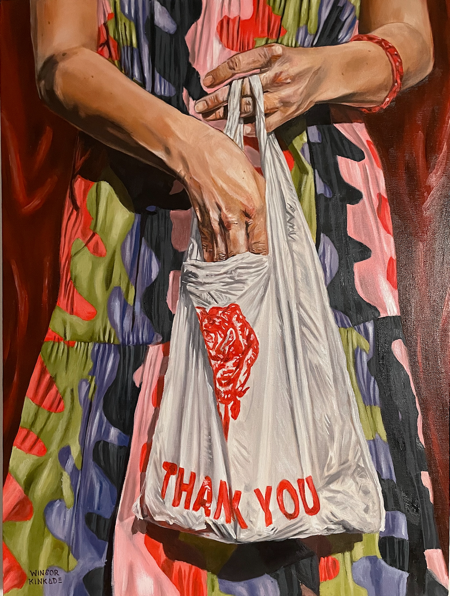 Organizers stated that, similar to their varied artistic mediums, the artists featured in the exhibition "represent a great diversity reflective of the larger San Mateo County community" and draw upon "a vast array of heritages, lived experiences and finely tuned imaginations."
Alena Sauzade, gallery director and collections manager at San Jose State University, will serve as juror and select up to three $100 awards and three Honorable Mentions from the exhibition artists.
Artists participating in Women's View 2022 include: Esther Ahn, Renata Vegaria Aryanti, Latifat Apatira, Kristina Ayala, Julia Barboza, Sumedha Barna, Ann Berljafa, Linda Borg, Cathy Cakebread, Mea Christie, Donna Colson, Lynette Cook, Elvira Dayel, Jacqui de Borja, Chris Ehlers, Louise Gibler, Beth Grossman, Flores Hedvig, PaulaClaudine A. Hobsconcoard-Mora, Xuan My Ho, Angela Holmes, Shirley Innes, Dipti Irla, Rachel Jude, Nisha Kabra, Sandra Keely, Anna Kern, Winsor Kinkade, Ellen Lee, Sophie LeVasseur, Doitsha Lexington, Jenel Lim, Tatiana Lyulkin, Noemi Manero, Linda Manes Goodwin, Linda Maki, Rema Mansi, Elaine McCreight, Nancee McDonell, Laura McHugh, Ryann Murrin, Jes Muse, Yvonne Newhouse, Anna Nguyen, Christine Ong-Dijcks, Cheryl Perman, Jean Polk, Shala Pipes, Judy Quitoriano, Janet Rae-Dupree, Jasmine Reid, Maria Elisa Valle Remond, Cynthia Rettig, Hilary Rowen, Sally Ryan, Mona Lisa Safai, Joyce Savre, Marion Schneider, Carol Sconzert, Claire Sonnenburg, Delma Soult, Angi Shine, Benu Shroff, Paula Sutor, Nancy Simenc, Fatima Tehranchi, Rosanne Torre, Peche Turner, Clarke Vallero, Nelli Varavva, Lesly Vasquez, Bella Villanueva, Casey Watson and Jane Henri Williams.
The exhibition is co-sponsored by San Mateo County's Commission on the Status of Women in March, which is celebrated as Women's History Month nationwide. Questions? Contact curator@smcgov.org.
Top image: Migetina by Lesly Vadez