By Vlae Kershner
When the California Public Utilities Commission proposed a new economic framework for owners of solar roofs in December, the reaction was nearly as angry as if it had blotted out the sun.
At least 145,000 people contacted the CPUC or governor and more than 3,000 participated in protest rallies in San Francisco and Los Angeles, according to the California Solar & Storage Association, which leads a coalition of over 600 organizations and officials that oppose the changes.
The focus of the protest is a proposal called Net Energy Metering 3.0.
Net metering turns a home's electric meter into a two-way system. Customers are credited for selling power generated by their solar roofs on sunny days, while paying for energy taken from the grid at times when solar doesn't meet their demands.
California began net metering in 1996 and revised the formula in 2016. The system is credited with fostering a boom that saw the state add 1.3 million solar roofs producing almost 12 gigawatts of rooftop solar in roughly 15 years, equivalent to six Diablo Canyon nuclear plants, according to the solar association. So much solar is produced that peak net load on the electric grid has moved from the afternoon to the early evening.
Two Changes
NEM 3.0 would make two giant changes in the formula.
First, solar owners who have a utility such as PG&E as their energy provider would receive a lower credit for selling surplus generation during the daytime, when there is sometimes more solar available than the grid can use. Some estimates have put the reduction at as much as 80 percent.
Second, they would have to pay a monthly fee for connecting to the grid of $8 per kilowatt. The average system in Northern California is around five kilowatts.  The fee is intended to ensure solar roof owners pay their share of fixed costs of the electric grid such as transmission and delivery.
—
This story appeared in the March edition of Climate Magazine.
—
Many customers pay a $15-a-month fixed charge already, "so the average rooftop solar customer would now be facing a $55-a-month fixed charge," said Jeremy Waen, director of public policy for Peninsula Clean Energy, the community choice agency that provides power to most people in San Mateo County.
Kathleen Goforth, a retired Environmental Protection Agency scientist who installed solar panels on her San Carlos home in 2015, is among those who made comments to the commission.
"Increasing the grid maintenance fee and further diminishing the payment to homeowners for sending clean electricity to the grid will only increase the financial burden on those who already installed solar at significant personal expense and dissuade others from taking the same step," she wrote.
In an interview, Goforth said PG&E charges electric delivery fees of $5 to $10 a month for delivery for her 1,500-square-foot home, which has a 13-panel rooftop solar system. She believes that the proposal would increase delivery fees to $50 or more for many customers.
"We just fully electrified our house and having solar reducing our electric bill helped make it possible for us to handle the cost of replacing gas appliances with more energy-efficient electric," including heat-pump heating and cooling, a heat pump water heater, and an induction cooktop. "We love it. As close as we can we zeroed out our greenhouse gas emissions and we no longer have a gas bill. So far, our total monthly energy bill has been lower than it was when we were using gas."
Shifting Solar's Cost
On the other side is PG&E and the Affordable Clean Energy for All coalition of 114 senior, consumer, business and low-income groups, which argues that inflated subsidies "have put an unfair cost burden on renters, seniors, disadvantaged communities and other working Californians who don't have the ability or means to install rooftop solar systems.
"Currently, Californians who don't have solar panels are paying about $245 more each year in electric bills to cover the costs for those who do have rooftop solar. If NEM isn't fixed, that $245-per-year cost shift will grow to $555 per year by 2030."
The Wall Street Journal editorialized that the subsidies were "welfare for the wealthy."
Mohit Chhabra, senior scientist for the Natural Resources Defense Council, argued that homeowners are being paid far too much for daytime production. "If the same solar panel was placed on the grid side of the customer's meter (not on the rooftop but a few steps away from the customer's property, for example) instead of behind the consumer's meter, it would be paid at least five times less," he blogged.
Equity issues shouldn't mean an end to incentives, countered Jan Pepper, chief executive officer of Peninsula Clean Energy. "Expanding programs to bring benefits of solar to more people makes more sense than penalizing people looking into solar now," especially since California's new building code requires solar roofs and the state's goal is to be carbon-neutral in electricity by 2045.
Low-Income Discounts
She noted that an existing program allows people in disadvantaged communities to receive no-cost solar installations or, if they can't install the roofs, receive a 20 percent discount based on locally sited solar projects.
Pepper has had a solar roof on her Los Altos home since 2001. She estimated the proposal would add $307 to her annual power bill on top of the $760 she paid PG&E last year. "I think it makes people question whether to put solar in."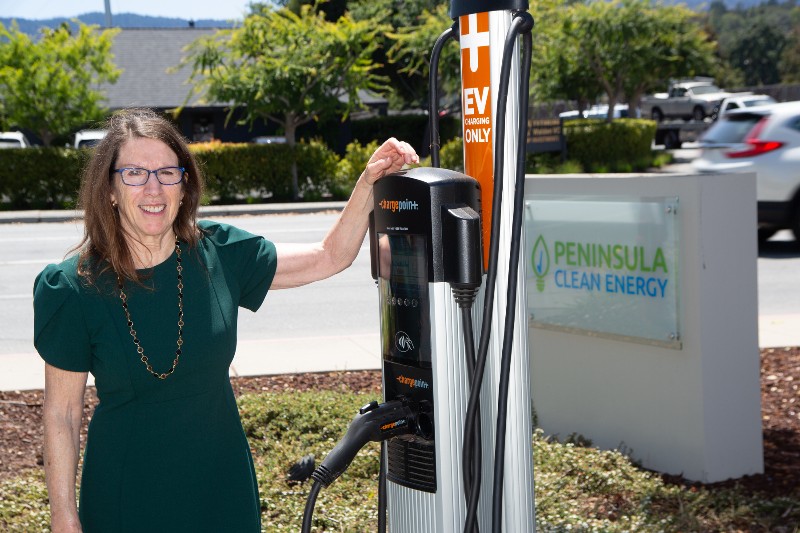 An analysis by natural resources consulting firm Wood McKenzie found that the proposal would cut California solar installations by 50 percent by 2024, with the payback period—the time it takes for lower bills to equal the cost of installation—rising from five or six years to 14 or 15 years.
NEM 3.0 had been set for a commission vote on Jan.  27, but was delayed indefinitely after Governor Gavin Newsom said changes needed to be made and two new commissioners were appointed.
Waen said the way the proposal was pulled suggests a "wholesale rewrite" is in the offing, but it's anyone's guess what changes will be made. "While PCE has formally remained silent, I do think that the $8 kilowatt charge is the most egregious part of that proposal. There is very little basis for why that is reasonable, why that charge is the right amount."
A Phased Approach
Under the proposal, existing solar customers would be grandfathered into old rates for 15 years after their interconnections, so someone who bought a system five years ago would get the new rates after 10 years. For a 120-day period after passage, any new interconnections would still receive the old rate design.
"A 120-day window is a tight window still," given the time needed for system design and delays in the supply chain for solar panels, Waen said. "My general advice for anyone contemplating installing rooftop solar is not to hesitate, start now, even while we wait for a new decision."
The reduction in daytime generation credits would encourage customers to add solar batteries to store power and sell it to the grid at higher rates in the evening. Batteries also provide emergency power during utility outages, which can occur due to wildfire risk, storms, or heat waves.  However, battery storage can cost nearly as much as installing the solar panels.
"Solar remains a great investment. It is a better investment now than it will be if the proposed decision from CPUC goes through," said Spencer Fields, manager of market strategy for the solar comparison website EnergySage.
Checking the Numbers
Free to consumers, EnergySage allows homeowners to comparison shop options side-by-side by getting custom quotes from pre-screened solar providers, based on the homeowners' utility bills and satellite imagery. "You get enough options so you know you're getting the right system at the right price," Fields said. The quotes include financing options for the systems, which typically cost $15,000 and up but vary widely by location and type of equipment installed.
An alternative with lower upfront costs is to enter into a power purchase agreement with a provider like Sunrun or SunPower, in which the company installs and owns the system and sells power to the homeowner.
PPAs jump-started the industry in the early 2000s with a 60 percent market share, but make up less than 40 percent of the systems sold today due to the widespread availability of solar loans, Fields said. They can be good or bad deals. "The things to look for are the price of electricity today versus the PPA price and then crucially, what are the assumptions for rate increases, both for the utility rate and the PPA rate."
He noted that residential solar owners, but not PPA customers, receive the federal Investment Tax Credit of 26 percent. The rate drops to 22 percent in 2023 and then disappears unless extended.  President Biden's Build Back Better plan, stalled in Congress, would raise the credit to 30 percent.