Local officials celebrated the groundbreaking today for a 240-unit Redwood City Navigation Center that marks the launch of an effort to end homelessness in San Mateo County.
Anticipated to open at the end of this year, the bayfront Navigation Center will locate at 275 Blomquist St. and will be unique in that it will feature private sleeping quarters for individuals experiencing homelessness and their partner. Pets will also be allowed under certain guidelines, according to County officials.
The nonprofit LifeMoves will run the Navigation Center under contract with the County. Housing and services will be provided by referal, with no walk-up or drop-in services allowed.
The $57 million facility will provide temporary shelter, on-site meals, case managers and support services to connect clients with employment opportunities, health services, social service benefits and permanent housing. Included in the project are a dog run, barbecue area, shared dining area, an electric commercial training kitchen to serve residents, a community center and space for on-site counseling, vocational training and other services.
There will also be 68 parking spaces and 140 spaces for bicycles.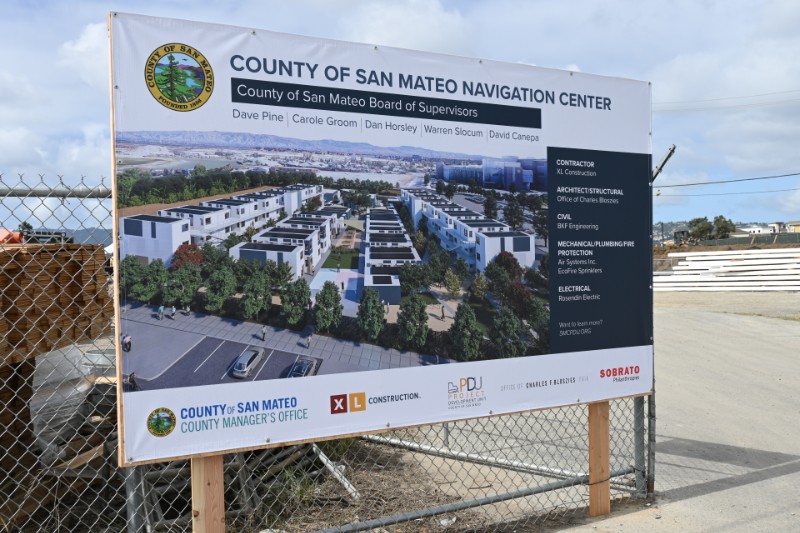 Once built, the Navigation Center will replace the nearby Maple Street Shelter that is currently providing services to up to 110 individuals and is operated by LifeMoves. The facility is funded by a $55.3 million California Homekey Grant Award that includes $46.1 million for capital costs and $9.2 million for operating costs, along with a $5 million donation by developer and philanthropist John Sobrato and a $500,000 federal grant secured by Congresswoman Jackie Speier.
The center's anticipated cost breaks down to about $237,500 per bed.
The Navigation Center was made possible last year via a land swap between the city council of Redwood City and the San Mateo County Board of Supervisors.
"This Navigation Center is proof that here, in one of the most innovative and creative areas in the world, we do not shirk from challenges but embrace them," San Mateo County Supervisor Don Horsley said.
Redwood City Mayor Giselle Hale said her city "fully supports this effort to address homelessness in our community and look forward to our partnership with the County to ensure the Navigation Center is a success for all those it will serve."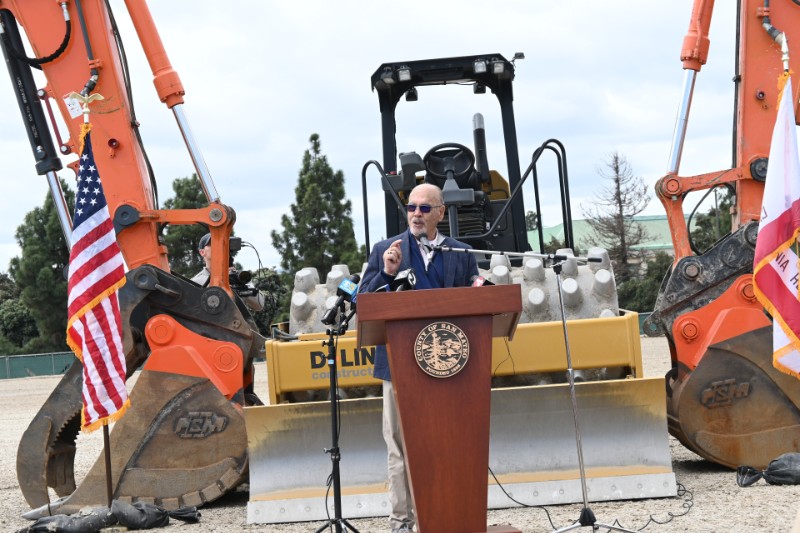 Sobrato said the center could become an example of how other cities, churches and corporations can use their extra land for shelter and transitional or emergency housing.
He added that he is committed to supporting a permanent supportive housing project planned for the existing LifeMoves shelter site "just a block away after it gets demolished."
"Our workforce is not just high tech. We need to keep those in all other industries in our community to keep our economy humming, so we need to find a way for them to secure stable and dignified housing," Sobrato said. "This project is an important step in transitioning people ultimately into permanent housing."
Photos by Janet McGovern