At 6'5" and a "current weight" of 370, Kevin Valley understands the paradox of being impossible to miss but not to be seen. "The problem with homeless people," says the security and facilities manager for Street Life Ministries, for years homeless himself, "is that when people walk by, they don't listen to them. So after a while as a homeless person, you think you're invisible. And it's horrific. I couldn't let that happen, but I felt like I was disappearing too, and it drove me insane.
"And so I would yell," Valley continues. "I would be loud and obnoxious. People would know where I was, you know. I would walk into stores and moms would grab their kids … But it was because I wanted people to know I'm here. I exist, (that) there's a problem and nobody seems to care."
Yet after two pandemic years, to people who are "housed," those "experiencing homelessness" have become resoundingly visible. A perfect storm which included Covid-related reductions in jail populations, lost jobs, fewer clean-ups of encampments and other factors have combined to make a chronic and challenging social problem harder to relegate to out-of-sight, out-of-mind territory. Even for those fully owning the role that the "grace of God" played in situating them comfortably under a roof instead of a freeway.
Public concern is high. The latest Berkeley Institute of Governmental Studies poll saw Gov. Gavin Newsom's ratings significantly lower than in September 2020. Unhappiness about how he is handling several festering problems, such as homelessness and crime, contributed to the slide, with 66 percent of voters rating Newsom as doing a "poor" or "very poor" job of handling homelessness.
—
This story appeared in the March edition of Climate Magazine.
—
In Redwood City, which always ranks at or near the top of an annual countywide census of "unsheltered" homeless, housing and homelessness were among the top concerns in the city's latest round of community surveys, at the end of last year. So much so that Mayor Giselle Hale made the issue—and the city's response—the subject of a March 14 State of the City presentation.
The Road to Redwood City
As the San Mateo County seat and home to three jails, plus various government offices and social services, Redwood City has always been a magnet of sorts for those a bit on the edge of society.  People released from jail, for example, stay on for appointments with public agencies, or seek emergency assistance.
"We are a compassionate community," says the city's Homeless Services Manager Teri Chin, which is why there are so many nonprofits in addition to government services that are available. What's more, many of those experiencing homelessness in Redwood City were residents before they moved onto the streets or into their cars, she adds.
Police officer Erik Ottersen handles social media for the Redwood City department and consequently takes the calls from upset citizens. He rarely gets stumped with a new question: Whatever happened to vagrancy laws? Why don't neighboring cities like San Carlos have encampments? Why were the Redwood City campsites around overpasses allowed to multiply in the first place?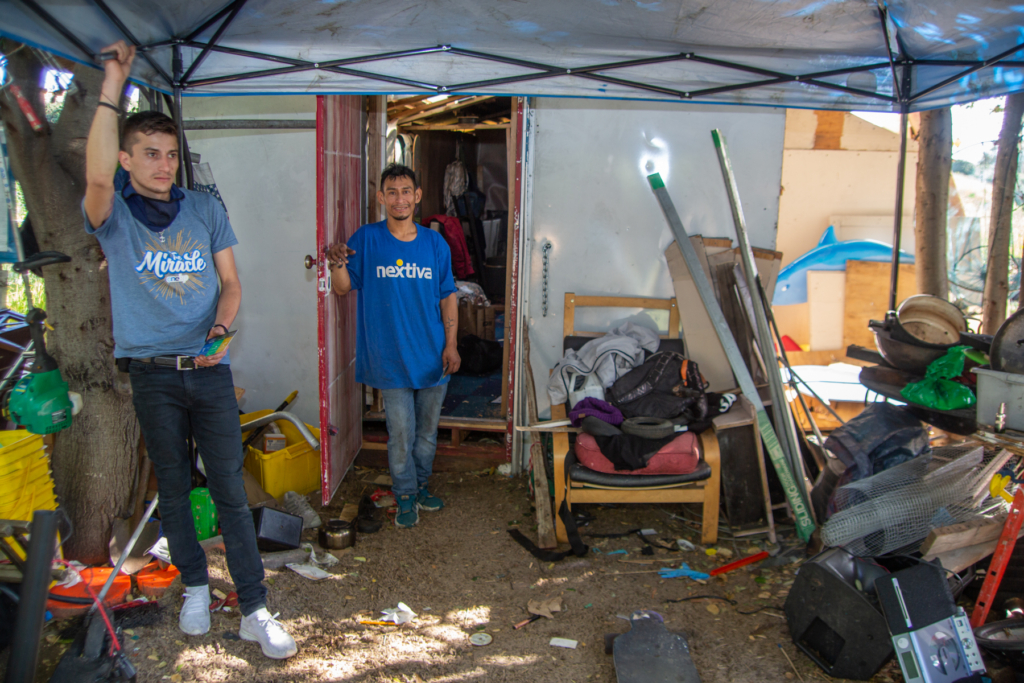 One reason police can't just roust people camped on public property, Ottersen responds, stems from a 2018 court ruling over two ordinances in Boise, Idaho, which made it a crime to camp on streets, sidewalks, parks or other public places. A panel of the 9th Circuit Court of Appeals held that such laws were unconstitutional and the Supreme Court in 2019 declined to review the case.  Ottersen cites Boise vs. Martin when he tells callers why people can't be cited just for being homeless or sleeping in the car.
Most of the encampments in Redwood City which have lit up social media sites are along state property under the control of the California Department of Transportation: U.S. 101, Woodside Road and El Camino Real."Three state highways divide our city," Ottersen says, which is not true in San Carlos, to name one city. Encampments tend to pop up along shoulders and onramps. Redwood City staff organized a survey a year ago and found 102 individuals living in 25 encampments. Plotted on a map, Ottersen notes, those camps "line state highways."
Caltrans Clean-ups
Pre-Covid, Caltrans did regular clean-ups.  But adhering to guidance from health authorities at the state and federal level, to protect its employees and the public, Caltrans proceeded with clean-ups if there was "an immediate safety concern or threat to critical infrastructure," according to Janis Mara, a Caltrans public information officer. The agency, she says, works in collaboration with local partners and social service agencies to connect people with essential services. "Caltrans is now allowing its districts to address moderate and lower-priority encampments," upon the availability of such assistance, including various types of shelter.
There have been several recent encampment clean-ups in the last few months, including one Feb. 13 at Hazel Avenue and Linden Street just south of the Woodside Road/El Camino Real interchange. The city issued a news release calling on Caltrans to "come to the table" with city and legislative leaders to develop a plan to protect the community from health and safety hazards.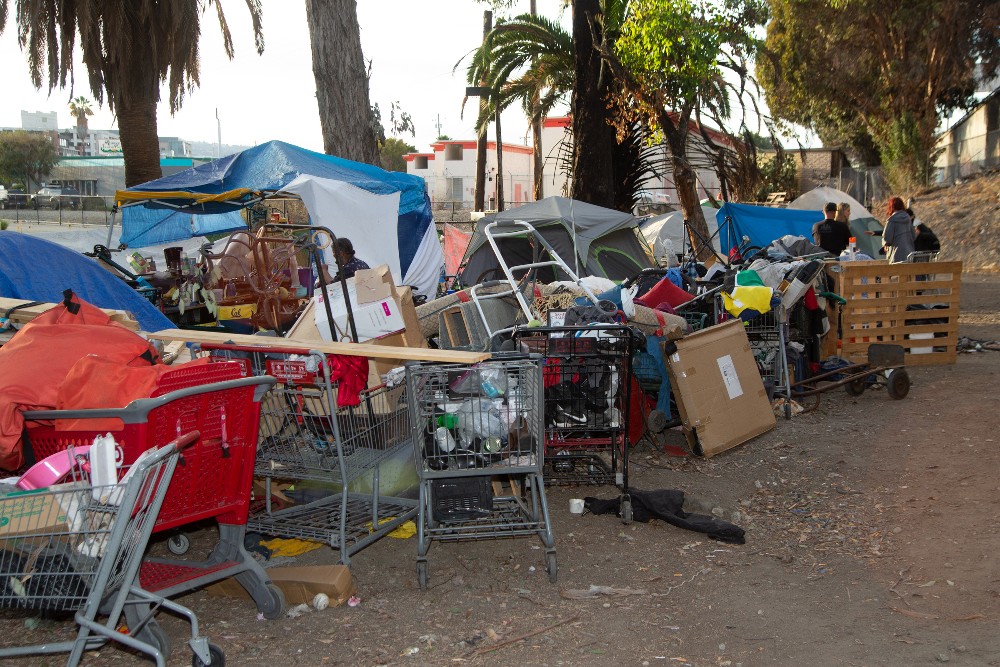 Mara says Caltrans is receiving $2.7 million through Gov. Newsom's California Comeback Plan for safety risk mitigation and clean-up at encampments, as well services for those living in the camps.   Three camps in the same general vicinity have been cleared and are now fenced. Inhabitants were given 72 hours to pack up their tarps, tents, mattresses and other belongings and move.
But the camps aren't just on Caltrans land. The city hasn't cleared an encampment along Redwood Creek in Sequoia Station, where unsheltered residents have settled in with their tents and belongings. Dubbed "Little River Park" in 2001 after a beautification project, it has both a plaque and sign listing standard Parks Department regulations, including being closed from sunset to sunrise and bans on smoking, drugs and alcohol. But Chris Beth, the city's parks, recreation and community services director, says the site is actually transit-district-owned land and is not a city park. The whole area, he adds, is slated for redevelopment.
Of the police department's lack of action, Ottersen says, "We need something more than just camping on city property. We need some other health and safety risk violation of the Penal Code that we can utilize … There's not a Penal Code (violation) that I'm aware of for living next to a creek that we could utilize to enforce it."
No matter which agency clears out an encampment, though, a cycle repeats. "What we see time and time again is that when anybody does an eviction, whether it's Caltrans, private property or the City of Redwood City," he says, "whosever's property it is, they simply move to a new location."
Before the pandemic, Chin adds, "when people were living in encampments, it was in places that people didn't see." People may have felt that they didn't need to be hidden because nothing was going to happen to them.
How Many Are There?
So are there more people experiencing homelessness or are they just more visible?  San Mateo County conducted a biennial census Feb. 24 but the tally won't be released until later this year. (Some question how real the numbers are, since the count happens on one day—and only of people willing to be seen.)
Number one in the 2019 head count, Redwood City's total (221) was almost double the number two city's (Pacifica, at 116). This year's is the first count since 2019, again, because of the pandemic.  During that time, Chin says, unsheltered people have been coming into the Fair Oaks Community Center, where she works, needing security deposits for permanent housing, and the county has received additional federal housing vouchers.
Similarly, a temporary program the city launched two years ago to provide safe RV parking succeeded in helping 19 households move into permanent housing. About 60 percent have also been working with the city's contractor, LifeMoves, to secure a subsidy and are working on finding a place to live, says Chin. But there may be new arrivals in the city.
Lead pastor David Shearin is the executive director of Street Life Ministries, which provides a hot meal program weeknights in Redwood City, Menlo Park and Palo Alto. With his wife, Shawn—both are formerly homeless—they and their team do outreach to help get people off the streets, and hopefully into productive lives.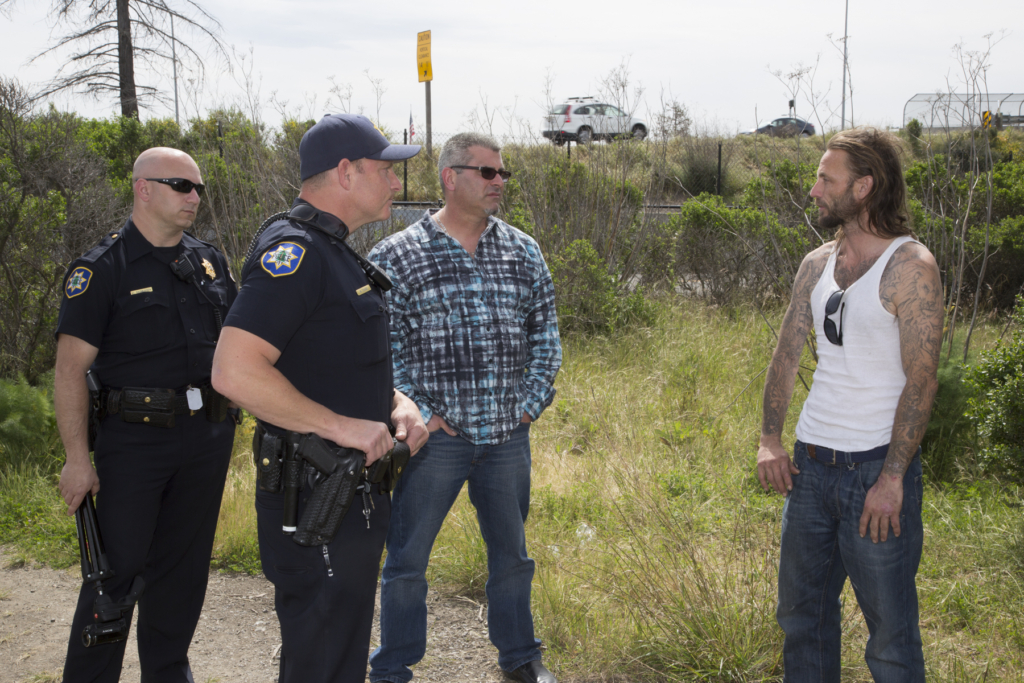 "I've been doing this for 14 years," David Shearin says. "… I used to know every homeless person by first and last name. … Every single day I'm seeing multiple new faces I've never seen before."
He believes a big factor in the explosion of homelessness generally has been the lack of consequences for drug use and low-level crime, reducing penalties from felonies to misdemeanors. The pandemic's effect on the criminal justice system compounded the situation, which meant fewer people were being arrested or given diversion alternatives in drug court. "A guy carrying a bag of dope isn't going to jail anymore," Shearin says. "… Homelessness is no longer considered illegal. And since nobody's getting arrested for drugs, 'Why would I stop?'"
Partly because of the pandemic, the average daily population at the county's correctional facilities dropped from 1,106 in 2019 to 705 in 2020 and 744 in 2021. Assistant Sheriff Alma Zamora says police chiefs early on were asked to be cognizant of the need to socially distance inmates and to cite out minor offenses if they could. Some medically vulnerable inmates and those with minor offenses who'd almost finished their sentences were also released. Now, Zamora says, arrest and booking practices are back to normal.
Accountability Counts
Shearin was a former addict and says if it weren't for the Salvation Army holding his feet to the fire when he was in a recovery program, he'd never have achieved sobriety. "I don't believe in sticking somebody with a drug addiction in jail for the rest of their life, but I do believe we should have a penalty. There should be a cost."
That said, much as people don't like seeing encampments, simply clearing them out is only "kicking the can down the road," he says. Displaced residents find their way back to encampments like "Mud City," on a narrow pathway just below the Woodside Road expressway near the Burger King.  Or next to a sound wall behind Howard Johnson's. On a recent afternoon, the Shearins called on two men who've established homes under the Bayshore Freeway, with an overhead whump, whump of semis as white noise.
On the other hand, an encampment called The Treehouse located at 101 and Marsh Road is tidy and almost homey, with some plants and rock landscaping and a solar panel in a tree for electricity.
In both 2020 and 2021, the fire department responded to about 1,000 calls for service for homeless people, according to Battalion Chief Dan Abrams.  Some calls typically are for fires but many are medical. "(They're) sick. Tired. Tired. Tired of being cold and sick," he says. People who ask are transported to the emergency room. "We have a few that will do three, four a day, the same person in and out."
For Kevin Valley, 53, the four-year path back from being homeless was hard. In those days, he "ran" an encampment called The Corridor, a narrow space along Oddstad Road behind a freeway sound wall.  With his imposing size and attitude, "I kept all the trouble out. If there was any trouble, there'd be trouble with me. And nobody wants that. I'm good at trouble, ma'am."
His first step up from there was renting a backyard tool shed for $200 a month. Through Street Life, Valley gradually found his footing and today not only is a salaried employee but lives in a two-story house in the East Bay with a pool. Reintegrating into society was the hardest part for him, especially correctly reading social cues. "It was not easy at first because I thought no matter what I said, nobody would pay attention."
He's an ardent defender of the population the ministry serves and is committed to long-term solutions. "A lot of people write them off because they've got mental issues or drug issues," Valley says, sitting next to the tent where hungry denizens of the street line up for a meal. "I used to have drug issues and if they wrote me off, screw 'em because look at what I'm doing now."
Looking for Answers
And what about those elusive "solutions?"
Starting in 2019, Redwood City began funding the Downtown Streets Team which serves the dual purpose of cleaning city streets and offering homeless people job skills. They now also do trash collection at some of the encampments. The city committed $2.7 million over two years for the streets team, RV programs and staffing. Operated by the nonprofit LifeMoves, that temporary program is slated to wind down in the fall, Chin says.
In the next two years, the city will spend another $2.5 million for those items plus   expanded outreach. Another $1.8 million is coming from a state grant. Patricia Baker, a mental health clinician, recently came on board under a pilot program to respond to certain crisis situations.
Chin emphasizes that the city works in partnership with San Mateo County, which is building a 240-bed "navigation center" at 1469 Maple St.  It will provide temporary shelter and connect people with physical, mental health, substance abuse and other services for those who want to participate voluntarily, according to Michelle Durand, the county's chief communications officer. Onsite construction will begin by mid-year. It's on an aggressive schedule and the county looks to open in the spring or even sooner, she says.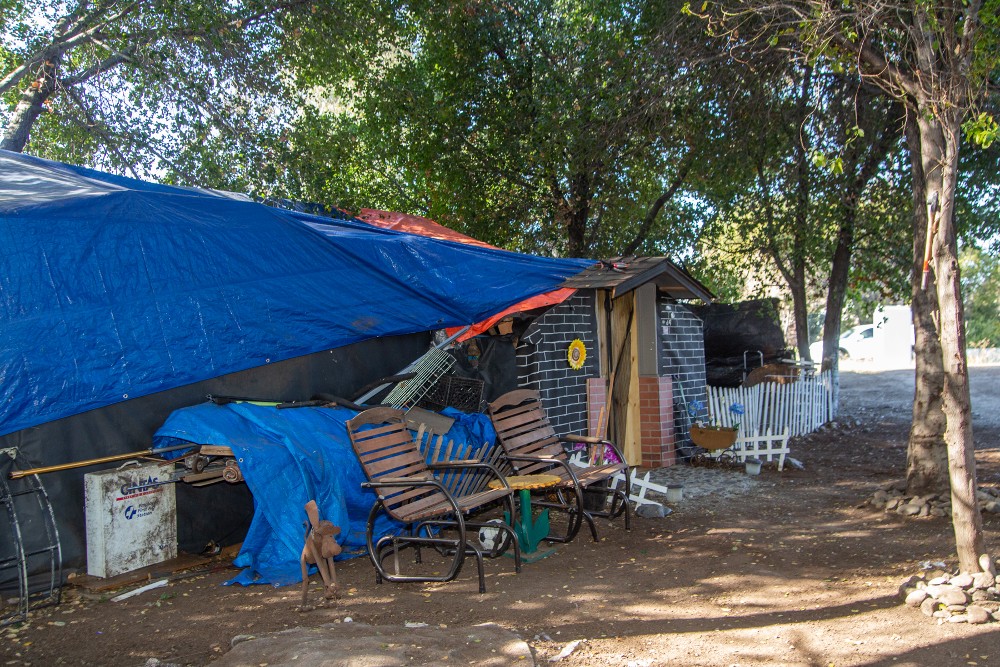 The county has also acquired four hotels as a follow-up to Newsom's Project Roomkey initiative during the pandemic, which are being repurposed as shelters or permanent housing. The program is now called Project Homekey. Two of the hotels (in San Mateo and on the Coast) are being used for temporary shelter and, combined, have 125 rooms. Since the shelters opened, 300 people have had a place to stay.
The other two hotels are in Redwood City, Shores Landing in Redwood Shores, and the Comfort Inn in Redwood City. Both are or will provide permanent housing and have a combined 146 units.  Redwood City is contributing $1.3 million to the Comfort Inn renovations.
Street Life Ministries, meanwhile, is trying by May to raise the remaining $250,000 to match a $1 million grant from a local family to launch a faith-based addiction recovery program called Homeless to Healthy. Residents will get job skills training and intensive counseling.  Miserable as campsites may be, Shearin acknowledges, it's hard to take a risk to live clean and sober: "Now I'm vulnerable. Now I've got to talk about my issues."
"Beyond Homeless" Film
Mary L.G. Theroux serves on the national and San Francisco advisory boards of the Salvation Army, and is senior vice president of the Independent Institute in Oakland. It does research and analysis on a nonpartisan basis to inform the public and help guide decisionmakers on a wide range of issues. Last November the institute released a public policy paper she co-authored called "Beyond Homeless: Good Intentions, Bad Outcomes, Transformative Solutions."
To make the information widely accessible, a 38-minute documentary was produced called "Beyond Homeless: Finding Hope," which debuted in February. Of the total investment of about $500,000, Theroux says, "It's a lot of money for us. We're not a huge organization."
The institute has been reaching out to San Francisco neighborhood associations, but Theroux will network with anyone in the Bay Area interested in collaborative solutions. There's a dual concern about homelessness: "We are not helping people by letting them live in the street," she says. "And then meanwhile we're undermining the quality of life for our children and our merchants and peace of mind and so on by perpetuating a large and growing population living in Third World conditions in the middle of us."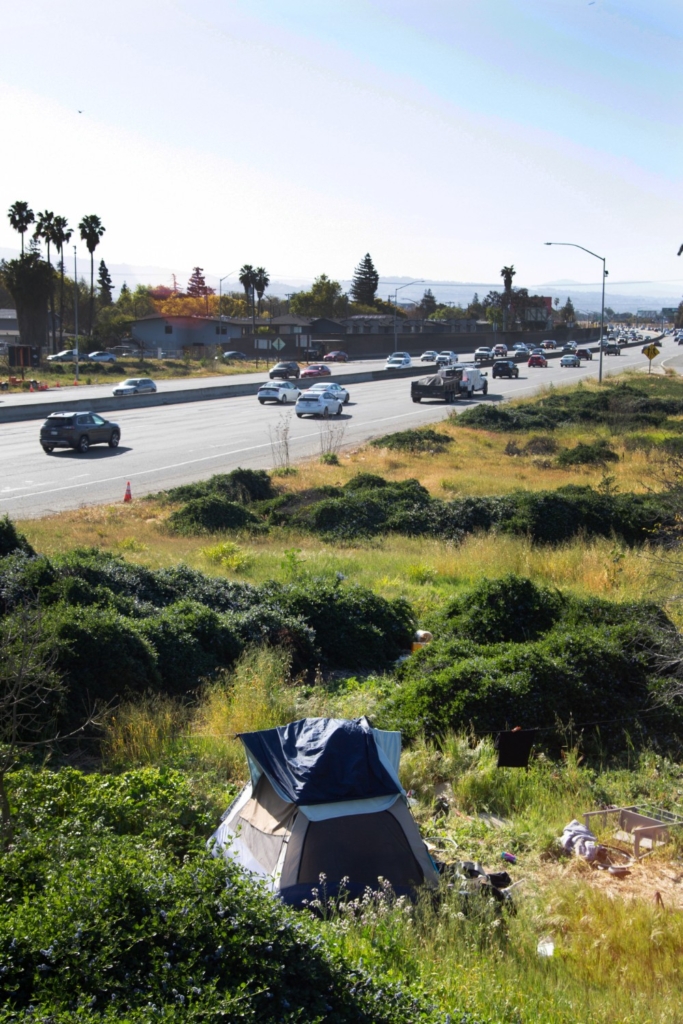 Among the factors the report covers are the high cost of housing in California and regulatory barriers to affordability. "A lot of people say this is a housing problem," Theroux says. "It's not strictly speaking a housing problem, but it really has to be solved in order to really solve homelessness." The report recommends a reexamination of conservatorship laws. It also  contends that the "low-barrier, harm-reduction" approach called Housing First has become a one-size-fits-all solution and should be "more modestly scaled back."
The film highlights a project in San Antonio, Texas, called Haven for Hope, which brought 70 service providers onto a 22-acre campus. "They create literally a unique support system for every single individual because everybody is right there," Theroux says.
Haven for Hope's genesis was Mayor Phil Hardberger's challenge to the community during his 2006 State of the City address to take on the growing homelessness problem. The next day, William Greehey, founding CEO and chairman of Valero Energy, called the mayor—who he hadn't supported—to ask if he was really serious helping people make transformational change. Hardberger said "yes" and Greehey became the chairman of the committee; he raised over $101 million, much of it from the private sector.
Hardberger says the idea was to "try to see how many of these people we can save." Since Haven for Hope opened in 2010, the number of unsheltered homeless in downtown San Antonio has been reduced by nearly 80 percent, and the cost of emergency services is lower as well.
New Plans in San Francisco
Theroux says the Salvation Army, which has substantial properties in San Francisco, is also looking at ways to redirect its programs to provide supportive skills, workforce development on a long-term basis to lower the relapse rate.
"At the root of a lot of homelessness are some pretty terrible stories and especially terrible childhoods," she notes, and it's important for people coming out of that world to be in community, "so that as they hit the little bumps that we all hit as part of our day-to-day life they can learn to deal with them in a positive way and not by taking a drink or using drugs."
For information, go to beyondhomeless.com.
Homeless for about five months, Anthony Malone started coming to Street Life because he was hungry, bringing his American Staffordshire terrier Luna with him. Both of his parents, Malone says, had histories of drug and alcohol abuse and he's the only one left in his family.  "Maybe I didn't have the best cards in my hand," he concedes.
Previously a roofer, he's 38 and wants to get a job and a place to live. Because he can sleep in his car, Malone reckons others are worse off and tries not to ask for help. But it's been offered anyway. "It's actually surprised me how many people are out there willing to help people that need a little help," he says," a kick in the butt or whatever. It's been eye-opening."