By Aimee Lewis Strain
Daniel Torres Aguilar vividly remembers his first experience volunteering as a child. He was 10 years old when he and some of his fellow church parishioners spent Thanksgiving Day searching for local homeless people to provide them with baskets full of water, food and sanitary items.
"I remember that it felt amazing to give back," Torres Aguilar said.
Now a senior at Everest Public High School, Torres Aguilar said the values instilled through volunteering have become a part of who he is as a young man. As an explorer with the San Mateo County Sheriff's Office, Torres Aguilar attends twice monthly meetings and spends time learning search and rescue techniques to aid the department in missing persons cases. He also teaches search and rescue classes at Huddart Park.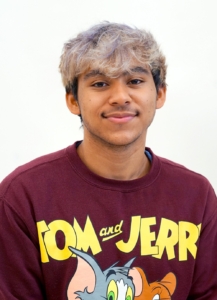 Torres Aguilar is one of two high school seniors this year to be named co-winners of the Outstanding Student Award through the Sequoia Awards, a scholarship given to Redwood City students who demonstrate dedicated volunteerism and community engagement.
Woodside High School senior Kenzy Mashraki (pictured above) is the other co-winner of the 2022 scholarship. For the third year in a row, the awards ceremony could not be held in-person, due to the Covid pandemic.
Mashraki has been a volunteer since she was 13 when she was assigned to be an earthquake victim through the Woodside Fire Department's Community Emergency Response Team, or CERT.
"The lighthearted atmosphere showed me how fun and fulfilling volunteering can be," she said of the experience.
Lessons from Volunteering
Mashraki has since blended her volunteerism with several types of groups, which has taught her more about mental health and the importance of balance in one's personal life. She has arranged a mental health webinar, worked at a vaccination clinic and conducts weekly coastal beach clean-ups with the Octagon Club, Woodside's on-campus community service club.
"Most importantly, I have learned the importance of our community's health and how one person can make a difference," Mashraki said.
For Mashraki, who was born in Egypt, the experience she has had volunteering has also helped her in her personal life. She recalled when she first joined the youth advisory board for the Sequoia Teen Wellness Center. What she thought would be a neutral addition to her college resume turned out to be an eye-opening experience that would transform her outlook on life.
She remembers it was during the height of the pandemic and she hadn't seen her friends in nearly a year.  "It was the second semester of my junior year—a full year away from my school, friends and life," she remembered.
Mashraki hadn't fully understood why she was feeling so down and soon realized she had crawled into a dark hole of isolation. It was the volunteer work through a mental health initiative that gave Mashraki an opportunity to interview mental health professionals and survivors, which helped her to understand what she was going through and that she was not alone.
"I slowly started breaking down the stigma surrounding mental health and accepted my feelings instead of pushing them down further," she said.
The experience Mashraki has had has aided her in life—something she attributes as a benefit of  volunteering.
"That's the beautiful thing about volunteering, you never know how much you can impact someone's life or they can impact yours," she said. "I learned that there is power in unity, when people come together even if it's just a handful and work toward something that truly matters to them, you can change someone's life."
Decades Aiding Students
Now in its 31st year, the Sequoia Awards brings together local business donors to raise money to offset the rising costs of college. Since 1990, the Sequoia Awards has grown from a single $500 scholarship in its first year to more than $2.2 million in scholarships today.
Twenty-one students received scholarships this year ranging from $7,500 to the top award of $30,000, the amount which both Torres Aguilar and Mashraki received. The Sequoia Awards also honors an outstanding individual, who this year was Gloria Kennett, who started volunteering in 1951 with the Peninsula Volunteers. She will turn 100 this year.
Costco/Price Club Redwood City Warehouse was named the outstanding business. Costco has been donating food to St. Anthony's Padua Dining Room since 1983 and provides food three times a week, as well as turkeys at Christmas and Thanksgiving.
—
This story appeared in the March edition of Climate Magazine.
—
The board of directors of the foundation volunteer their time to manage awards. With no paid staff members, 100 percent of sponsorships and donations go directly to the scholarships and awards celebrations.
Torres Aguilar, who has spent much of his time volunteering through the sheriff's department, said volunteering is not only personally fulfilling but it makes a difference in the quality of life for all residents.
He said his parents grew up in a small community where everybody helped each other.
"My parents always told me that helping people in need was a kind act. Volunteering isn't some task that is difficult, but instead it is a small courtesy that makes such a huge impact. All it takes to make a change is the correct mindset and an open heart. You'd be surprised at how far one action can go and how many people you can inspire," Torres said.
The scholarship over four years will help Torres Aguilar pursue his dream of earning a college degree in mechanical engineering.
A Mentor to Future Winners
"Being a Sequoia Award recipient means a tremendous amount to me. I devoted my efforts and energy to helping communities in need and giving back to caring environments. I am honored to become the mentor to many young kids I wished I had had when I was younger. It is a luxury of mine to have the opportunity to give back to my community and generally be able to share my wisdom to help others grow and develop."
Mashraki hopes to attend a school in the UC system and study electrical engineering.
"I would not have gotten here without the help of my friends and family. I wouldn't be here without my parents sacrificing their lives and moving to a new country for me to get a good education, or without the Octagon Club, Optimists Organization, or Sequoia Teen Wellness Center's Youth Advisory Board and their members and organizers," she said.
2022 Sequoia Award Recipients
Chloe Litton (Carlmont High School)
Kaylene Lin  (Carlmont High School)
Xitlali Curincita (Woodside High School)
Kanzi Mashraki (Woodside High School)
Erika Rohlfes  (Woodside High School)
Ricardo Hernandez (Woodside High School)
Seona Sherman (Carlmont High School)
Maya Kornyeyeva (Carlmont High School)
Hilary Rodriguez-Marquez (Woodside High School)
Ryan Yang  (Carlmont High School)
Kaitlyn Delfs  (Woodside High School)
Claire Manuel (Woodside High School)
Shira Futornick (Summit Prep High School)
Andrew Ghazouli (Carlmont High School)
Daniel Torres Aguilar (Everest Public High School)
Giselle Ibarra  (Sequoia High School)
Rianna Grant  (Sequoia High School)
Melissa Paz-Flores (Saint Francis High School)
Joanna Sierra Contreras  (Sequoia High School)
Jessalyn Yepez (Woodside High School)
Mira Bhatt  (Carlmont High School)