By  Vlae Kershner
It's gotten harder for Menlo Park residents to complain there's nothing to do after dark.
The Guild Theatre at 949 El Camino Real has been reopened as a place for live entertainment. The single-screen movie theater opened in 1926, became famous for midnight showings of "Rocky Picture Horror Show," and transitioned into an art house. But business declined with the dominance of the multiplex and it finally closed amid widespread regrets in September 2019.
—
This story appeared in the March edition of Climate Magazine.
—
The nonprofit Peninsula Arts Guild stepped in to buy the property and won all necessary approvals from the city in a whirlwind 4½ months, said Arts Guild President Drew Dunlevie, a Menlo Park resident.  "We aren't developers, just residents who wanted the project. We told the City Council, 'If you want it, take it.' To their credit, they took it."
Construction was completed within 2½ years of the closure despite the pandemic and supply chain disruptions.
The Venue Debuts
About 150 supporters attended the reopening night event in late February. Appropriately, the first performer was a Menlo Park resident, singer-songwriter Reid Genauer, formerly of Assembly of Dust. He called it "a palatial and wonderful new venue."
The main performer was Wobbly World, a seven-piece Bay Area international music band led by "Segovia on acid" electronic flamenco guitarist Freddy Clarke, who took the state-of-the-art Meyer Sound system up to high decibels.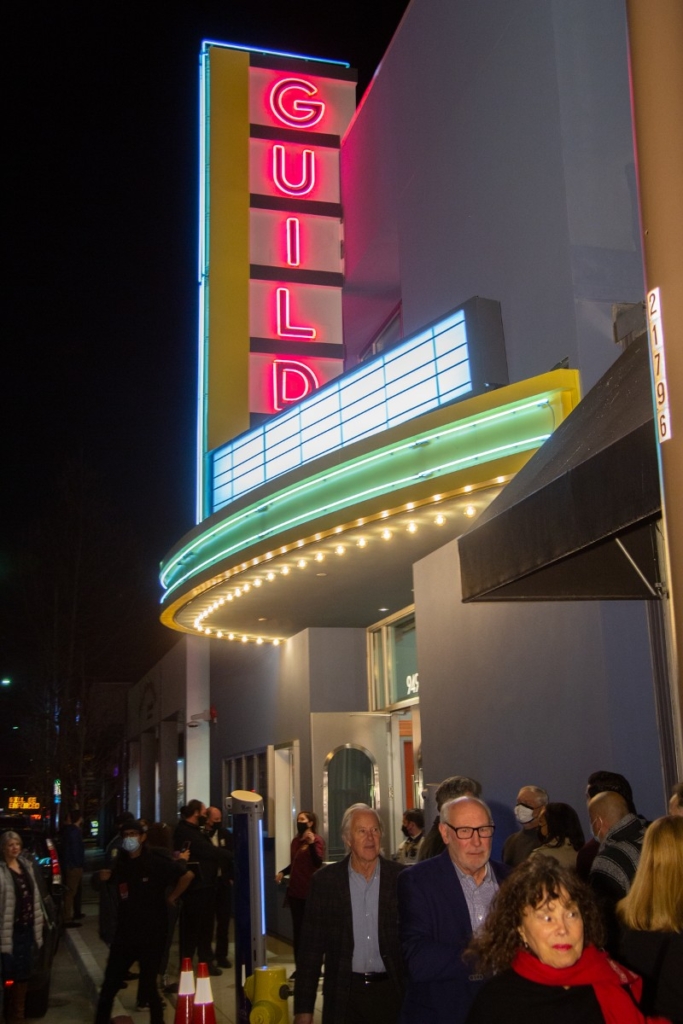 Dunlevie thanked the crowd.  "Silicon Valley gets a lot of s— with the TV show but there is so much philanthropy here." More than 30 donors, mostly couples, contributed more than the $35 million needed for the renovation.
The outlines of the old movie house are still visible, but with three levels instead of one. Interior designer Ken Fulk retained the classic look with touches like a chandelier in the shape of trumpets. The main level includes two dance floors as well as seating, the control panel, and a disability seating area. The mezzanine has seating and an open area. Both levels have full bars.
Décor elements include burgundy plush seats, old-style lamps, and brass railings. Still to arrive was a massive burgundy main-stage curtain and side wall curtains, somewhere in the supply chain. Capacity ranges from around 200 for all-seated shows to about 500 for standing room only. The newly dug-out basement houses an elaborate green room for performers with a big-screen monitor, lounge seating, and a washer/dryer.
Local Entertainment
Dunlevie said all types of music would be booked. "We'll try anything." The idea is to provide Peninsula residents with a convenient alternative to San Francisco venues like the Fillmore. "We love those venues, we're just tired of having to go for everything."
In March, the first show open to the public featured Grammy-winning jazz pianist Robert Glasper. It drew more than 350 people from as far away as Los Angeles, Oakland and San Francisco, Dunlevie said. The highest ticket prices during that first month were for Three Dog Night, booked for two weekend nights, appropriate for the "One Is the Loneliest Number" vintage rock band.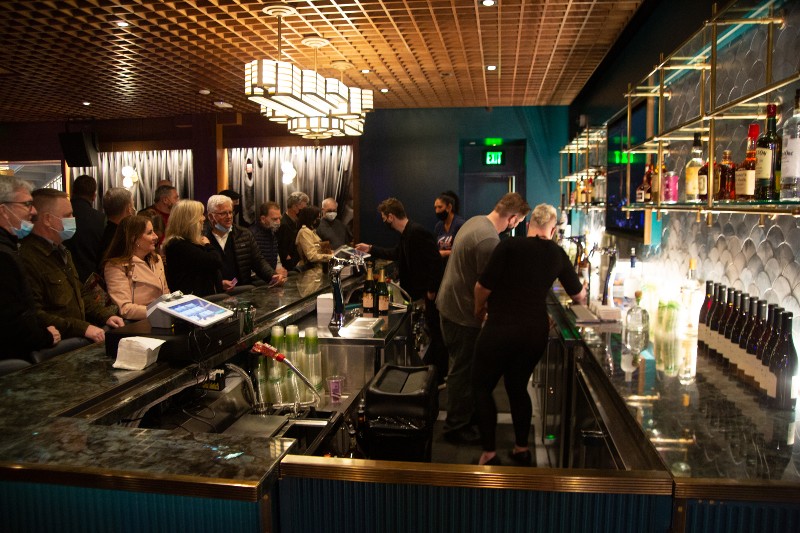 While the Arts Guild puts on only live events, the space also will be usable for media presentations once projectors arrive. For example, it could be rented out to film festivals and pay-per-view sports events. The Guild has hired an experienced general manager in Tom Bailey, a Stanford graduate who has worked at the Fillmore and other local venues and was most recently GM at the Capitol Theatre in Port Chester, NY.
The goal is to operate at cash-flow neutral or better based on ticket and bar sales. Still, "If we need to raise a few bucks, we'll be able to do it," Dunlevie said.
The theater has never had any dedicated parking, but surface parking is available in downtown plazas within two blocks. Dunlevie expects many customers to stroll over from downtown restaurants, and others to walk from the nearby residential neighborhoods, or take Caltrain or rideshares.
For the schedule and ticket information, go to guildtheatre.com.