By Dan Brown
It's a day off for the circus, so Giovanni Zoppé and his partner, Jeanette Prince, perform a juggling act more relatable to the rest of us. There is laundry to be done, kids to be tended to and tea to be made, all from the confines of a home that feels a few sizes too small.
They are here, inside a trailer planted on a Redwood City parking lot, for a month of performances at a stop they deem their favorite of their whole tour.
Such profuse praise for the local crowd risks inspiring a more cynical bit of theater—acrobatic eye-rolling. But as Giovanni and Jeanette talk, it's clear how much they mean it. This Zoppé Italian Family Circus began in Venice nearly 180 years ago and has somehow connected almost cosmically with the audiences who fill the tents placed incongruously next door to the Redwood City Library.
This is the Zoppé family's 14th year of performing in Redwood City, long enough to establish genuine roots. It was the first stop of Giovanni's son, Benetto, who was born at Sequoia Hospital. And it was the last stop of Giovanni's father, Alberto, the famed clown whose last show was here before his death in 2009 at age 87.
So, when the performers talk about the Zoppé "family," they often mean the people in and around Redwood City.
The audience here is attached to the show. They've formed this connection.
"The audience here is attached to the show. They've formed this connection,'' says Jeanette, who handles marketing. "And, so, when they come, they come with that energy, because they have been waiting for it. They're excited for it. They remember it. They're connected to it.
"We have obviously positive feedback everywhere we go," Jeanette continues. "But it's a different kind of connectivity that they have here because of the longevity. It's a different, more personal, intense feel."
Keeping a Tradition Alive
The massive circus tent in downtown Redwood City on this mid-October day is set up largely because a young French street performer met a beautiful equestrian ballerina in Hungary in 1842. Those two lovebirds created an old-world circus heavy on acrobatic feats and horse-riding escapades.
Giovanni is their great-great-grandson, and he keeps the family presenting a show that Napoline and Ermenegilda would recognize as their own. There are no laser lights swirling, no high-tech sizzle. The emphasis is on elegant showmanship, with jugglers and high-wire acts and aerial gymnastics and dancing dogs. Even the props are as old as the circus itself: Balloons, canes, trombones and accordions.
The stated goal of the Zoppé family members is to do the show the same way their ancestors did the show for the audience's ancestors.
Asked about the highlight of each night, Jeanette considers the question only long enough to realize there is no right answer.
"The very essence of the show is the highlight: It's the ability to step back in time, to remove yourself not just from the current world and society, but your current way of thinking,'' she says. "It's just to be transported into another world. And that's an experience that's not quantifiable. You can't list that as 'A-B-C-D, come see this and that.'''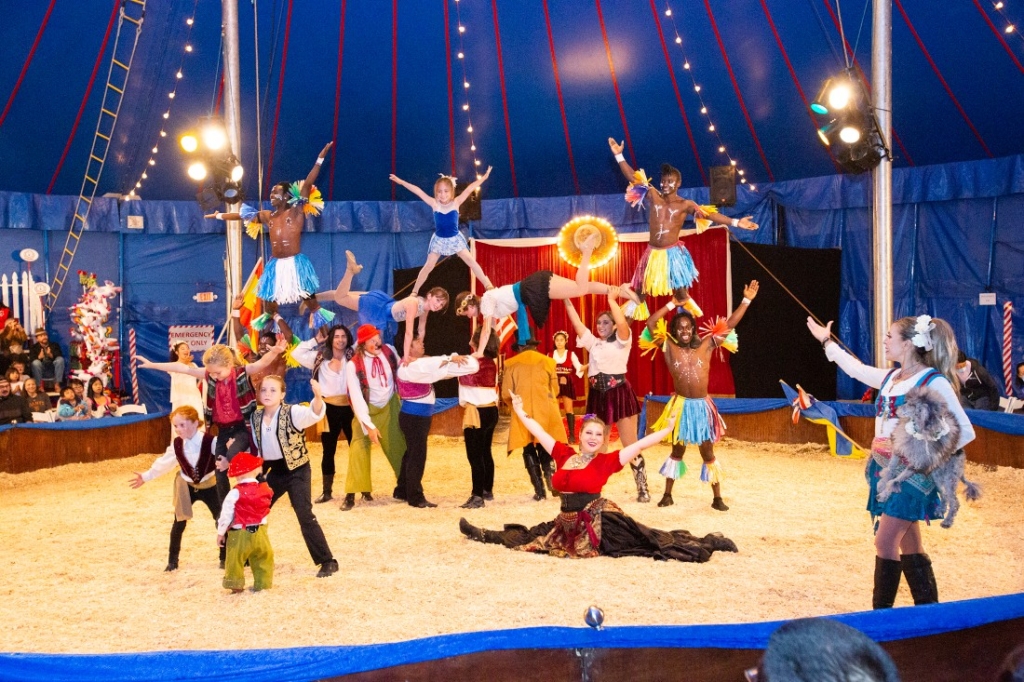 Their dedication to authenticity even extends to setting up the circus grounds. The circular, peak-roofed tent is the real deal, held down by steel cables and stakes.  But no automated stake drivers are allowed. Performers put up the tent by hand and drive in the stakes with hammers.
What else remains the same now as in 1842?
"As much as possible,'' Giovanni says. "We don't use candles, but that's about it."
Which leads Jeanette to crack, "Well, only because the fire marshal won't allow it!"
The Greatest of Ease
The tradition remains in place, right down to the love story. Giovanni and Jeanette met in 2016. "Or maybe it was 2017,'' she says. "Time in the circus is a very strange thing."
She had just seen the Zoppé Family Circus, and not for the first time, as an audience member in her hometown of Oklahoma City. After the performance, she ventured down with other fans to chat with the magnetic and emotionally vulnerable clown who served as the heart of the show.
"I think it's funny because it's the same way that Giovanni meets anybody, which is at the show,'' Jeanette says. "After the show, the artists come out, and as everybody's exiting, they say goodbye.
"And the people who feel connected, they want to talk to the performers and take pictures. But the one that does that for the longest and with the most intensity is Giovanni. For he is the character most people resonate with. He often lingers to connect with people. And that's how we met—in one of his lingering sessions."
Giovanni remembers the moment, too. He'd spotted Jeanette in the crowd enough times to feel a connection even before they spoke. And when they finally did get to chat, he swears they talked forever.
"Yeah, he always says that!" Jeanette laughs. "'We were there for hours!' Like, there's no way I stood there for hours in the September Oklahoma sun!"
Now they live in a trailer that's 34 feet long and 7-½ feet wide as the couple raises six children and oversees the roughly two dozen performers that roam with them from stop to stop. (For this tour, they added four performers from Kenya.)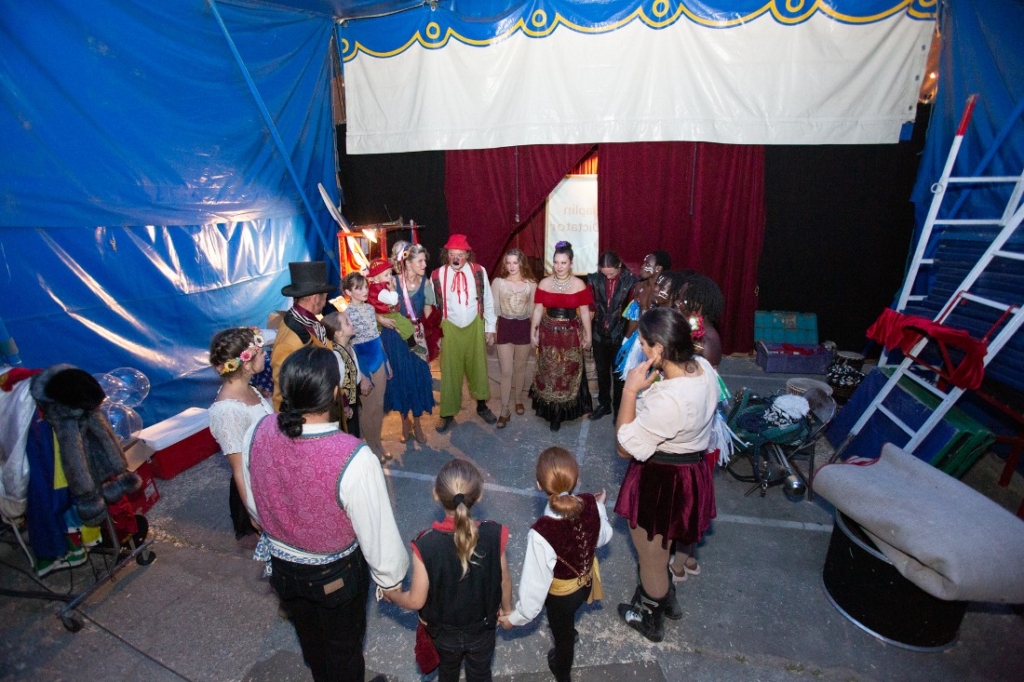 How many days a year do they live in this confined space? Giovanni answers by peering over his shoulder and sweeping his left arm wide as if giving a grand tour.
"Our home is always our home,'' he says. "Only our backyard changes."
Born to Be a Clown
During the show, Giovanni, who is in his early 50s, plays Nino, the clown who propels the action as a hapless and childlike bumbler. And it is something he was born to do. That should have been obvious from the way he arrived: His mother, Sandra, went into labor while in the parking lot of the WGN television studios in Chicago. It seems Giovanni's father was still inside appearing on the "Bozo the Clown" show.
Giovanni grew up with only one career path. He dabbled in construction (it lasted about two weeks) and in delivery (one week) but his real profession was so obvious that there was never a need for a LinkedIn page.
As a circus clown, he says the goal each time is to "touch on every emotion during the show." Nino's comic and charismatic persona always pulls the narrative thread.
The Daily Beast, in a 2017 rave over Giovanni's performance, put it this way:
"Even the most unobservant spectator can't help but realize that in Nino's performance, you're witnessing a master class in clowning. … The trick, of course, is to make it new, and somehow that is what Nino does. A peerless performer, he is the epitome of the traditional Auguste clown—the circus term for the troublemaking buffoon with the big nose and a genius for getting into trouble—he is a peerless performer.
"At least one aspect of the magic he weaves is explicable. Whether he is insinuating himself into a juggling routine or flubbing a trapeze act, he clearly has those skills in his toolkit. He's not only a good juggler and wire walker but good enough to fool you into thinking he's a klutz."
On this day, sitting on the couch and occasionally looking antsy, Giovanni explains that he's not really acting when he's out there as Nino. No, he's acting now, while dressed in street clothes and providing quotes for a rolling tape recorder. Giovanni is truly himself only while under a big-top tent, as the master and commander of the lithe bodies who swing perilously from a trapeze as rapt audiences gasp with a mix of awe and merriment from below.
—
—
"Nino is me,'' Giovanni says. "It's not anybody else. I'm not playing a different character out there. I'm actually playing a character right now.
"So, it's a reverse role, kind of. I'm definitely not playing a different person. I'm playing myself. It's just that the bad parts may get a little bigger, the good parts bigger. I emphasize parts of me in a different way."
"Opa! Opa! Opa!"
The circus is demanding physically, but there's a spiritual toll as well. The Zoppé "family" is loosely defined, because the two-dozen performers come from all over the world. (Notably, a globe has a featured window spot in the Zoppé family's trailer.)
In the anxious minutes before each show, performers gather as one: The jugglers and acrobats and clowns and equestrians and dog trainers assemble into a circle and embrace both silence and one another. They call it the "prayer circle."
"The prayer circle is not about a religion or about a certain faith or about a certain culture, even," Giovanni says. "It's whoever wants to say whatever they want to say. All artists in the circle, and we basically look at each other until somebody starts to speak."
A night earlier, a shy 7-year-old Greek girl in the troupe had taken the lead simply by sticking a foot out toward the center of the circle. All the other artists did the same. Then she put her other foot out. Again, everyone followed.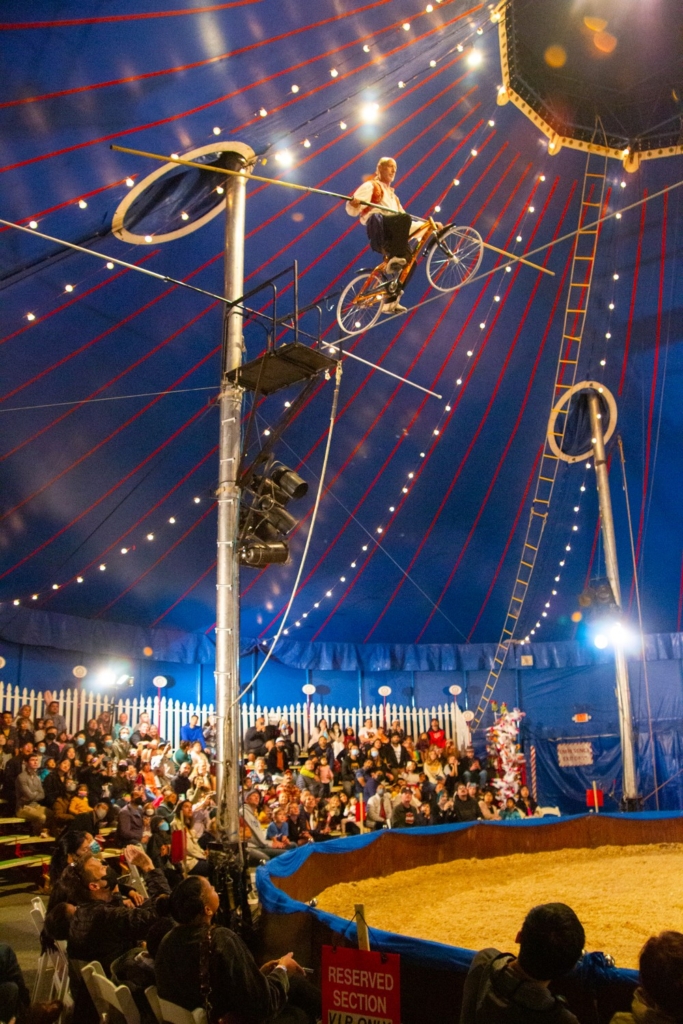 "And she danced a little bit. And she picked her knee up. We all did that,'' Giovanni says.
After that version of a prayer, everyone said, "Amen." And for good measure, they shouted, "Opa! Opa! Opa!" (the Greek interjection of excitement and joy).
"It's about a connection between us artists,'' Giovanni said. "We all try and 'in tune' ourselves."
The audience, too, gets a little pre-game hype. Before stepping inside the tent for the one-ring show, the performers orient attendees about what to expect—and what it means.
"One of the reasons we do that is to connect us with our audience," Giovanni says. "To get our audience to know who we are, that we're actually human beings. We're not just a character on stage. We're not just somebody making bread for them.
"We are actually like they are. We're the same people. We're not higher, lower, better or worse. We're there with them.
"And I'm trying to get the audience (and the artists) to be in the same rhythm. So when we enter our home, our tent, we're all in the same rhythm. … We can understand them as much as they can understand us."
The community vibe is so vital to the success of the show that when Giovanni and Jeanette consider new performers, talent is only part of the equation. They evaluate character, too.
Giovanni: "It's difficult."
Jeanette: "And you don't always get it right."
Giovanni: "No."
Jeanette (laughing): "We find that out real quick."
The key is to find selfless performers who aim not for the spotlight but for the common good. Complainers don't fare well.
"As the evaluator of a person's temperament and personality, you're looking for somebody that believes in this not just as an art form, but as lifestyle," Jeanette says. "Because it's not easy. We don't always have water or power or, you know, a toilet. And the manual labor is hard and long. In any way of life, to get through those really difficult things, you have to care about what you're doing."
A Circus for Peace
Every year, the Zoppé Circus picks a theme. Previous incarnations have included "La Nonna" (the grandmother), dedicated to "the strong women in Zoppé's history" and featuring an international cast of female performers.
This year, it's "Libertà,'' a theme chosen, as the circus's website says, "in pursuit and celebration of liberty for people in all nations." Whereas the show itself savors the old-world style circus, the message looks forward to a better future.
Giovanni says the direct translation of Libertà into English is "freedom,'' but the nuances in Italian are harder to capture.
"In Italy, we use it for many, many different sentences, which includes 'inclusion,' which includes 'family,' which includes 'all for one and one for all,''' he says. "So the reason we chose that word is partially because of the turmoil that's going on in our world today. And in Ukraine, of course, the terrible things that are happening there and now. There are just so many people, so many families that are suffering."
The Zoppé Circus originally aimed to have five male performers from Ukraine this year, and Jeanette worked diligently to arrange visas. But international developments presented obvious hurdles.
"They're all, they're all fighting-age men,'' Giovanni says. "So they're not allowed out."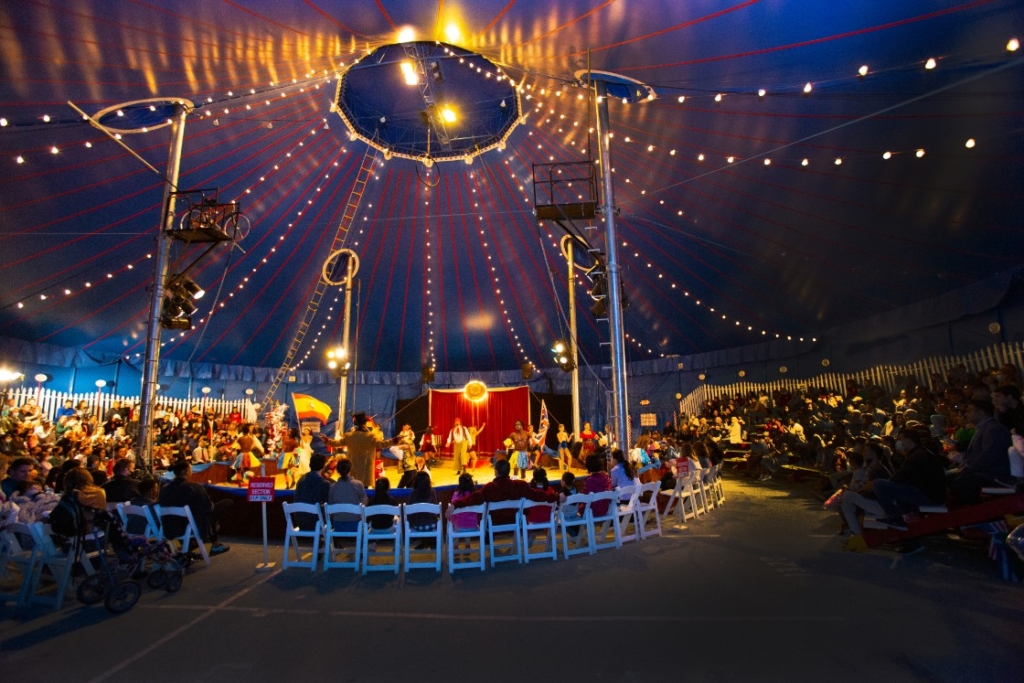 So Zoppé turned instead to a group of acrobats from Kenya, a talented quartet that Giovanni's mother, Sandra, discovered on Facebook before her death. She reached out to the rising artists and told them that someday Giovanni would bring them onto their grand stage. Troupe leader Renson Kaingu, now 27, remembers her telling them, "Come to the U.S. I'll be your mom."
Sandra died before she could see that invitation fulfilled, but she would be proud now to see her friend from Africa standing before the audience each night and giving a speech about peace and love.
"I stand there and talk about how we have to embrace each other," Kaingu says. "How we have to stay together and how we have to have love for each other because all of us, we are human beings."
Love for Redwood City
Because of the theatrical silliness of politics, it's a common trope to mock what goes on in Washington, D.C., as "circus-like." Americans should be so lucky. The spirit of cooperation among the performers, the blending of people from all backgrounds and the fierce dedication to supporters would be a welcome respite.
That's part of the reason the Zoppé Circus loves Redwood City so much. It's the rare place where Jeanette finds local officials—in the best sense—circus-like.
Jeanette deals with much of the logistics, and says city officials and other community leaders here work with a spirit of cooperation all too uncommon in the rest of the universe.
In other cities, she says, she has to tiptoe through municipal procedures because the political dynamics are so fraught with tension that cozying up to one side might anger someone else.
It leads her to wonder why people can't get along for the sake of the local population.
"That's what you have here," she says. "Because everybody works together and everybody's community-minded and the community and the city and the events can all flourish for the best."
She reserves particular praise for Lucas Wilder, assistant director of the city's department of parks, recreation and community services. But he's hardly alone. Jeanette says the Zoppés been around long enough to meet with a slew of Redwood City mayors, council members and other city staffers.
"When we talk with them, they are always thinking about what is good for their community, and who they can serve and how they can serve the most amount of people," Jeanette says. "So it's that mindset that makes us able to work here.
"That's just very rare in our industry. It's really remarkable. And it's really unique to this town."
During the pandemic, the Zoppés say, their organization was the only circus in the world that found a way to keep performing. And it did so here, at the Port of Redwood City, where cars lined up to watch the action drive-in style. The trapeze artists and vaulting horses and other antics appeared on a 23-foot LED screen as the sound flowed though car radios.
The audience for that show had to keep the windows up and park safely apart, but at a time when family entertainment was hard to come by, the Zoppé Circus was like an oasis in the locked-down desert.
"We have people at every show now coming and just telling us how they sat in the backseat of their car and cried," Giovanni says.
The Show Must Go On
After a break in November, the circus will hit the road again in December. Next up is a warm-weather winter with stops in Palm Desert and Arizona.
But you can bet your extra-large cotton candy that the Zoppé Italian Family Circus will be back in Redwood City next year.
It's as close to a real home as the circus gets.
"This is the best place we've ever visited," Kaingu says. "Here, the audience and the response is great to compared to other cities we've been to. Here, whatever you do, they appreciate it. That's the great thing.
"If you go wrong, they keep on encouraging you. That is the best thing for any entertainer. It keeps motivating you: I can do more!"