San Mateo County declared a local state of emergency and activated its Emergency Operations Center due to the recent heavy rains and the promise of more on the way.
In addition, the County has secured local hotel rooms for residents displaced by flooding; secured space for additional shelters on the coast if necessary; is prepping an area for mass evacuation if that's necessary; and ordered 24,000 sandbags for countywide distribution, according to the County.
The recent storms have already displaced some residents and caused damage, said Mike Callagy, the County executive. Roads and highways were closed and underpasses flooded, including on Holly Street in San Carlos and on Harbor Boulevard in Belmont. Evacuations were required at a trailer home community in Belmont and at the Moonridge farmworker housing community (about 100 residents are temporarily sheltered in hotels.) Pescadero Creek Road flooding forced officials to move fire engines to the local high school campus. Officials expressed concern over possible risk of failure at sewer treatment plants.
With the forecast promising more stormy conditions starting mid-Wednesday, the Emergency Operations Center was activated to coordinate resources and communication with local, regional and state agencies and response partners, according to County officials.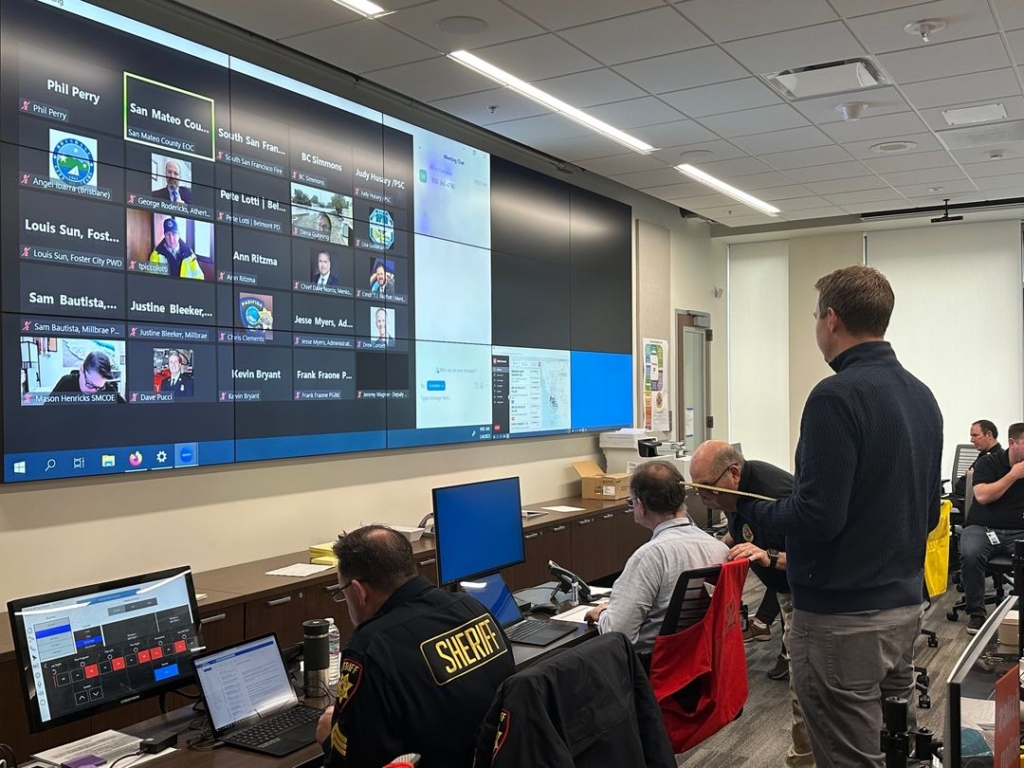 The local state of emergency declaration makes the County eligible for reimbursement for costs incurred in its emergency response to the current storms.
"It is important we have a coordinated response to prioritize public safety, especially for those who reside in areas more prone to flooding," Callagy said.
How You Can Stay Safe
Check with your city Public Works Department for sandbag availability and locations. For unincorporated sandbag information, visit DPW.
Check with your city Emergency Operations Center or the County's Core Service Agencies if you need shelter assistance.
If you must evacuate, please plan, leave early and save everyone.
Sign up for emergency warnings and alerts at smcalert.info
Check road closures and flooding in real time at https://aware.zonehaven.com/search
Report flooding to your local city. In the unincorporated area, call the DPW main line at (650) 363-4100. Note: flooding on private property should be handled by the property owners.
Top photo: San Mateo County Public Works crews on the job, cleaning up a slide (Photo courtesy of the County)