By Vlae Kershner
The soft thump of plastic pieces stamping on green-and-white vinyl boards filled the room. Occasionally a player burst out in an exclamation.
With only seven seconds remaining on his clock, a reporter moved his black king out of check and pushed a button, stopping his countdown and turning his opponent's timer on. Clyde, a towheaded nine-year-old boy, lifted his white rook and set it down on the reporter's back row. "Check…and mate!" he exulted.
The action came in a December blitz tournament at the Menlo Park Chess Club. Each player had only three minutes, plus a two-second increment after each move, for the entire game. With such a quick time control, the entire five-round contest took only an hour. The 20 players ranged from ages 8 to around 70.
The reporter finished with a dismal record of 1-and-4 and an adrenaline rush that made it hard to sleep.
The weekly action has been going on since longtime Menlo Park resident Mark Drury formed the club in January 2022.
Drury says that 20 years ago, the area was home to several chess clubs. "They disappeared," he laments. "Online chess killed them." That left no place to play over the board between the Mechanics' Institute Chess Club in San Francisco and the Kolty Chess Club in Campbell.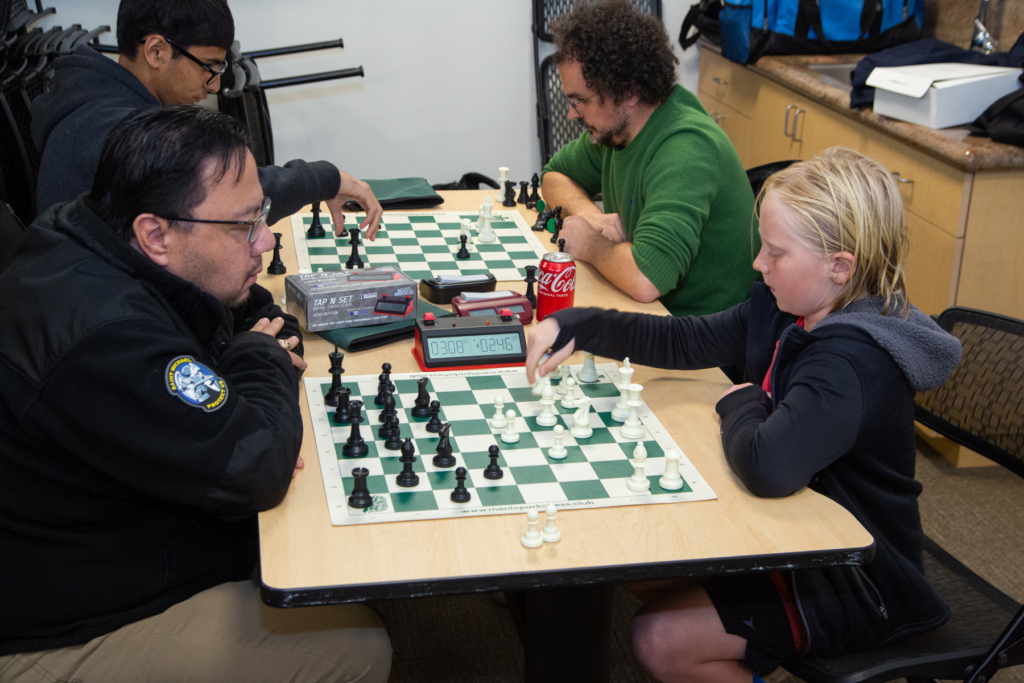 Rise Of Internet Chess
Online chess exploded after Covid struck in 2020. The leading website, Chess.com, doubled its monthly active user base, and now has more than 97 million members. The New York Times called the boom the greatest since the Bobby Fischer-Boris Spassky world championship match half a century ago.
Recently, people seeking social engagement have begun looking for over-the-board games, Drury says. Surveying the local landscape, he found lots of places for schoolkids but few for adults.
The club meets on Wednesday nights at the Arrillaga Family Recreation Center in Burgess Park. Players range from beginners to masters. One recent tournament attracted 63 contestants and was won by international master Olivia Smith from Wales. Smith is rated at around 2,050 points under the International Chess Federation's official "Elo" system, which calculates a player's prowess after every game played under tournament conditions. (Current world champion Magnus Carlsen of Norway averages around 2,860.)
Drury says all competitors are welcome, adding that he can find an opponent within 100 rating points for anyone who wants to play. Beginners can also be linked up with a local chess teacher. The club is free, though non-residents are subject to a $3 facility fee. Players come mostly from San Mateo south on the Peninsula, with a few from across the bay.
Formats vary from week to week. They include classical, in which each player must complete 40 moves in an hour; rapid (10 minutes); blitz (three minutes); bullet (one minute); and duck (where both players can place a rubber duck on the board to block attacks). Recently gaining in popularity is a variety called Fischer Random, in which pieces are shuffled to discourage memorized openings.
Long History Across Continents
A non-lethal representation of war, chess has its origins in a game called chaturanga, which was played in sixth-century India. The pastime spread across the globe, its pieces gradually gaining power, and reached its standard form in 16th-century Spain. A Spanish priest, Ruy Lopez, published a chess book in 1561, giving a still-popular king's pawn opening his name.
By the mid-20th century, players from the Soviet Union dominated the game, but were briefly overthrown by American chess genius Bobby Fischer in 1972, causing the game's popularity to explode in the United States. The enthusiasm faded three years later when the tempestuous Fischer gave up his crown in a dispute with match organizers.
—
—
In the Bay Area, chess was popularized by Belgian-born international master George Koltanowski, a memory whiz renowned for playing as many as 34 games simultaneously while blindfolded. He wrote a chess column for the San Francisco Chronicle for 52 years until his death at 96 in 2000. His nickname lives on in the Kolty Chess Club in Campbell.
Around the time Koltanowski died, a threat to human chess supremacy began developing in the new digital world. Computer scientists programmed a machine to play perfect tic-tac-toe in 1952 and could hardly resist chess, which is estimated to have 10 to the 120th power possible moves, more than the number of atoms in the observable universe.
The first chess engines, as the programs are known, played poorly. It wasn't until the 1980s that they became competitive with expert players. Finally, in 1997, IBM's Deep Blue defeated world champion Garry Kasparov under tournament conditions, ending the reign of humans over one of the world's most complex brain teasers.
Still Unsolved
Unlike in checkers, which was shown in 2007 to result in a draw if perfectly played on both sides, computers have not yet fully cracked chess. It remains unknown if an ideal sequence of play would bring victory for the white pieces, which move first, or a draw.
World champion Carlsen's rating in the mid-2,800s pales next to the latest publicly available version of the Stockfish engine (a free, open-source, computer-driven chess program). It's rated at more than 3,500. That means anyone cheating with a phone theoretically could beat any human in almost every contest.
High-level chess engines at times seem to be playing a different game. For example, it is usually a fatal blunder to allow a major piece to be captured without being able to recapture it. But in a recent tournament, another engine called Leela Chess Zero left a rook (the castle) hanging for half the game. Stockfish refused to take it, both sides apparently calculating the piece would not play a part in more imminent checkmate threats.
When Kasparov, a self-exiled political foe of Vladimir Putin, got into a Twitter battle with Elon Musk over the Russia-Ukraine war, the Silicon Valley billionaire taunted him, tweeting, "While it's true that Kasparov is almost as good at playing chess as my iPhone, he is otherwise an idiot."
Musk's comment may have been rude, but it pointed out a huge problem for a game synonymous with intellectual challenge. Cheating is difficult to catch without sophisticated programs that evaluate whether a player is getting help.
"Game That Broke Internet"
In September, chess made international headlines following suggestions that American 19-year-old Hans Niemann had cheated to beat Carlsen in the prestigious Sinquefield Cup, an over-the-board tournament in St. Louis. Rumors flew that Niemann had received electronic signals from a vibrating sex toy.
Niemann, who twice as a juvenile had been caught cheating online by Chess.com, vigorously denied the allegations and sarcastically offered to play naked. For weeks, the chess world argued about "the game that broke the Internet." Niemann has since filed a $100-million defamation suit against Carlsen, his company (Play Magnus Group), Chess.com and others.
Niemann was born in San Francisco and was the youngest winner of the Mechanics' Institute Thursday Night Marathon tournament at age 11. He now lives in New York, the center of U.S. chess.
But the local region appears to be catching up. "The Bay Area is quite the chess hub—almost rivaling New York, not quite," says Wolfgang Behm, who works for Bay Area Chess, a San Jose nonprofit that promotes the game. Run by enthusiast Salman Azhar, it establishes tournaments, camps and clubs for children K-12, mostly from first to fifth grade. Players who have taken part in the program include 17-year-old Christopher Yoo, now a grandmaster who four years ago became the youngest international master in U.S. history.
On Saturday mornings, Bay Area Chess holds a tournament at the Unitarian Universalist Church of Palo Alto, with an average of 12 to 24 players a week. On a recent Saturday, a group of children averaging ages 7 and 8 gathered for a quad tournament, a round-robin competition matching players of approximately equal strength in groups of four.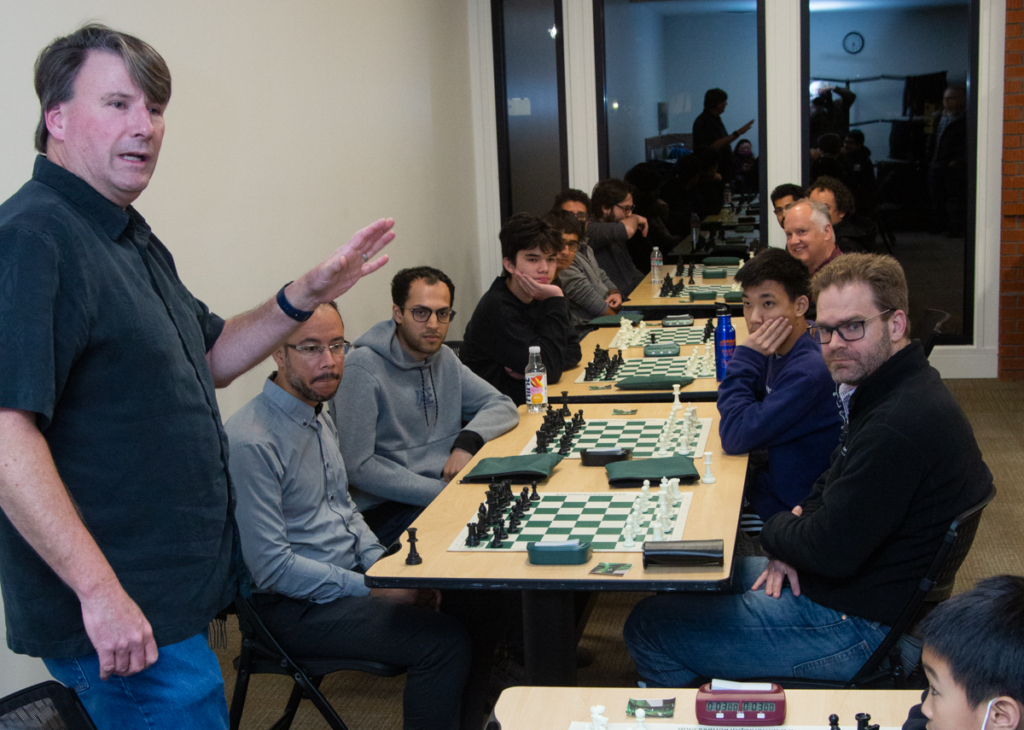 Slow Recovery from Pandemic
During Covid, the games had to move online. "We're not even close to back where it was," Behm says. "We need more coaches," he adds, noting many were forced to move to other jobs.
Several factors have sparked local interest, starting when India's Viswanathan "Vishy" Anand became a five-time world champion in the early 2000s, attracting Indian American youngsters from places such as Cupertino. Behm says Carlsen is also popular in the Bay Area.
"Queen's Gambit," a hit Netflix series in 2020 about a Kentucky orphan who rises to challenge the world champion, also engaged new players, especially girls. In the real world, the closest equivalent to the fictional Beth Harmon may be Hungarian-born Judit Polgár, one of the world's 10 top players in the early 2000s.
Still, a tournament of 50 players might include just five or six girls "if we're lucky," Behm says. He considers it unfortunate because he finds girls typically more focused and easier to teach than boys.
Considering the queen is the most powerful piece on the board, it might be time for that to change. Perhaps the newfound popularity of chess on the Peninsula will play a role.
For those seeking a more casual over-the-board experience, the City of San Carlos recently installed a pair of chess tables in Frank D. Harrington Park on Laurel Street.