By Kelli Anderson
Tara VanDerveer learned a lot about recruiting from Andy Geiger, the athletic director who was intent on hiring her to coach an undistinguished basketball team at an academically prestigious school way out west in 1985. Far ahead of other universities, Stanford had embraced Title IX, which in 1972 had created equality for women in educational opportunities including sports, and Geiger was eager to upgrade women's hoops.
But the 31-year-old VanDerveer was far from eager to leave Ohio State, where the team she had built had won three straight Big Ten titles and had just missed the 1985 Final Four. The Buckeyes could draw thousands to their games. The team Geiger wanted her to coach? It had scratched out just three conference wins in the previous two years. Three! Games at Maples Pavilion were so sparsely attended no one bothered to pull out the end bleachers. VanDerveer told Geiger thanks, but no.
Geiger persisted, persuading VanDerveer to take a second look. On that visit, the charms of the place came into sharper focus: Those high academic standards might be an advantage, not an albatross, especially in drawing female athletes who didn't have a professional sports career to aspire to. The women's swimming and tennis teams had won NCAA titles and volleyball had been runner-up—there was certainly a commitment to excellence there. The campus was beautiful, the cultural and intellectual atmosphere was vibrant and the climate was almost as nice as nearby Redwood City's. Crucially, Geiger promised to double the program's budget for recruiting, travel and coaching. Tuning out the many people, including her father, who warned her that taking the job would kill her career, VanDerveer finally said yes.
Thirty-eight years later, the mediocrity of the '80s is a distant memory. Today Stanford women's basketball is a monument to consistent success: Three NCAA titles (1990, 1992 and 2021); 15 Final Fours; 25 Pac-10 and Pac-12 regular season titles; 15 Pac-12 tournament championships; 15 first-team All-Americans and 13 WNBA first-round draft picks. Including her time at Idaho and Ohio State, VanDerveer has more wins (1,181 as of February 12) than any other Division I women's basketball coach, and she is closing fast on the men's mark of 1,202, set by former Duke coach Mike Krzyzewski. Her one and only losing season was her first at Stanford, during the Reagan administration.
Still Winning in an Evolving Game
As VanDerveer approaches her 70th birthday, the Cardinal is as formidable as ever, even though the landscape of women's basketball has changed radically since 1990. The national pool now brims with skilled, athletic players, and with schools everywhere finally investing in women's basketball, the very best players no longer cluster at a few programs. Even the once docile Pac-12 is a ferocious gauntlet. Thanks in part to the Pac-12 Networks' expansive TV schedule—this season they will air a record 132 women's games—the visibility and quality of other conference teams has boomed. No longer is it "Stanford and the 11 dwarves," as UCLA coach Cori Close put it to The Athletic last year. In the last decade Cal, Washington, Oregon State, Oregon and Arizona have all reached the Final Four. The Pac-12 has been rated the top conference in the nation for four years straight.
Yet Stanford, considered to have the most restrictive admissions standards of all the so-called Power Five conferences, continues to set the league standard, and not just in recruiting classes signed and championships won. "It's not just how they put the ball in the hoop," says Utah coach Lynne Roberts. "It's how they carry themselves. They are classy, they are consistent, they follow the rules—there's integrity there." She adds, "What they have is a brick house. They've built it brick by brick, and it's solid."
What women's basketball has built is also the most high-profile manifestation of a key feature of the Stanford brand—sustained academic and athletic excellence. In addition to Stanford's players in the pros, many have earned advanced degrees and had notable careers in various professions. What has gone into creating it? How much of it is VanDerveer, how much of it is the athletic department Geiger helped shape, how much of it is Stanford itself? And how much of it is skilled athletes willing to work their butts off on the court and in the classroom?
Start with the coach. VanDerveer, who learned early in life that she had an all-or-nothing personality, fell hard for basketball as a young girl growing up in upstate New York in the years before Title IX. With no teams to play on, she joined boys' pickup games when they'd let her; she read every basketball book in the library; she charted stats and plays from the Boston Celtics games she watched on TV. When she had teams to play on in college, she didn't give up her hoops studies. At Indiana University, where she made the dean's list as a sociology major, she spent her afternoons scribbling notes as she watched legendary Bob Knight coach the men's team before her own team practiced.
VanDerveer started racking up victories with her first head coaching gigs—two winning seasons at Idaho were followed by five at Ohio State, where she also earned a master's degree in sports administration. Back then she scrimmaged with her players in the offseason. At Ohio State, her shots got swatted into the bleachers. Among the Stanford players she inherited, she could hold her own. "I thought, boy, this is trouble, because I'm not that good," she says.
Under VanDerveer, who preached fundamentals and fitness, those players improved, and they helped her with her top priority—recruiting better players. Assistants Amy Tucker and Julie Plank scoured the country for players who had the right basketball and academic chops and the willingness to take a chance on an unheralded program.
Jennifer Azzi, the Tennessee player of the year, took that risk in 1986, as did Oregon player of the year Katy Steding, now a Stanford assistant coach. Their freshman year, Stanford went 14-14. By their senior year, they were national champions. Both would play for VanDerveer when she took a year's sabbatical from Stanford to coach the 1996 Olympic team. That team went 60-0 on the way to the gold medal, capping a high-pressure odyssey that would launch two professional leagues.
Conditioning and Homework
VanDerveer's early strategy at Stanford was to play fast and outwork and out-prepare everyone else. "We ran teams out of the gym," she says. VanDerveer also embraced the three-point shot long before most of her competition. In the 1990 title game, Stanford made 11 threes, including six by Steding; both were records that stood for more than 20 years.
Now every team shoots the three and every team works hard. Players come into college with so much mileage on their legs from playing year-round that VanDerveer long ago abandoned what had been a signature fitness test for her teams, the timed two-mile run. "Our team would die if they had to do that," she says. "Nearly every bit of running they do is with a ball."
When one advantage goes by the wayside, VanDerveer finds another. More than most women's basketball programs, the Cardinal uses an array of high-tech monitoring devices that measure things like external loads (sprint speeds, distance covered, jumps, etc.) and internal loads (heart rate, perceived exertion), as well as jump strategies and body asymmetries. All help the sports performance staff craft weight workouts and injury-recovery plans. Stanford was also ahead of the curve in its embrace of advanced analytics—stats like assist rates and effective field-goal percentage that go beyond the box score in determining players' strengths and value.
"Part of Tara's genius is her ability to adapt and change as the circumstances change, as the rules change, as the culture changes," says Associate Head Coach Kate Paye. "She's always willing to evolve. Not everybody is, especially when they are really good at something."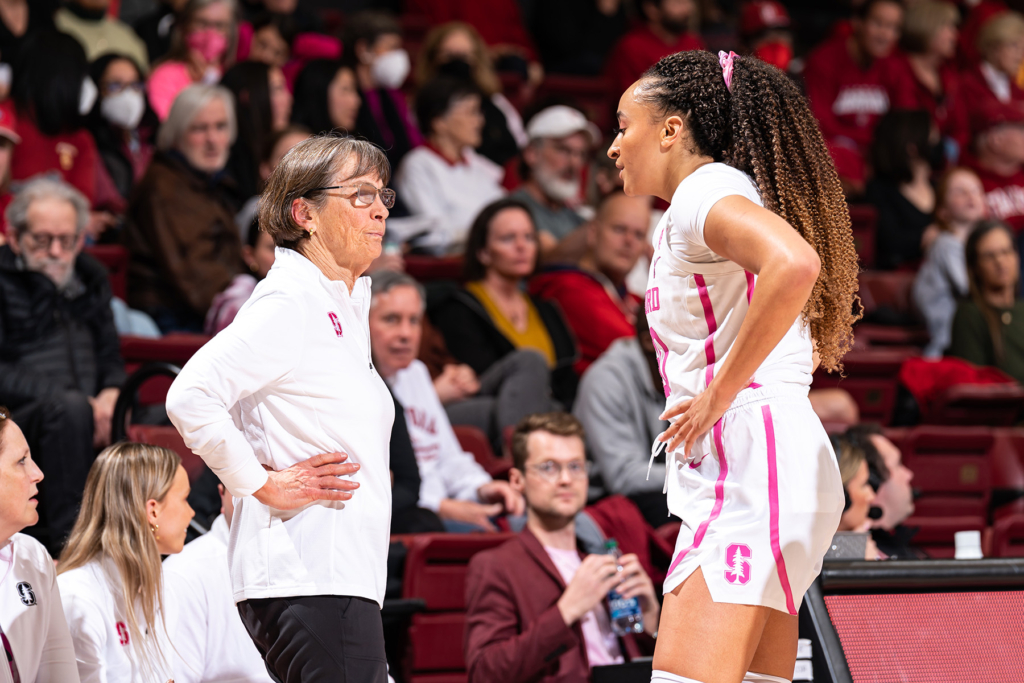 VanDerveer changes up her offense depending on the personnel the admissions director allows her. From 2002 to 2014, she ran the triangle offense, a complex system frequently employed by the great Chicago Bulls teams of the Michael Jordan era. Then she scuttled it when she no longer had the players who would thrive in it. In 2018, UC Davis coach Jennifer Gross helped the Cardinal staff learn the Princeton offense, an often-improvisational scheme that emphasizes ball movement to lure defenders out of position. Stanford ran it through last season. This year, VanDerveer has been tweaking her approach, trying to find the right offensive alchemy. Shaking things up "keeps me fresh," she says. "I like having to study and think of new drills."
The details may change, but the attention to detail is constant. It's a given that players keep up on their academic work—the staff stresses its importance even during the recruiting process. At practice, players are punctual, keep their shirts tucked in and jog from one drill to the next.
They don't always hear what they want to hear. "Tara treats you like a professional," says senior Haley Jones. "She doesn't sugarcoat things. She tells you, 'This is what I expect from you because I think you can be this great.' She doesn't allow you to take reps or plays off. She expects excellence, which is why her program has sustained it."
VanDerveer expects excellence from herself, too. Thanks to improved technology, she spends even more time studying game film now than she did 30 years ago, when she earned the nickname Video VanDerveer. She watches three to four hours a day, sometimes in the middle of the night when she can't sleep and often while she's tracking other games in the basketball universe—be it the Warriors, a Pac-12 men's matchup or her sister Heidi's UC San Diego team taking on a Big West foe. Those are "easy hours," VanDerveer says. "Basketball is always new and exciting to me. I just love watching games."
She and her staff watch game or practice film together every day before practice and players watch their minutes with coaches in one-on-one sessions. The upshot of all that screen time, number crunching and discussion is that when Stanford steps on the court, the players and coaches know every tendency and every weakness of every player they'll face and how to exploit them.
"When you play Stanford, you have to expect that they will know your offense better than you do," says Dawn Staley, who played for VanDerveer on the '96 Olympic team and now coaches two-time NCAA champion South Carolina. "I mean this as a true compliment: Tara is like Rain Man. She knows Who's on First and What's on Second."
Stanford Assistant Athletics Director of Basketball Operations Eileen Roche has heard the frustration in opponents' comments: I don't know what happened! "Well, if you always go over your left shoulder, you're never going to get that when you play Tara," says Roche. "She's going to take away your number one strength. You are not going to beat us with what you want to do; you're going to have to have something else."
Getting the Players
Teaching, scouting, strategizing, time management, end-of-game scenarios, recall of minutiae like how Stanford broke a full-court press in a game 25 years ago—those are all VanDerveer strengths. But she is the first to admit she's not a great evaluator of talent. She relies on her assistants to identify prospects and investigate their academic bona fides, resulting in a very short list of players to pursue. Then VanDerveer—channeling Geiger, perhaps—seals the deal.
"Tara's a great closer," says Tucker, now retired after serving 21 years as associate head coach and five as an administrator. "She's great on the phone with recruits and parents. She's passionate about Stanford and basketball, so she can talk forever about those things."
Once players are on campus—having gone through the same admissions process as every other student—VanDerveer takes the long view on player development. She has a vision of how she wants the game played, and she spends a lot of time teaching fundamentals, upon which she builds drills and plays. Then she puts players in positions where they can help the team.
That might not add up to many minutes for heralded high-school stars who are new to the program, especially when the starting five includes do-everything All-Americans Jones and 6'4" junior Cameron Brink, whose triple-double against Oregon on January 29 included a team single-game record 10 blocked shots. Less than three weeks later, on February 17, Brink set Stanford's career record for blocks when her six against USC gave her 278, breaking Jayne Appel's old mark of 273 from 2006 to 2010. Brink also scored 12 points and grabbed 10 rebounds as part of a 50-47 Cardinal victory.
Keeping 15 talented players happy has never been easy, and it's even trickier now. Recent NCAA rule changes allow college athletes to profit from their name, image and likeness (NIL) and to transfer to another school without sitting out a year. Now athletes itching for more playing time can easily move on, and some schools—through financial pools known as donor collectives—promise NIL money to lure them away.
VanDerveer's bench is deep with five-star talent, including last year's top high school recruit, 6'7" Lauren Betts, and 6'1" senior Fran Belibi, who contributes far more than the dunks she is famous for. "I'd love to see Fran play 35 minutes a game and she'd probably love to be playing 35 minutes a game, but it just doesn't fit in with the team right now," says former Cardinal star Kate Starbird, the 1997 Naismith Player of the Year. "But she is able to help with the minutes she has. That, to me, is Stanford. These are people who can put their own personal success behind the team's success and keep working hard without jumping ship."
VanDerveer knows it's not easy to play on her team. "It's hard to be unselfish," she says. She works every day to make everyone on the team feel valued and needed, giving shoutouts to the practice squad, cheering the walk-on who won the sprint, checking in with individuals about their classes and their families, making sure the highlight reels and the teach tapes include everybody. "A team is like an orchestra," she likes to say. "Different players have solos on different nights."
Case in point: At UCLA on January 13, VanDerveer called on reserve junior guard Agnes Emma-Nnopu, whose lockdown defense and nine points helped the Cardinal pull away from the Bruins in the fourth quarter. When Emma-Nnopu entered the locker room after the game, her teammates went nuts celebrating her. (Emma-Nnopu has since started several games and inspired other teammate lovefests.)
Social scientists have a term for finding joy in others' happiness—freudenfreude. "That word describes our team," says VanDerveer. Mutual freude is so important to her that she has Stanford's so-called Happiness Professor, Fred Luskin—director of the university's innovative Forgiveness Project—talk to the team for 10 minutes every week. "I want to keep my players healthy—physically, mentally, and emotionally," she says. "I want them to have fun."
More Cowbell
Former players say VanDerveer has mellowed with time, and she doesn't disagree. "I used to be the strict parent; now I'm the grandparent," she says with a laugh. She is sitting against a wall of the Arrillaga Gymnasium and Weight Room after a January practice. A short while ago, she was brandishing a cowbell and a glorified bike horn during a scrimmage. When she saw a play, pass or shot she liked, she rang the cowbell. If she saw something she didn't like, she honked the horn. Players smiled, either way.
VanDerveer, who loves to ply coaching colleagues for ideas, recently picked up that feedback technique from Utah's Roberts. Now Steph Curry, who is friends with Cameron Brink, has taken it to the Warriors. "He even sent me a video with him ringing the cowbell," says VanDerveer, chuckling.
The sounds of cowbell and horn have long faded, and the building is nearly empty. At some other top programs, women's basketball would have its own practice gym. Here the team shares the facility and Maples Pavilion with men's basketball, men's and women's volleyball, wrestling and gymnastics. The locker room is nice but hardly lavish. The athletic facilities at Stanford aren't fancy.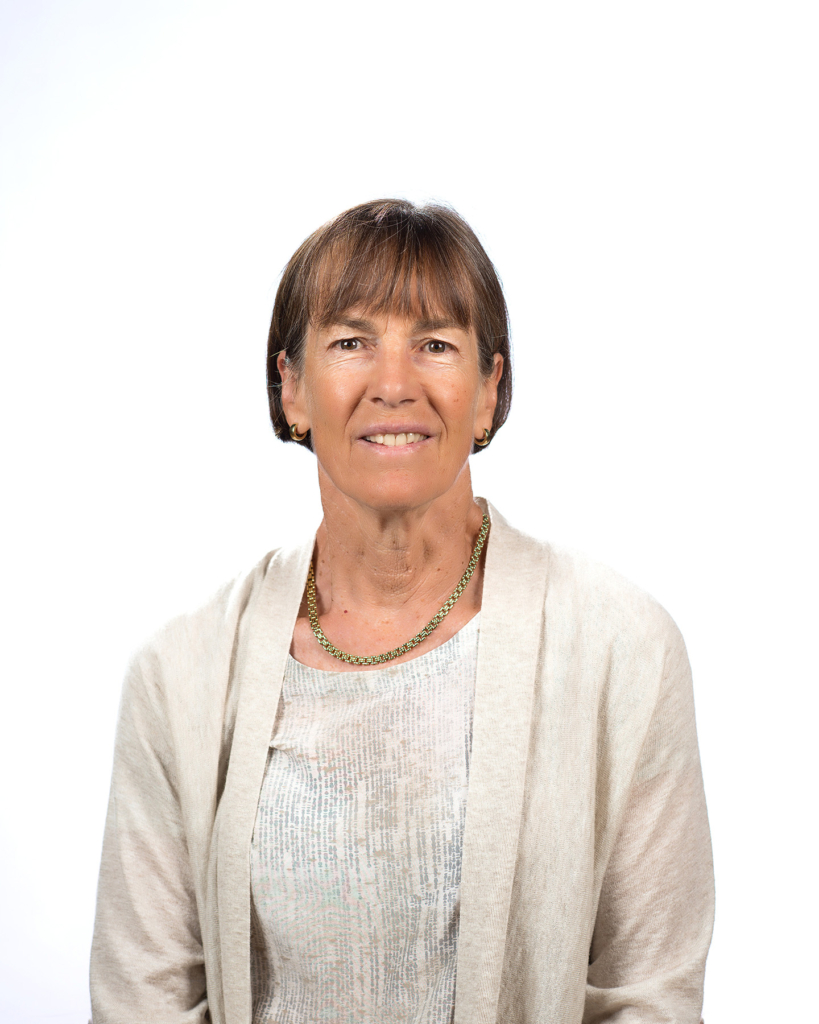 But the athletic department gives women's basketball the budget it needs to pay for top-level coaches and support staff, the technology, nationwide recruiting, the occasional charter flight. "We might not have the glitz and glamor that other schools offer," says Director of Athletics Bernard Muir, who has to keep 36 varsity teams, all of which expect to compete for national championships, functioning. "We just try to figure out what is essential for competing at a high level and make sure Stanford is comfortable with that approach."
That approach has worked so far, as evidenced by the 25 Directors' Cup trophies, awarded annually to the most successful athletic program in the nation, that glitter in the school's Athletics Hall of Fame. And despite modest marketing in addition to the lingering pandemic, fan support for women's basketball is strong, with almost 4,000 fans at each home game.
"You don't give up anything coming here," says Jones, who was the nation's top recruit four years ago. "At Stanford you have the academics, which are second to none, and you are playing at the highest level of basketball. I've always understood that basketball isn't going to be my everything for forever, and Tara develops you as more than a player. Why wouldn't you want to come play for the GOAT, get a Stanford degree, win a Natty, win the Pac, and do everything you want to while making amazing connections?"
Another benefit of playing at Stanford, says Starbird, who earned a doctorate and is on the faculty of the University of Washington, is institutional moral support. "As a female athlete at Stanford, I never thought we were getting second best," she says. "I felt that the university was invested in and cared about our success. They were supportive, they showed up. As players, we felt that."
VanDerveer has felt that, too, for the most part. In the mid-'90s, she noted to administrators that she was making $60,000 less than men's coach Mike Montgomery. Stanford fixed that disparity, as it has others between men's and women's sports that VanDerveer has pointed out over the years. Still, her eye has strayed a few times. Years ago, she took a call from Texas; another time she interviewed with Duke. In 2015 she felt so burned out she contemplated retiring. Stanford athletics benefactor John Arrillaga urged her to take the summer off instead. With Muir's blessing, she did, vanishing to her lake houses in northern Minnesota and Chautauqua, New York, to go deep on another passion, water skiing.
Her life now seems to be full of freude. She loves tapping into all that Stanford offers. She feels appreciated. And, of course, she likes the all-consuming nature of pursuing excellence in athletics and academics. "This place is a good fit for me," she says.
The New Challenge: Big Money
But VanDerveer worries about how the chaos unleashed by NIL and the transfer portal, plus conference realignment, will affect Stanford's winning tradition. Seasoned transfers are bolstering rosters everywhere. That's not the case at Stanford, which accepts just a handful of transfers university-wide each year. In nearly four decades in Palo Alto, VanDerveer has welcomed just two. (Tucker estimates about 10 have transferred out during that time.) And although other schools have aggressively courted athletes through donor collectives that offer NIL deals or cash incentives— the NCAA policy against using NIL to recruit appears widely ignored—Stanford has taken a hands-off approach.
"We're supportive of student athletes profiting from their name, image and likeness, and many, including some in women's basketball, are doing that," says Muir. "But we're not trying to find them deals. We're leaving that up to them."
VanDerveer wonders if that stance is sustainable. "I like to think of Stanford as a little bit utopian," she says. "And this is challenging to figure out: How we can be Stanford and compete." She adds, "I think Division I athletics is an all-in thing. I don't think you have to sacrifice your academic standards, but you might have to have different priorities than you've had. You can still get an Andrew Luck and a Christian McCaffrey but now you're going to have to pay money. It's sad. But that's where it is."
Sometime in the next few years, that will cease to be her problem. Retirement looms. Paye, a former walk-on who became Stanford's starting point guard in the mid-'90s, is the heir apparent, and VanDerveer is confident the program will be in good hands when she eventually steps down. Paye is similarly hard-working, passionate, analytical and, in her own way, all-in—she has three degrees from Stanford, including an M.B.A. and a J.D.
VanDerveer has other things she wants to do—see more of the Bay Area and California, indulge her love of opera, and get better at bridge, the game she plays online every day with her 95-year-old mom, Rita, who lives in Colorado. Rita is no doubt bracing herself; she knows as well as anyone that her daughter doesn't do anything half-heartedly.
In her late 40s, VanDerveer took up piano. After trying and failing to learn on her own, she hired a teacher, an experience that made her empathize with her players trying to learn something new. She spent hours practicing Brahms, Chopin and Mozart. She traveled with an electronic keyboard and for road trips sought out hotels with lobby pianos. She recorded CDs and gave them to friends and family.
But in the last few years, she has found it harder to give piano her best effort. So she stopped playing. In November, she donated her beloved baby grand to Eastside College Preparatory School in East Palo Alto. She now spends what used to be piano time being active—swimming, spinning the wheels of a stationary bike or walking her dogs.
Still, it's hard to imagine VanDerveer ever going cold turkey on basketball. "I think sometimes I'm just going to come to practice, you know? Because I like practice," she says. "I'll drive Kate crazy. I'll be doing the horn and the cowbell for Kate."
Top Photo: STara VanDerveer during a game between Oregon State University and Stanford University at Maples Pavilion on January 27, 2023 in Stanford, California.