They hand out towels at the YMCA. They tend gardens. They chop veggies. They serve meals to homeless people and they clean houses. And on Saturday night, for three dozen clients of Redwood City's Kainos Home & Training Center, who quietly contribute in so many ways to their community, it was time to be honored for all their good work and progress.
Then the minute that was done, to kick back and party, hitting the dance floor as soon as the last certificates and awards had been handed out.
A crowd of 360 friends, family members, mentors and other supporters turned out for Kainos's 34th Annual Achievement Challenge dinner Sept. 21, held at the Foster City Crowne Plaza, a night to honor the adults with intellectual and developmental disabilities whom Kainos serves.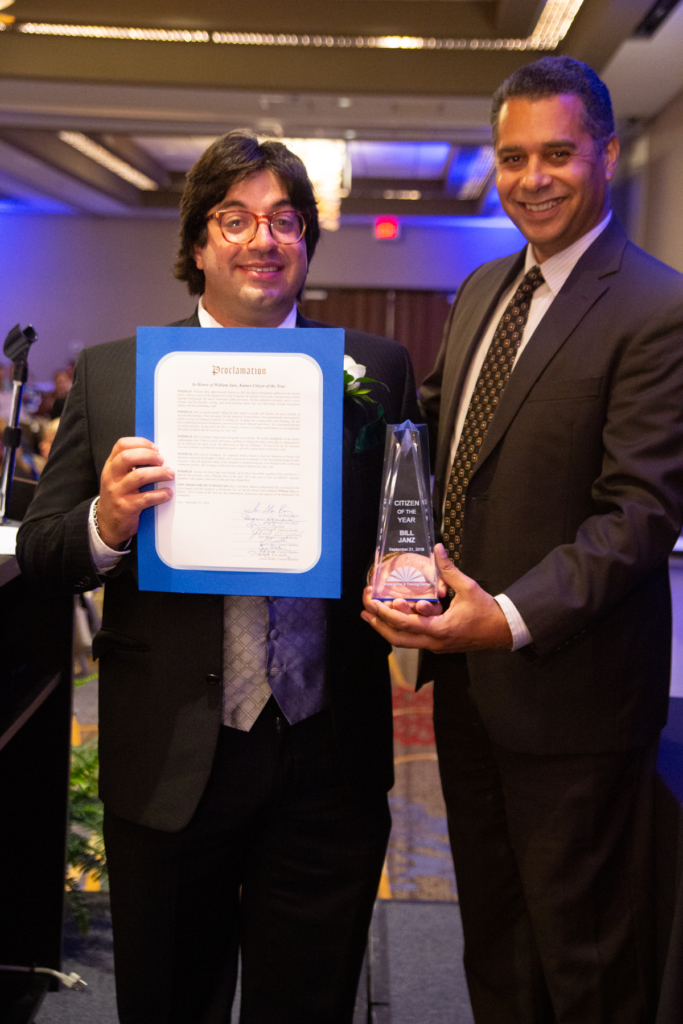 A gala tradition begun by Kainos's founder, Dorothy Philbrick, the semi-formal event gives the clients a chance to work for special recognition, including the coveted title of "Citizen of the Year," and to receive awards in front of a supportive audience. Progress is measured in things like being responsible and helpful, following through on work or household duties, and volunteering when an opportunity presents itself.
The Citizen of the Year honor went to Bill Janz, described by one of his biggest fans as "simply one of the kindest, most thoughtful and fun people you could possibly meet." Since coming into the Kainos orbit in 2011, Janz is credited with being a "model employee and housemate" who also loves volunteering.
During his time at Kainos, Janz has developed into an inspirational leader, according to Kainos, working on a mobile landscaping crew five days a week. He also regularly lends a hand to feed homeless people through the Street Life Ministries program, where Kainos clients make peanut butter and jelly sandwiches, chop vegetables and do other food prep, and wash dishes, according to David Shearin, Street Life's lead pastor and executive director.
"He (Janz) is kind of a leader," Shearin said. "They kind of report to him in the kitchen. The folks at Kainos look to him as their leader."
Shearin said a Kainos group also helps serve at dinners for homeless people, which are held at Menlo Church. The upbeat, happy attitude of the Kainos contingent "just kind of lifts everybody up," he said. "They just are not your average volunteer. Their spirit is amazing."
Kainos makes a lot of effort to find fulfilling and productive activities for the adult clients, which can include jobs as well as volunteering, field trips and other outings. Kainos's four largest work "enclaves" are at the Redwood City, Palo Alto and Mountain View YMCAs and at NASA/Ames, according to Executive Director Andy Frisch. Kainos also has teams who work for Caltrans cleaning rest stops.
One of this year's honorees works at Erik's Deli and another has a new job at Home Depot in San Mateo. Kainos serves about 150 adults between its residential facilities and vocational training programs. Just under 80 of them chose to participate in this year's achievement challenge.
"Our clients are getting the best possible care," said 30-plus-year board member Paula Uccelli. "Their lives are full and rich."
Beginning with its first residential facility on Jefferson Avenue in 1980, Kainos now owns and operates eight homes; the most recently opened, called Pete's Place, is for seniors. Uccelli and Board President Barbara Rovins say the organization has plans to add another senior home, to serve clients throughout their lives.
What's notable about Kainos today is the multitude of connections that have been made throughout the community, Frisch said.
"We love facilitating the ways for our clients to get to know the community and for the community to get to know our clients," Frisch said. "People's lives are better when they get to know our clients … We just want them to be part of the community."
Since its inception, the achievement challenge has helped cement those ties. Participants are joined by a community "mentor," who keeps in contact and encourages them as they work to reach for their highest potential. The mentors accompany the participants to the festive dinner and cheer them on as their names are called to receive awards.
Every year, once the formalities are over, though, it's dance time. While friends and other supporters are still at their dinner tables debating whether to venture onto the dance floor, the Kainos residents and other clients are already headed there, grabbing a partner — or boogying solo. Within minutes, the dance floor is a jumping, happy, crowded space, as the Kainos pacesetters lead the way.