The suspect in a series of armed robberies at Subway and Baskin Robin stores in the Bay Area — including in Redwood City — was arrested in San Jose on Wednesday, police said.
Justin Michael Tucker, 30, of Santa Clara is allegedly responsible for six armed robberies of Subway stores in San Jose and an additional seven additional armed robberies throughout the Bay Area, according to the San Jose Police Department.
For months, multiple law enforcement agencies have been collaborating to identify the robber. SJPD's Robbery Unit and the Campbell Police Department were able to identify the suspect. The suspect was subsequently linked to additional robberies thanks to collaborations with the Milpitas, Fremont, Union City, Redwood City and Palo Alto police departments.
"I'm extremely thankful for the collaboration between our law enforcement partners to bring an end to this crime spree that preyed upon small local businesses, many of which were already struggling during the pandemic," Chief of Police Anthony Mata said in a statement.
Although Climate Online hasn't yet confirmed if the incidents are related, a Baskin Robins on El Camino Real in San Carlos was victimized by an armed robbery on Feb. 6, and a Subway on Woodside Road in Redwood City was victimized by an armed robbery this past Monday night. Here is surveillance image from the Redwood City incident. The photo above is an image from a separate incident believed to have been committed by Tucker.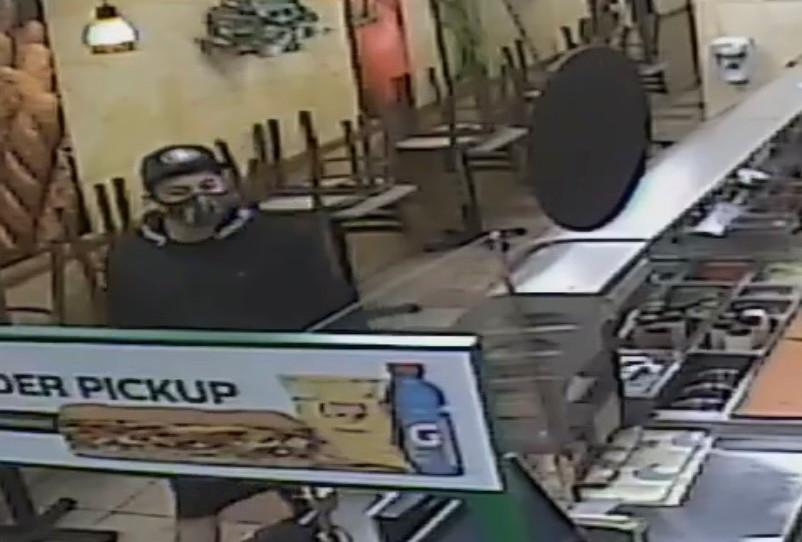 Photos courtesy of the San Jose Police Department