One year ago Garrett Fetisoff was a 19-year-old computer science major at Chico State University, when he discovered his schedule for the next semester had large gaps. Not one to waste time, he decided this freed him to pursue a longtime interest: flying.
Due diligence led Fetisoff to the Chico airport where he discovered two things: First, flying lessons are very expensive and second, there is a global organization called the Experimental Aircraft Association with chapters across the United States that offers a scholarship for teens seeking a pilot's license.
The San Carlos native also learned that his home airport was base to EAA Chapter 20. That's where Fetisoff found the best way to secure a scholarship to become a pilot.
Build an airplane.
This story was originally published in the September edition of Climate Magazine. Click here to read the full digital publication.
The Experimental Aircraft Association was founded in 1953 and is dedicated to the advancement of recreational aviation—especially youth aviation—and encourages the development of future pilots. The organization currently boasts more than 200,000 members in 100 countries. The San Carlos Chapter 20 was established in 1956, one of the earliest.
A Top Program in San Carlos
"The most exciting thing about Chapter 20 is we are one of the best nationally when it comes to youth programs," says Elizabeth Dougherty, youth programs coordinator. "We realize these kids are excited and motivated, we're always looking for ways to nurture them."
To give local kids a taste for flying, the EAA has a branch called "Young Eagles" which offers monthly free flights to youths from ages 8 through 17. But Dougherty and the Chapter 20 board realized more was needed to fully educate local youth about aviation.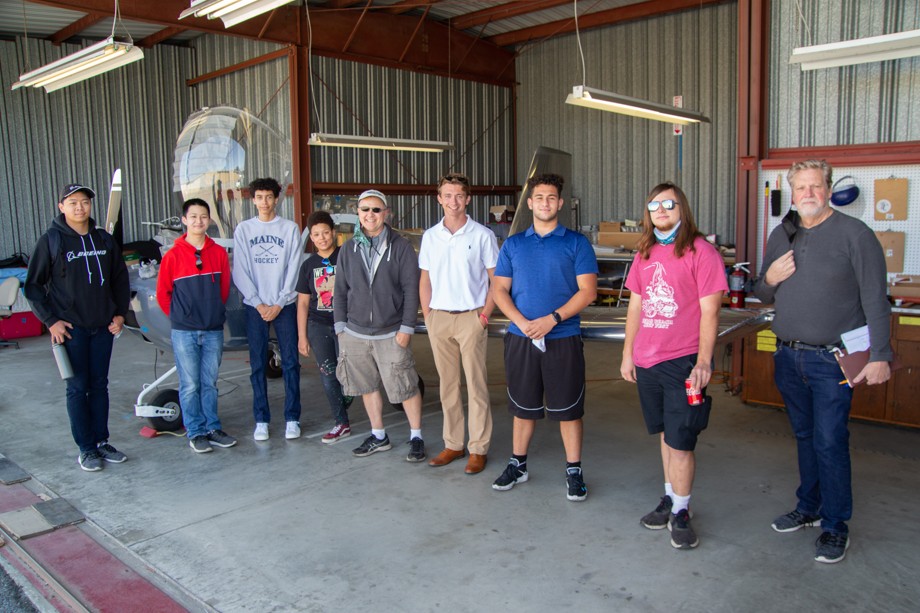 So four years ago Dougherty began to bring in guest speakers like Jack Pelton, current national CEO of EAA; and Alan Eustace, the world record holder for highest altitude freefall jump.  Along with that, she orchestrated field trips to San Jose Airport and the United Airlines maintenance facility, as well as arranged for kids to participate as special event ground crew at San Carlos Airport.
"We give them a chance to work with pilots and people in all aspects of aviation," says Dougherty. "But we're always seeking ways to take the experience even further."
To Build an Airplane
Two years before Dougherty was cooking up field trips, Oliver Coolridge, a retired airline pilot and then-president of EAA 20, began to put into motion a longtime desire to build an airplane, with the intention of involving students. Bouncing the idea off a number of his pilot buddies, Coolridge got others to commit to making his idea happen.  The next question was what to build.
"We decided on the Van's Aircraft RV-12 two-seater which is a basic trainer," says Coolridge, "Van's has a reputation for quality parts and understandable construction plans.  The main hurdle was paying for it."
The price tag for a finished plane ran $125,000 and it was comprised of six kits – tail, wing, fuselage, engine, avionics and finish. Coolridge answered the budget problem by inviting seven other pilots to invest $10,000 apiece to get things rolling.
After four years of meticulous assembly, with Coolridge managing a number of dedicated volunteers and a half-dozen teens, including Ray Aviation scholars Jack Meadows, 19, and Jayden Chow, 17; EAA 20 had a new airplane. The plane completed its maiden flight in September 2020.
Due to liability insurance issues, EAA chapters are not allowed to own aircraft. So a group of EAA20 members formed the Flying 12 Club, which, as the name implies, has 12 members. Flying 12 purchased the plane and, through the Hartman Family Foundation made one Ray scholar a member—in effect, a scholarship to help obtain a pilot's license.  This individual becomes a Flying 12 member, with flying privileges in the RV-12. However, upon achieving his or her license the freshly minted pilot must leave the club to make room for another Ray scholar.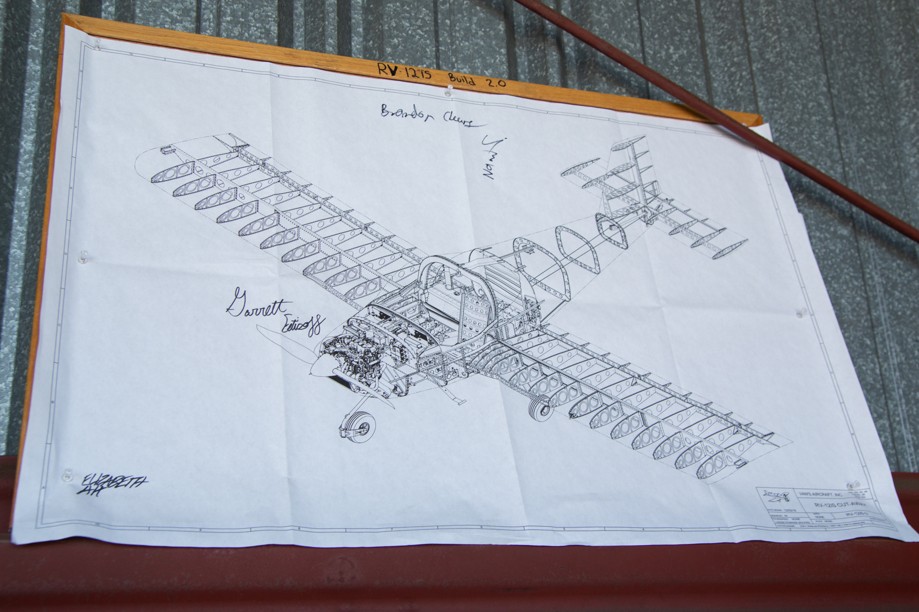 Paying It Forward
Carter Blair wanted to work on the RV-12 project but was too young at the time (students must be at least 15), and by the time Blair was old enough the plane was completed. With Jayden Chow and a group of other kids who were old enough, they proposed building another RV-12. That required going before the EAA20 board for approval and backing. The students wanted to convince the board that, this time, the entire project should be worked on and managed by students — with adult mentors — which, they figured might be a big sell.
On the contrary, the board insisted on it. Such a youth-led effort fit perfectly within the EAA 20 mission. Samson Phan, current Chapter 20 president and Flying 12 Club member said, "We are purposefully using this student-led structure to help students develop leadership and business skills. We are also teaching the student leaders how to mentor other students, especially the younger members."
Moreover, the student leadership had to be responsible for recruiting others as volunteers, which they did to the tune of 30 plus kids. The student leaders had a message they liked to give: "You don't have to be rich to be in aviation."
The board approved conditionally. The Young Aviators could begin on the first section—the tail kit—if they could raise the $4,000 price. Work has begun but fundraising for the remaining kits looms large. First lesson: There's more to building an airplane than building an airplane.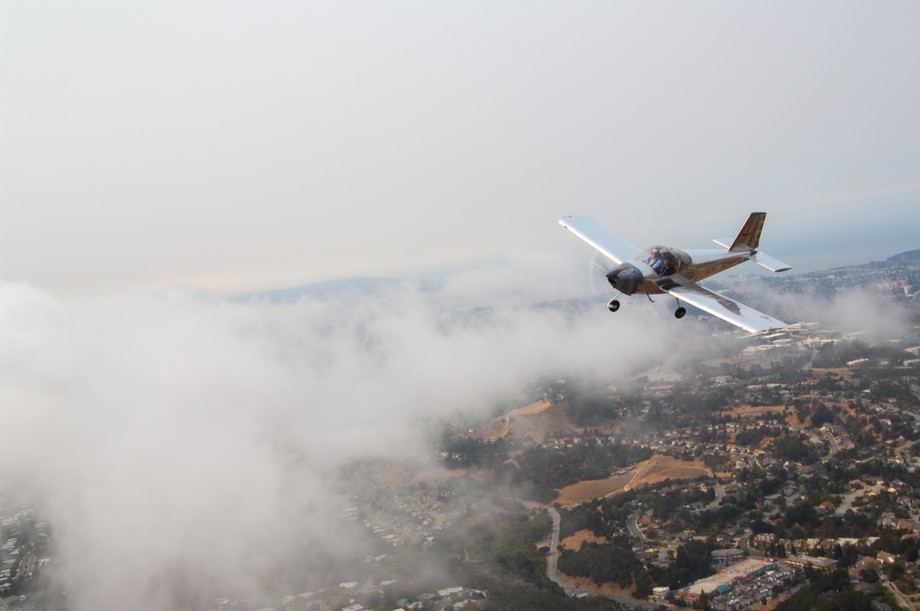 Influence for the Future
Experience gained along the way can influence a student's future plans.
Elizabeth Antoine-Hands, 19, worked on the first build and, as a result is now studying airplane maintenance at West Valley College. "The experience of building the RV-12 inspired my fascination with design, construction and maintenance of aircraft and started me on my present career path," says Antoine-Hands, a San Jose resident. Currently she is acting as project manager along with fellow student and Ray scholar, Mo Licha, 17.
Thomas Carlson, an experienced pilot, is the adult lead mentor. He has already built an RV-12 with his 81-year-old father. "The community around the RV-12 is fantastic," says Carlson. "It's the center of activity that attracts the novice to the experienced, providing endless opportunities to make friends and grow aviation knowledge."
The program involves quite a diversity of kids. Out of the 30 or so student volunteers, a third of them are girls, along with kids from all ethnicities and social backgrounds.
"Students are learning real world skills working together, getting hands-on experience in the field of aviation, engineering, and aeronautical science. We're representing our culture of leaders and aviation enthusiasts creating opportunities for those who didn't previously have an opportunity to do so," says Fetisoff.  He is now part of the eight-student leadership team responsible for managing 30-plus young volunteers. Now 20, Fetisoff recently received a National EAA College Scholarship and has transferred to San Francisco State University to be closer to the RV-12 build.
The Ray Scholarship
The EAA Aviation Scholarship Fund is a program supported by the Ray Foundation and administered through the chapter network. This highly competitive and coveted scholarship provides $10,000 to cover flight-training expenses, which can go a long way when taking advantage of the Flying 12 Club's RV-12. Typically, a student could be staring down a $35,000 bill to achieve a pilot's license.
James C. and Joan L. Ray established the foundation.  James Ray's dedication to aviation began shortly after the Dec. 7, 1941, attack on Pearl Harbor, when he enlisted in the Army Air Corps. He was involved in the D-Day invasion as a command B-17 pilot with the 8th Air Force. Post war, he served in the Air National Guard and was very involved in general aviation following his service years.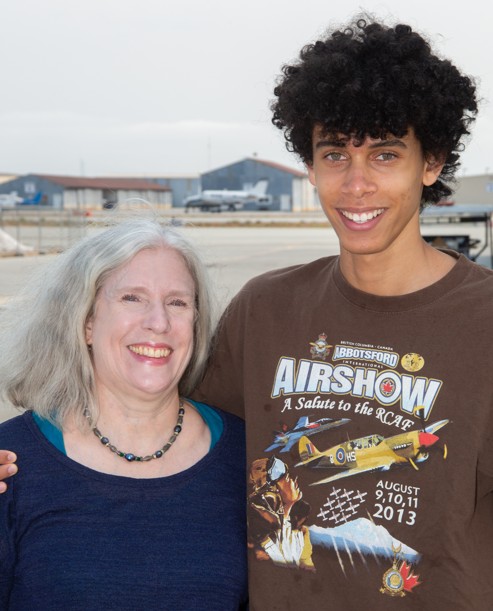 Jayden Chow, a Ray Aviation Scholar and president of the student leadership team said, "A condition of the scholarship is that you have to earn your private pilot's license within a year. I started with a local flight school in August, was able to train a lot in the RV-12, soloed in December and took my check ride in May. Thanks to the generosity of a lot of people I was pretty much able to accomplish it all within the $10,000 Ray Scholarship."
"Kids who are super interested in aviation are easy to recognize," says Dougherty, who specializes in spotting airplane loving teens.  "About a third of our kids want to be commercial pilots, a third aviation engineers, a third want to fly in the military and the rest are exploring."
The generosity of many makes the EAA Chapter 20 youth program a success, with time and talent being an essential donation. Others offer financial support. San Mateo County donates space — a half hanger for the RV-12 assembly.
Says Dougherty: "Through EAA20 we create opportunities in leadership, accounting, fundraising, presentations and so much more. We nurture community, ingenuity, imaginations. It goes beyond building an airplane. We're well past your typical STEM model."
For more information and to donate, visit eaa20.org.