By Aimee Lewis Strain
A Chinese proverb states that "the best time to plant a tree was 20 years ago. The second-best time is now." This proverb was taken to heart by two longtime Redwood City residents who, 21 years ago, were focused on the success and growth of trees citywide and set out on a mission to create a volunteer program dedicated to improving the urban tree canopy. What started with the planting of one tree 21 years ago has grown into a program that has successfully planted 3,800 trees and pruned more than 4,000 throughout the city.
CityTrees was founded in 2000 by Mount Carmel neighbors Jane Taylor and Jack Stephens. The organization was Taylor's brainchild and occurred to her when she was volunteering for the Public Works Department in 1998. While maintaining the city's tree database, she observed that certain public spaces were deficient in trees. Stephens got involved by organizing a group of volunteers to help the city plant and maintain trees.
"We were fortunate to have then-Mayor Ira Ruskin, who was very interested in the health of the environment, who gave us helpful pointers on what to do to get started," Taylor said. "We began a simple steering committee and began to search for funding. We went to farmers' markets to educate people and laid out a simple tree-planting agenda," she said.
This story was originally published in the November edition of Climate Magazine. Click here to read the full digital publication.
Within about nine months, the group received a grant for operating expenses from Safe Trees and a second grant to purchase trees from California ReLeaf. CityTrees soon received a $50,000 grant from Pacific Gas and Electric Co., which also helped get the process started, according to Taylor.
Volunteer Power
But the operation has only been able to see success due to its dedicated volunteers and the city's support, Taylor said. Since CityTrees' inception, Redwood City—and the Public Works Department in particular—have assisted the volunteers in the organization of the planting and pruning trees on city-owned property. Public Works also provides professional arborists to train volunteers, Taylor said.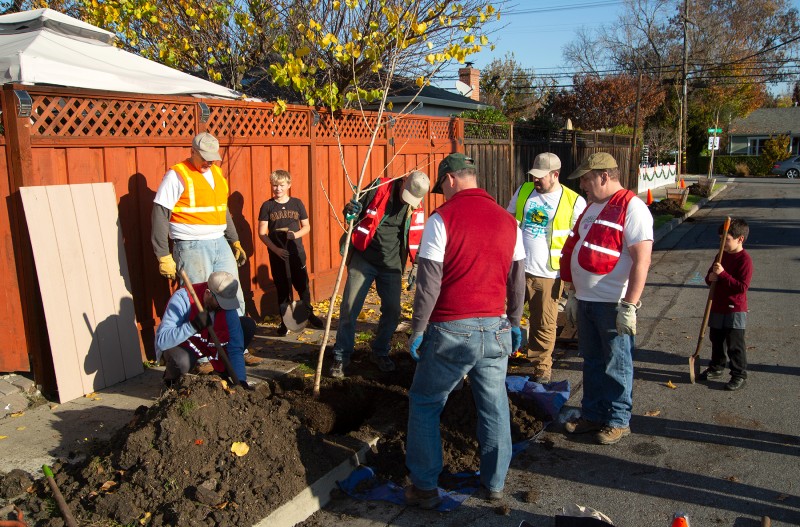 Trees are delivered to the corporation yard, and city staff scouts locations to determine where they are needed. Public Works also delivers the CityTrees tool trailer to the volunteers at planting sites, Stephens said.
"The success of this program relies on the commitment from the City of Redwood City and the many volunteers who see the significance of tree planting and what trees do for an urban environment and open space," Taylor said. "Trees are so important for climate change and this project goes way beyond simply the aesthetic and beautification because there are so many benefits in having trees. It helps local wildlife live and thrive, it shades property, reduces wind, reduces heat on sidewalks and roadways, and much more."
CityTrees has touched virtually every neighborhood in Redwood City, with major projects including 49 Bay trees on Main Street from Maple Street to Woodside Road, and the trees that are planted on virtually every school yard in the Redwood City School District. A row of leafy Evergreen trees is growing on the former Redwood Roller Rink site, as is a line of large autumn, purple Ash trees at Taft School, Taylor said.
Diversity of Involvement
Stephens admits that the planting and pruning of trees is a huge factor in his involvement in CityTrees, but he values most the community involvement aspect. "This is such a collaborative effort. There is such a breadth of people who come out to plan, from kids in YMCA programs, Rotarians, Stanford students, to 6-year-old Girl Scouts who are about the height of shovel," Stephens said.
"I am so impressed with the fact that so many people are willing to come out and work together and give up their Saturday to make the world a better place.  That really lights me up," said Stephens, who is also a member of the Peninsula Starlight Rotary.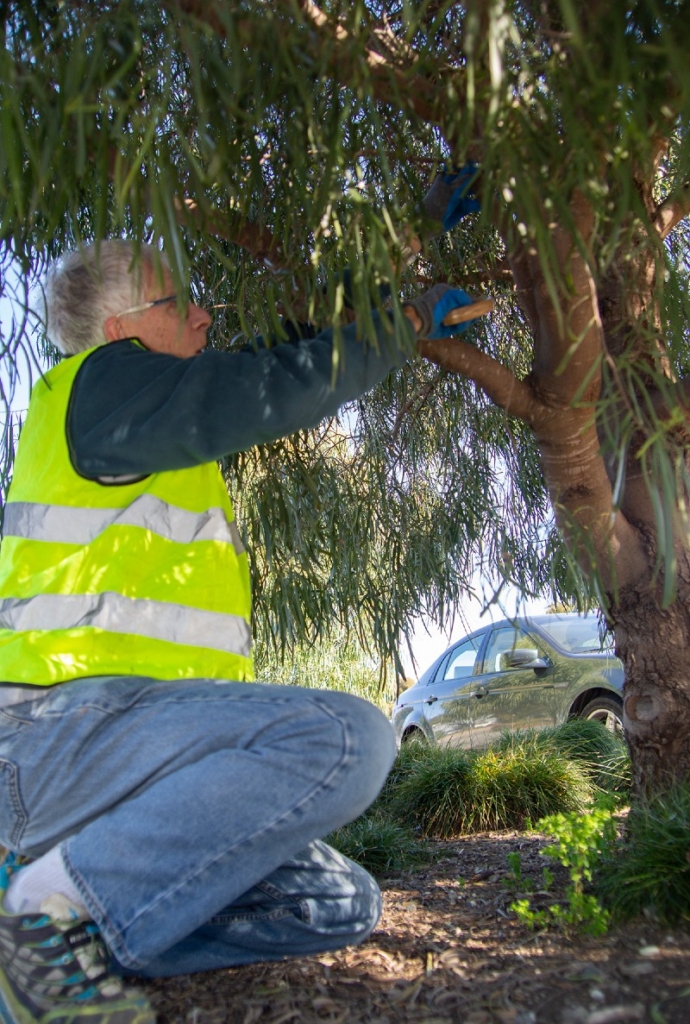 Regular planting events run from October through April, as these months give a tree the best opportunity to thrive. Fall planting is optimal so a tree can establish its root system to support the growth above, according to Nancy Radcliffe, CityTrees board member and the organization's first volunteer.
Plantings typically take place the third Saturday of every month. Typically 20 volunteers show up, working from 9 a.m. to noon, assigned to small groups with a planting captain. The day gets started with a planting demonstration to teach the volunteers what to do, Radcliffe said. The captain leads crews, and each team is responsible for clean-up and returning the equipment to the CityTrees trailer.
Beyond Planting
CityTrees also has a vibrant tree pruning program, open to anyone who has attended a pruning seminar to learn how to selectively remove growth. CityTrees recently launched  "Prune and Pub" events, mixing late-afternoon pruning followed by social time at a local pub. "We hold these events mid-week after work and prune trees for three or four blocks and then we hit a local establishment to make sure we don't dehydrate," Stephens joked.
Radcliffe added, "These events are so much fun. A big part of what we wanted to accomplish with CityTrees was the community development aspect, so it's great to get out together socially after we prune, and we're supporting local businesses too."
Now entering its third decade, the organization is going strong. With a 14-member board, City  Trees hopes to expand on its success.  Revisiting the city's tree ordinance is a goal, as it was written 50 years ago at a time when climate change was not a factor, according to Taylor.
"I am so proud of this accomplishment, 20 years later we are still going strong and it is so powerful to see how a group of volunteers can make such a positive impact," Taylor said.
CityTrees' focus remains on future environmental health, so that old Chinese proverb holds hope, as the best time to act is now. To get involved with CityTrees, visit citytrees.org.