Tim Hennessey skated on frozen ponds in the Boston area growing up. "The rinks were everywhere," he recalls. "You go back there now, the rinks are all over the place." On the Peninsula, by contrast, the number is down to just one—in San Mateo—following a nail-biter battle several years ago by local skaters lobbying for the site to remain a rink.
Hennessey wants to get that number up to at least two. A commercial real estate investment executive who plays in an adult ice hockey league, he's on the board of a nonprofit foundation which would like to build and operate an ice rink east of the Bayshore Freeway, where the Malibu Grand Prix entertainment complex used to be.
Hennessey says he and the two other members of the Mid-Peninsula Ice Rink Foundation "just saw these rinks disappearing and we decided to try to take action and form a nonprofit and go figure out a way to try to get land to develop an ice rink to replace the ice rinks that have been lost."
This story was originally published in the November edition of Climate Magazine. Click here to read the full digital publication.
That effort led them to the Jay Paul Company of San Francisco, the developer of the proposed Harbor View high-tech office campus, which is expected to come before the Redwood City Council early next year. The Malibu Ice Center would occupy two acres of land on the 27-acre site on Blomquist Street under a nominal lease and be set aside for recreation for 99 years, according to Hennessey.
On Donated Land
"The reality is the biggest challenge here is to get the land for effectively free," he says.  "I think our view is once the land is secured under this long-term ground lease, that we would have no problem bringing people to the table who could either build it and/or operate it. … So we're trying to duplicate the idea of the Boston rinks but without asking the taxpayers of the city to raise money."
The Harbor View project would require a General Plan and Zoning Map amendment to allow for a modern office or life sciences tenant, as the site is now zoned for light industrial and port-related uses. The project has met stiff opposition during public meetings, and in response, Jay Paul reduced the number of proposed office buildings from four to three and the square footage by about a third. A community center which was in the original plan but had environmental issues was replaced in March with the ice rink, after skating advocates presented their cause to the developer.
Adam Alberti, Climate's publisher, is managing director of Singer Associates, a communications company which represents Jay Paul.
A decade ago, three ice rinks were open in San Mateo County: the San Mateo rink, at the Bridgepointe Shopping Center; Belmont Iceland; and Nazareth Ice Oasis in Redwood City; all  older facilities sitting on very valuable land for commercial development. Hennessey was a member of a hockey league which played at the Belmont rink for many years, and after it closed in 2016, his only back-up was the Redwood City rink because the San Mateo rink at the time wasn't open.
The owner of the Bridgepointe Shopping Center property had effectively shut it down in 2013 and applied to the city to rezone the site for retail. After a prolonged fight which brought out ice skating forces to "Save Our Rink," the owner had a change of heart in 2017 and the rink reopened.  It's now called the Nazareth Ice Oasis San Mateo. In 2020, the Redwood City rink closed.
Teaming Up
Amid the uncertainty over the future of ice rinks, Hennessey joined with Silicon Valley technology executive Michael Strambi of Burlingame and San Mateo resident Ray Miolla, a lifelong hockey player who is the chief development officer of Planet Fitness and led its global expansion. They formed the Mid-Peninsula Ice Rink Foundation with an initial goal of pursuing an ice rink on city land in Burlingame where a driving range was located.
They were outbid by Topgolf, but decided to continue to seek a couple of acres for a rink elsewhere. After Nazareth's Redwood City rink closed, Hennessey was invited to participate last December in an online town hall meeting with city leaders to brainstorm ways to create a rink.
The forum was hosted by the Silicon Valley Ice Skating Association, which coalesced in response to the threatened loss of ice rinks in Belmont and San Mateo.  Hennessey participated in the Zoom town hall, which included City Council members Ian Bain and Giselle Hale. One of the ideas that came out of the meeting was seeking corporate sponsorships, but "a light bulb went off for me," says Hennessey, when someone suggested that skating enthusiasts seek    developers with large projects who might donate money or land.
Hennessey knew about some of the larger projects in Redwood City, including Harbor View, and approached Jay Paul about putting an ice rink where a community center was to go.
"I think they learned that there's a very large skating contingent on the mid-Peninsula that has lost a lot of recreational opportunities through the loss of these rinks," Hennessey observes." So the Harbor View project was reconfigured to include a skating rink.
Two Ways to Proceed
If the project—with a rink— goes ahead, Hennessey's team could find a contractor/operator; or they could develop the project themselves and lease it to an operator, such as the San Jose Sharks or the Nazareth organizations. Hennessey says the foundation board is committed to creating a rink that will be open for everyone, from figure skating and ice dancing to girls' hockey and public skating.
"I'm not just about hockey. I'm really about recreation more than anything else, especially for youth and getting kids off electronics and on the ice."
Joyce Burden of San Carlos is the long-time treasurer of the Peninsula Figure Skating Club, which before the pandemic had 440 members, ranging in age from 4 to 89. The Bay Area, she notes, has produced quality skaters, among them Brian Boitano, Karen Chen, Polina Edmunds, and Kristi Yamaguchi, but finding affordable ice time nowadays is difficult. Many figure skaters have to travel to San Jose or San Francisco.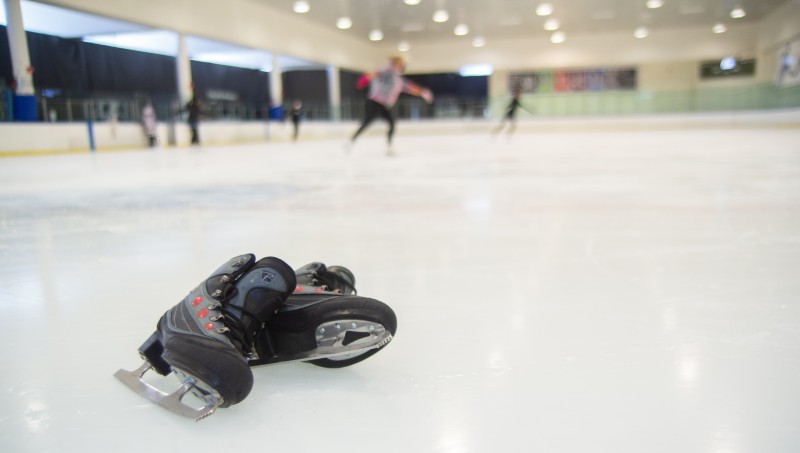 "My whole theory is you've got to keep the kids busy," says Burden, a former pairs and dance competitor. She supports an ice rink—if it's "done right" and is well managed.  "And Redwood City has got to look at the kids. … That's the future of the city and they've got to have things available and especially for kids that don't have the finances, the families can't afford (it), they have to have programs. And the ice rink is perfect. They love it, they have fun, they have team work. That's my soapbox."
Sarah Feldman, a former competitive figure skater who is CEO and co-founder of the Silicon Valley Ice Skating Association, used to train in Belmont. Her group, which has 500 Facebook followers and a mailing list of about 20,000, has lobbied to keep rinks open and will lobby on behalf of the one proposed in Redwood City.
"All of these different ice sports are able to benefit from having the rink and those are all sorts of different folks from toddlers to teenagers, to young adults, adults, retired folks," she says. "That capacity is possible at any rink, with good management of course, and by having one in Redwood City, it opens up more recreation for everyone."  Jay Paul is providing $150,000 toward the goal of encouraging access for users from all circumstances.
Engaging the Community
Olenka Villarreal, CEO and cofounder of the Magical Bridge Foundation, which sponsors accessible playgrounds including the one at Red Morton Park, will serve on a community engagement committee if the rink becomes a reality.
She's taken her daughter to the ice rink in Palo Alto, where the teachers put her in a chair and glide Ava over the ice.  "She loves the feeling of cool air on her face," Villarreal says. "You don't even have to be an ice skater to enjoy it. … I have no shortage of ideas on how to make this engaging and welcoming for everyone."
Bain, who is no longer on the council, is also on the committee. He's long been vocal about the loss of family-friendly entertainment, including Malibu Grand Prix, the Redwood Roller Rink and the Ice Oasis, and would like Redwood City to have an ice rink. That said, he's sure that the City Council will consider the entire Harbor View project on its merits.
"I understand developers are always trying to make their project more appealing with shiny objects and things the community wants," Bain says. "I don't think that's how the council makes a decision.  They're not going to approve the project because they want an ice-skating rink. It may be a factor in some people's decision-making but I think they're going to be looking at things like zoning and how it's going to benefit the community in other ways. Community benefits are just one aspect."
No matter what, Hennessey says his board won't give up. "We're not going to fold up shop if this doesn't work," he says, "but this is as close as we have gotten to try to secure the land necessary to build an ice rink."